Bolivian law does allow foreigners to adopt Bolivian children, but it is not an easy process. There are many laws, requirements, technicalities, and restrictions. As an interpreter I've worked for several families who adopted Bolivian children, interpreting orally at legal hearings, and translating much of the legal documentation involved. Because of this I learned to appreciate the absolutely steadfast determination those couples had to have because the process can be frustrating, grueling and exhausting.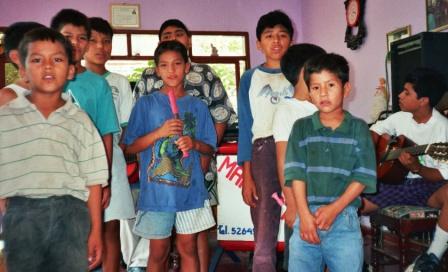 What I can share, from my own experience, is that a single person or couple who is contemplating adopting a child in Bolivia, had better think about it deeply and be completely convinced that this is what they desire. They will be required to present proof that the family environment (and income) are healthy and stable and will continue to be so, far into the future. Their personal, financial, and medical backgrounds will be highly scrutinized. The entire process can take several months to over a year, and even after the child has been taken home, the adoptive parents must report to Bolivian authorities regularly (usually every six months) either personally or through a legal representative.
Everyone I have spoken to has considered the process very hard, but those same people have ALL told me they would go through it all over again, that they love their child deeply, and that it was worth it!
There are a lot of orphans in Bolivia and I have visited several orphanages myself. These (photo above) are some of the boys from Hogar Maranatha, a boy's home that I have supported for several years. Boys and girls are not allowed to reside in the same orphanages. These children are between 4 and 16 years old, but some orphanages have quite a few babies. The kids are required to go to school and are also taught a trade, such as baking, cooking, shining shoes, sewing, laying bricks, playing an instrument, and other tasks so they will somewhat employable by the time they leave the orphanage.
Most of these kids come from homes where the father has abandoned the family and the mother has been unable to cope or has too many children and cannot afford to house and feed them all. Some come to the home after living and working alone on the streets for a long time. Some have been exposed to drug use. These boys are sweet, each and every one of them. They've been taught to play instruments and sing. When a visitor comes to the home, they put on a small impromptu concert.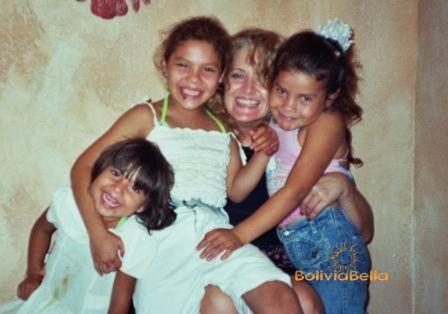 If you are interested in more information on some of the children's homes in this area, or on how to contribute financially to an orphanage in Santa Cruz, you can contact the International Women's Association (a group of foreign women in Santa Cruz who have formed a non-profit organization to raise funds for orphanages). Their efforts have ensured these homes continue operating and living conditions for the children have been greatly improved because of their efforts.
INTERNATIONAL WOMEN'S ASSOCIATION
Mailing Address:
Casilla 6537
Santa Cruz de la Sierra - Bolivia
Tel: (591-3) 352-1681

You might want to check out my section on laws that govern all aspects of traveling with children. I am not an attorney and am therefore not qualified to give legal advice. But you can consult this attorney who may be able to find answers for you. If you've adopted a child in Bolivia, or were adopted in Bolivia, I invite you to share your story!

---
Bolivia Travel Forums | Expat Services | Live in Bolivia | Plan Your Trip
---
Have you adopted a child or were you adopted as a child in Bolivia? Share your story.
View all Forums
See what others have to say!
---
Bolivia Travel Forums | Expat Services | Live in Bolivia | Plan Your Trip
---
BoliviaBella.com is not a political forum and does not promote nor endorse specific political views on this site. Any views shared by our readers through the various forum pages available on the site are absolutely the responsibility of their authors.
BoliviaBella.com no es un foro político y no promueve ni endosa puntos de vista políticos específicos en este portal. Todas las opiniones compartidas por nuestros lectores mediante los foros disponibles en el portal son de la responsabilidad de sus autores.