Bolivia Travel Tips - Yours and Ours

---
Bolivia Travel Forums | Tourism | Live in Bolivia | Plan Your Trip
---
On this page, you can contribute your own Bolivia travel tips, advice, suggestions and recommendations. You can give our readers travel advice on places to stay, the best types of transportation, foods to try (or not), restaurants, hotels and tour operators to hire or avoide, what to do when plans must be changed without notice, and other topics you think might help others have a great time traveling in Bolivia. You can also share your Bolivia travel stories, photos and videos or visit our Bolivia travel forums for thousands of additional Bolivia travel tips.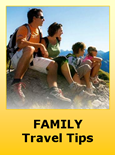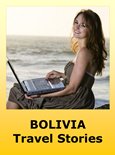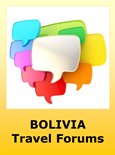 Share your Bolivia travel tips here
View all Forums
Bolivia travel tips others have shared
---
Bolivia Travel Forums | Tourism | Live in Bolivia | Plan Your Trip
---
BoliviaBella.com is not a political forum and does not promote nor endorse specific political views on this site. Any views shared by our readers through the various forum pages available on the site are absolutely the responsibility of their authors.
BoliviaBella.com no es un foro político y no promueve ni endosa puntos de vista políticos específicos en este portal. Todas las opiniones compartidas por nuestros lectores mediante los foros disponibles en el portal son de la responsabilidad de sus autores.