Driving and traffic in Bolivia can be quite hazardous for the inexperienced, but with a some prior preparation and knowledge, you can avoid trouble while driving here.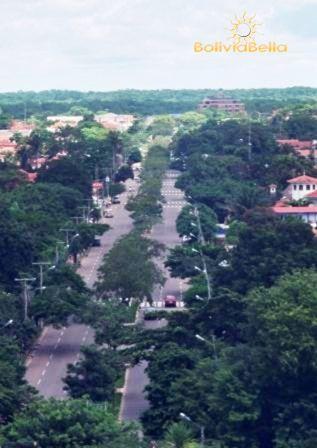 First of all, be aware that the physically, conditions of the infrastucture itself can be quite different here than in your country of origin.
Most highways between major cities are paved. Bolivia has about 43,000 kilometers (26,720 miles) of highways of which only 2,000 kilometers (1,242 miles) are paved. In recent years, Bolivia has made highway construction and maintenance a priority, but many still do not have guardrails, lighting, shoulders, fencing, and other safety features.
Signage is minimal. Gas stations are few and far between on interdepartmental highways. There are frequent police checkpoints called 'trancas' one must pass through.
In larger cities, like Santa Cruz, most streets and avenues are paved and lighted within a mile or two radius of the center of the downtown area, but as you near the outskirts of town, fewer and fewer are, and you will encounter many dirt roads (which become mud roads during the rainy season).
There are three main highways that run in different directions outward from Santa Cruz toward other regions of the country:
The "Carretera Nueva a Cochabamba" (new highway to Cochabamba) runs North past Viru Viru International Airport through Warnes, Montero, Yapacani, Villa Tunari and many small villages along the way until arriving in Cochabamba. It is paved the entire way, but is prone to landslides. Also runs through the "Chapare", Bolivia's prime coca-producing region and gets when political emotions are running high, frequently gets blockaded or damaged by protesters.
The "Carretera Vieja a Cochabamba" (old highway to Cochabamba) runs in a southwesterly direction through Camiri, Vallegrande, Sucre and Cochabamba, and ultimately to La Paz. It is not paved in all places, is highly dangerous in some, and is prone to landslides. There are very few places to stop or buy gasoline. Best taken by professional drivers, such as bus and truck drivers who know the way.
The "Carretera a Trinidad" runs in a northeasterly direction toward Trinidad, the capital of the department of Beni, through the Jesuit Mission circuit. It is paved to Trinidad and from there to a certain point along the circuit; however after that it becomes a gravel road. As you go deeper and deeper into the jungle it is prone to flooding during the rainy season.
You are required to have a driver's license and insurance to drive legally in Bolivia, and it is your obligation to learn about national and local traffic laws. You are responsible for any violations or accidents you may have caused and ignorance is not an excuse. You can acquire an international driver's license for short-term driving here, but you must apply for a Bolivian driver's license if you are not here on a tourist or other short-term visa, of if you extend your stay, and of course, if you are a resident here. By law, you are supposed to be 21 to drive but exceptions are made. (In Santa Cruz you can get information on laws and licensing at the local traffic police station called "Transito").
You should always be aware of road conditions as well as weather conditions. Sudden changes in weather, such as rain and storms, can rapidly deteriorate road and driving conditions. In Santa Cruz during the rainy season (November – March), flash floods occur as aquifers fill up and overflow and there is sometimes run-off from rivers (which is sandy and becomes muddy). Trees or tree branches can and do break off and block streets during severe storms. If you purchase or rent a car, a 4x4 or other vehicle with a high chassis is advisable because of these flash floods.
Plan and know your route before you begin to drive, to avoid running into detours, getting lost, or having to stop to ask strangers for directions. Bolivian road and city maps are not always very well made, and the city is growing at such an alarming rate that cartographers cannot keep up with the pace (much of this urban growth is unplanned and migratory). It's best to get directions from a friend who knows the city well (preferably someone who drives, as they can also let you know about possible construction or street repair sites to avoid). If you need to be towed use a reputable company.
Watch this National Geographic documentary on the most dangerous road in the world (right here in Bolivia). There's a reason it's called Death Road.


As a foreigner, you will be noticeable. When you are driving here, you should always be alert and follow these safety tips, posted by the U.S. Department of State:
SAFETY WHEN YOU DRIVE
When you rent a car, choose a type that is commonly available locally. Where possible, ask that markings that identify it as a rental car be removed. Make certain it is in good repair. If available, choose a car with universal door locks and power windows, features that give the driver better control of access. An air conditioner, when available, is also a safety feature, allowing you to drive with windows closed. Thieves can and do snatch purses through open windows of moving cars.
Keep car doors locked at all times. Wear seat belts.
As much as possible, avoid driving at night.
Don't leave valuables in the car. If you must carry things with you, keep them out of sight locked in the trunk, and then take them with you when you leave the car.
Don't park your car on the street overnight. If the hotel or municipality does not have a parking garage or other secure area, select a well-lit area.
Never pick up hitchhikers.
Don't get out of the car if there are suspicious looking individuals nearby. Drive away.
PATTERNS OF CRIME AGAINST MOTORISTS
In many places frequented by tourists, including areas of southern Europe, crime against motorists has been refined to an art. Where it is a problem, U.S. embassies are aware of it and consular officers try to work with local authorities to warn the public about the dangers. In some locations, these efforts at public awareness have paid off, reducing the frequency of incidents. You may also wish to ask your rental car agency for advice on avoiding robbery while visiting tourist destinations.
Carjackers and thieves operate at gas stations, parking lots, in city traffic and along the highway. Be suspicious of anyone who hails you or tries to get your attention when you are in or near your car.
Criminals use ingenious ploys. They may pose as good Samaritans, offering help for tires that they claim are flat or that they have made flat. Or they may flag down a motorist, ask for assistance, and then steal the rescuer's luggage or car. Usually they work in groups, one person carrying on the pretense while the others rob you.
Other criminals get your attention with abuse, either trying to drive you off the road, or causing an "accident" by rear-ending you.
In some urban areas, thieves don't waste time on ploys, they simply smash car windows at traffic lights, grab your valuables or your car and get away. In cities around the world, "defensive driving" has come to mean more than avoiding auto accidents; it means keeping an eye out for potentially criminal pedestrians, cyclists and scooter riders.
TRAFFIC SAFETY AND ROAD CONDITIONS IN BOLIVIA
While in a foreign country, U.S. citizens may encounter road conditions that differ significantly from those in the United States. The information below concerning Bolivia is provided for general reference only, and may not be totally accurate in a particular location or circumstance. U.S. citizens planning on driving in Bolivia, despite the hazards described below, should obtain an international driver's license through their local automobile club before coming to Bolivia.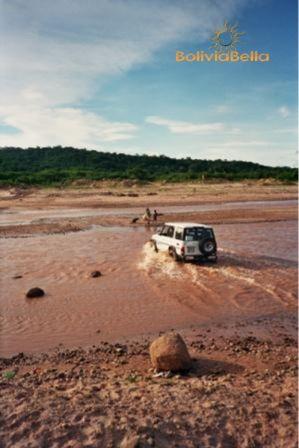 Bolivia is famous for having some of the most dangerous roads in the world. Some routes along the Andes are single lane, dirt roads with breathtaking dropoffs. Such trips are not for the faint of heart. Road conditions in Bolivia are hazardous. Although La Paz, Santa Cruz, and Cochabamba are connected by improved highways, the vast majority of roads in Bolivia are unpaved. Few highways have shoulders, fencing or barriers, and highway markings are minimal. Yielding for pedestrians in the cities is not the norm.
For trips outside the major cities, especially in mountainous areas, a four-wheel-drive vehicle is highly recommended. Travel during the rainy season (November through March) is difficult, as most routes are potholed, and some roads and bridges are washed out. Added dangers are the absence of formal training for most drivers, poor maintenance and overloaded vehicles, lack of lights on some vehicles at night, and intoxicated or overly tired drivers, including commercial bus and truck drivers.
Remember, land travel in the Andes and tropical areas of Bolivia can be precarious. Road conditions are often primitive. High altitude trips can be very cold, especially in the winter (June-August). Low altitude trips in the tropics can be hot, dusty and humid. Travel in the rainy season (November-March) can be complicated by storms, difficult river crossings and collapsed roads due to landslides.
The majority of intercity travel in Bolivia is by bus, with varying levels of safety and service. In recent years there have been major bus crashes on the highway between La Paz and Oruro, and on the Yungas road. The old Yungas road is considered one of the most dangerous routes in the world. Taxis, vans, and buses dominate intracity transportation. From a crime perspective, public transportation is relatively safe and violent assaults are rare. However, petty theft of unattended backpacks and other personal items does occur. For reasons of safety, visitors are advised to use radio taxis whenever possible.
Drivers of vehicles involved in traffic accidents are expected to remain at the scene until the arrival of local police authorities. Any attempt to leave the scene is in violation of Bolivian law. The Embassy believes any attempt to flee the scene of an accident would place the driver and passengers at greater risk of harm than remaining at the scene until the arrival of local police.
OTHER TIPS ON DRIVING ABROAD
• Obtain an International Driving Permit (IDP).
• Carry both your IDP and your state driver's license with you at all times. As many countries have different driving rules. If possible, obtain a copy of the foreign country's rules before you begin driving in that country. Information may be available from the foreign embassy in the United States, foreign government tourism offices, or from a car rental company in the foreign country.
• Some countries have a minimum and maximum driving age.
• Certain countries require road permits, instead of tolls, to use on their divided highways, and they will fine those found driving without a permit.
• Always "buckle up." Some countries have penalties for people who violate this law.
• Many countries require you to honk your horn before going around a sharp corner or to flash your lights before passing. In Bolivia you may not turn right at a red light.
• Before you start your journey, find out who has the right of way in a traffic circle.
• If you rent a car, make sure you have liability insurance. If you do not, this could lead to financial disaster.
• If the drivers in the country you are visiting drive on the opposite side of the road than in the U.S., it may be prudent to practice driving in a less populated area before attempting to drive in heavy traffic.
• Always know the route you will be traveling. Have a copy of a good road map, and chart your course before beginning.
• Do not pick up hitchhikers or strangers.
• When entering your vehicle, be aware of your surroundings.