Restaurants in Sucre – Restaurantes

---
Sucre Home
Tours
Forum
Hotels
Photos
Maps
Info
Food
---
ENGLISH:
To help you find restaurants in Sucre, we personally visited, reviewed, ate meals and took photos of each of the Sucre restaurants featured on this page. In addition, we've listed a few other places where you can find delicious places to eat in Bolivia's capital city, like its markets! Sucre is also known as the white city (ciudad blanca) and as the city of chocolates. The information on this page is from July 2011. For more restaurants in Sucre and other places to eat, visit the Casa del Turismo near the corner of Argentina and Colon about 3 blocks from the central plaza or pick up a copy of "Visiting Sucre" magazine at the Joyride travel agency on the corner of the plaza.
ESPAÑOL: Para ayudarte a encontrar restaurantes en Sucre, personalmente visitamos, criticamos, comimos y tomamos fotos de cada uno de los restaurantes en Sucre listados en esta página. Adicionamente, visitamos otros lugares donde puedes comer bien en la ciudad capital de Bolivia, como sus mercados! Sucre también es conocida como la ciudad blanca y como la ciudad de los chocolates. Para encontrar más restaurantes en Sucre, visita la Casa del Turismo en la calle Argentina casi esquina Colón, aproximadamente 3 cuadras de la plaza central, o pide una copia de la revista "Visiting Sucre" en la agencia de turismo Joyride en la esquina de la plaza central.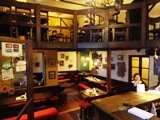 BIBLIOCAFE
Nicolás Ortíz No. 50, Tel: (591-4) 644-7574
Sucre, Bolivia
Back in the days when an Irish coffee cost just Bs. 3.50 (about 50 cents), a ham and cheese sandwich cost just Bs. 1.50 (about 30 cents), and a beer cost just Bs. 3.00 (about 45 cents), Bibliocafe was the first café bar to open in Sucre, Bolivia. Read our review.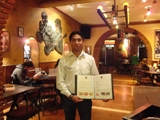 BIBLIOCAFE CONCERT
Nicolás Ortiz No. 42, Tel: (591-4) 754-50029
Sucre, Bolivia
Bibliocafe Concert in Sucre Bolivia is located next to Bibliocafe and the two should not be confused. Bibliocafe Concert is a new and modern cafe located directly across the street from the central plaza cathedral. Read our review.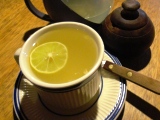 CAFÉ GOURMET MIRADOR
La Recoleta Plaza at the Overlook, Tel: (591-4) 643-3038
Sucre, Bolivia
Cafe Gourmet Mirador needs to get its act together and start making a million bucks, like... right now! This restaurant has the best, most awesome view ANYWHERE of the entire sparkling city of Sucre, Bolivia. Read our review.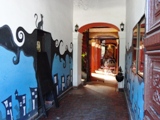 CAFÉ PUEBLO CHICO
Plaza 25 de Mayo No. 46, Tel: (591-4) 643-5040
Sucre, Bolivia
We had planned to eat lunch at Pueblo Chico Cafe Restaurant in Sucre, also known as an art café or art gallery and did in fact sit down at their very cool inner patio tables. The waitress even brought us a menu... Read our review.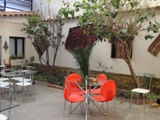 CLAVO Y CANELA
Plazuela Cochabamba, J. J. Pérez No. 301, Tel: (591-4) 645-7142
Sucre, Bolivia
Clavo y Canela Café in Sucre, Bolivia needs a bigger sign! Actually, they just need a sign! Their masaco de yuca, which is actually typical to Santa Cruz, is deserving of better publicity. Read our review.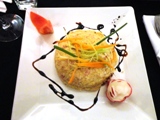 CORCHOS Y TAPAS
Calle Bustillos Esquina Colón, Tel: (591-4) 750-50107
Sucre, Bolivia
Hugo, owner of Corchos y Tapas restaurant in Sucre, is originally from Tarija which explains his love for good food and wine. He is also surprisingly young and studied at a culinary school where he learned to blend… Read our review.
2012: We've been told this restaurant has moved but we are not sure where it is currently located.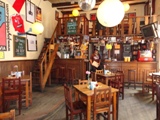 JOYRIDE CAFE
Nicolás Ortíz No. 2, Tel: (591-4) 645-7603
Sucre, Bolivia
Joyride knows tourists: what tourists want, like and need. That's probably why what began as a café has expanded to include a clothing store and a travel agency as well. One of the funnest restaurants in Sucre. Read our review.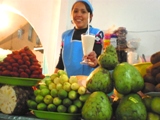 JAMIE AT THE MARKET
The Sucre Central Market, Tel: None
Sucre, Bolivia
You don't always have to eat at restaurants in Sucre. Many tourists wouldn't dream of eating something in one of Bolivia's local markets but there's one little fruit stand in Sucre, Bolivia you'll not want to miss. Read our review.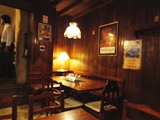 PIZZERIA NAPOLITANA
Plaza 25 de Mayo No. 30, Tel: (591-4) 645-1934
Sucre, Bolivia
Pizzeria Napolitana is a small Italian food and pizza restaurant right on the main plaza in Sucre and one of the first places we ate during our trip. Normally I like to try all the local, typical, ethnic foods when I travel but... Read our review.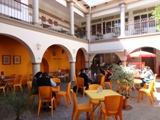 DAMASCO RESTAURANT
Calle Bolivar No. 466, Tel: (591-4) 643-5199
Sucre, Bolivia
We didn't actually get a chance to eat at Damasco Restaurant in Sucre, Bolivia, but we do want you to know about it. We ran into it at about 4 p.m. (too early to eat) but we went in to check it out for you anyways. Read our review.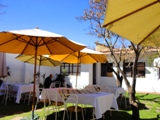 EL HUERTO RESTAURANT
Ladislao Cabrera No. 86, Tel: (591-4) 645-1538
Sucre, Bolivia
El Huerto, which means either "the orchard" or "the vegetable garden" in Spanish (depending on the context) is a large indoor/outdoor restaurant in Sucre, Bolivia that serves both typical Bolivian foods and some international foods. Read our review.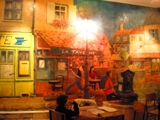 LA TAVERNE RESTAURANT
Aniceto Arce No. 35, Tel: (591-4) 645-5719
Sucre, Bolivia
La Taverne is a French restaurant in Sucre, Bolivia located inside the Alianza Francesa and is very much worth a visit. True to the French, the food is awesome with just-right portions... Read our review.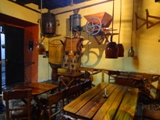 LA VIEJA BODEGA RESTAURANT
Nicolás Ortiz No. 38, Tel: (591-4) 642-4551
Sucre, Bolivia
La Vieja Bodega, which in Spanish means "the old store" or "the old warehouse" depending on the context, is reminiscent of the dark Spanish bar restaurants you might see in a 1950's "El Zorro"… Read our review.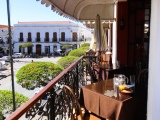 LOS BALCONES RESTAURANT
Plaza 25 de Mayo No. 34, Tel: (591-4) 644-7610
Sucre, Bolivia
Plaza Restaurante Los Balcones literally lives up to its name, if you get a table on one of the balconies overlooking Sucre's central plaza. The restaurant, can be found on the second floor in what appears to have been the... Read our review.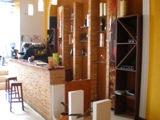 TENTACIONES CAFE
Arenales No. 11, Tel: (591-4) 676-00080
Sucre, Bolivia
The name sounded good: Tentaciones (temptation). It tempted our curiosity enough to lure us in for a breakfast of American-style French toast with sugar and cinnamon, and Mexican-style eggs on tortillas with tomato and onion sauce... Read our review.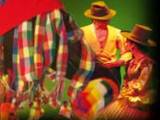 FOLKLORE DINNER SHOW
Azurduy No- 473, Tel: (591-4) 645-7091
Sucre, Bolivia
Origenes Espacio Cultural is a cultural event salon that offers a folklore dinner show twice a week where you will be able to watch some of the beautiful dances and see the colorful traditional costumes of Bolivia's many cultures... Read our review.

---
Sucre Home
Tours
Forum
Hotels
Photos
Maps
Info
Food
---