This is our Jesuit Missions Home Page
. You can click the links at the top and bottom of every page related to the Jesuit missions to return to this page. The Jesuit Missions circuit is a tour that consists of seven mission towns;
San Javier,
Concepción,
San Ignacio,
Santa Ana,
San Miguel,
San Rafael,
and
San José,
although many other missions were built in Bolivia. Other towns can be visited, such as
San Matías,
Santiago de Chiquitos near
Roboré
,
Guarayos,
Urubichá,
and
Puerto Suárez.
All are part of the
Association of Chiquitano Peoples
.
The CHIQUITANIA is an immense region covering an enormous part of Santa Cruz that is inhabited by the Chiquitano peoples. The Jesuits did not build missions and temples in all of the Chiquitano towns. This section will occasionally contain information on some towns that are not part of the Jesuit Mission circuit or tour because they are nearby. There are also some Jesuit Missions further north in the Department of Beni, and in the Bolivian Pantanal to the South.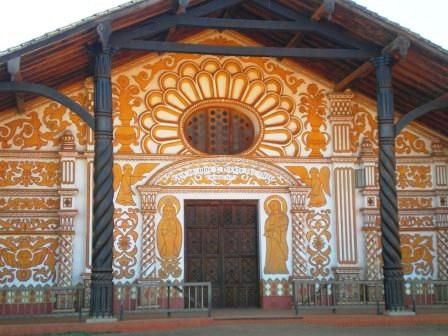 The Chiquitania region receives its name from the native inhabitants of this area, the chiquitos or chiquitanos. Here Jesuit reductions (mission towns) were settled during the second half of the 17th Century (between 1691 and 1760). They remain in time as an extraordinary legacy because they are the only Jesuit missions in South America which were not destroyed after the Jesuits were expelled from the Spanish colonies. They are not ruins but villages full of life, with people who still go to mass in the same majestic churches or to enjoy the same baroque music concerts, much in the way they used to when the Jesuits established these missions three centuries ago.
The major attractions of this region are its churches, architectural jewels guarded by different villages which still possess interesting cultural manifestations from the period of the Missions. The Missions represented the voice of the Catholic Church in the middle of this savage world. This region remained hidden for nearly two centuries until the release of the movie "The Mission" featuring Jeremy Irons and Robert DeNiro, which awoke interest in the region internationally.

https://youtu.be/B-d7sf18YGQ
Today it is possible to appreciate the beauty of the religious architecture thanks to the German architect Hans Roth and his team of experts who restored the churches of these centuries-old Missions, recovering their ageless splendour.
Another big attraction in this region is the Baroque Music Festival and the Religious Celebrations (Easter and Corpus Christi), that transport us to the age of the Missions with traditional clothing and instruments made by the people of the region. You can read more about the history of this region or life in the mission towns in these articles written by Geoff Groesbeck who is known as one of the top experts in the world on Bolivia's Chiquitania region. Watch this interesting video documentary on the history of baroque music in Bolivia. For more information on this and many other amazing ecotours and tours in Bolivia, contact our preferred tour operator Ruta Verde Bolivia in English, Spanish or Dutch.