Ascensión de Guarayos is located 300 kilometers North of the city of Santa Cruz. It is the capital of the province by the same name, in the Department of Santa Cruz. Unlike many other Jesuit missions, its population is primarily of Guarayo origin, thus its name. It is surrounded by lakes and lagoons.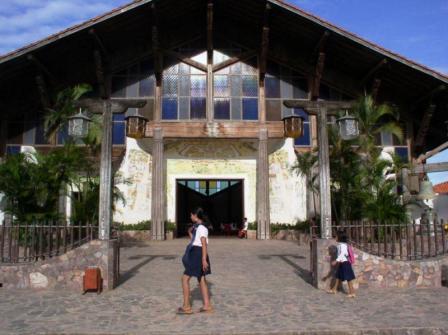 Photo ©2003 Dr. Daniel Beams


The highway between Santa Cruz and the city of Trinidad, in the Department of Beni, to the North runs through Guarayos territory, which is mostly hilly and forested. It takes about 5-6 hours by car to reach this town from Santa Cruz. The road is paved the entire way.
It is a very impoverished region. The roughly 3000 inhabitants of this town have very few opportunities to make a living. Forestry (logging) is the predominant industry in this area and forests have been highly degraded in the last few decades by hunters, illegal loggers, and forest fires. Like other many other towns in this region, it used to be a Jesuit mission town. Though not part of the 7-town Jesuit Missions circuit that is widely promoted to tourists, it still has a small orchestra which plays Renaissance and baroque music by composers such as Bach and Vivaldi. Artisans (luthiers) are skilled at making violins and cellos carved from exotic species of Bolivian wood.
Transportation to Guarayos
To get to Urubichá from Santa Cruz you can either drive or take a bus. If you drive be aware that this area is very remote and after San Ramón the road is no longer paved. You take highway 4 to highway 9, then route 785. It's the highway to Trinidad in El Beni. The easiest (although long) way to get there is to take a bus. Two bus companies go all the way to Guarayos:
Trans Guarayos bus company - get a bus at the Terminal Bimodal (the combination bus/train station in the city of Santa Cruz). The bus to Urubichá leaves every day at 12:30 passing through San Ramón, El Puente and Ascención de Guarayos before turning off the main highway to Urubichá.
Trans Oriente bus company - get a bus at the Terminal Bimodal. Two buses leave each day at 6:40 a.m. and at 9:00 p.m. passing first through San Ramón, El Puente and Ascención de Guarayos before ending in Urubichá.
At the Terminal Bimodal in Santa Cruz you could ask at any of the bus lines that run to Trinidad in the department of Beni, north of Santa Cruz if they make a stop in Guarayos.
What to see in Guarayos
This tiny town is known for its music schools (baroque music choirs and orchestras) and its artisans, especially its luthiers and a great many women who make hand-woven hammocks. Most tourists stop here as part of a trip to Trinidad, Beni or while touring the general natural surroundings. You can also take a little drive up to Urubichá which is only 35 kilometers away. This gorgeous area is known for its natural surroundings and features, especially its many rivers and lagoons such as the Río San Pablo, Sapocó, Río Blanco, Laguna Corazón, Laguna Yaguarú, Laguna La Madre, Laguna Brava, Poza del Lagarto, and Curichi "Cerro Chico".
Also popular, especially amongst foreign volunteers, is the "Rio Blanco y Negro" Wildlife and Nature Reserve and "AMBUE-ARI", a refuge for rescued wildlife that was established by the Inti Wara Yassi wildlife refuge of Cochabamba.
Where to eat and stay
About 50 kilometers before you get to Ascención de Guarayos there is a tiny town called Yotaú and near here is the Cachuelas Jungle Lodge (Posada Las Cachuelas). It's got super rustic cabins by the river where you can do some fishing and maybe even see a few alligators! You can also hike through the jungle. It's an eco-tourism resort and was built using all local materials. It has a restaurant and bar. The Cachuelas Jungle lodge, if you take a tour that includes this stop, provides transportation to the area of Guarayos and Urubicha along with tour guides.