Puerto Suarez Bolivia is a port town of about 20,000 inhabitants located on Laguna Cáceres (Cáceres Lagoon) which flows into the Paraguay and Paraná Rivers by way of the Tamengo Canal, 10 kilometers from the border between Bolivia and Brazil in Southeast Bolivia. It is located in Bolivia's Pantanal wetlands.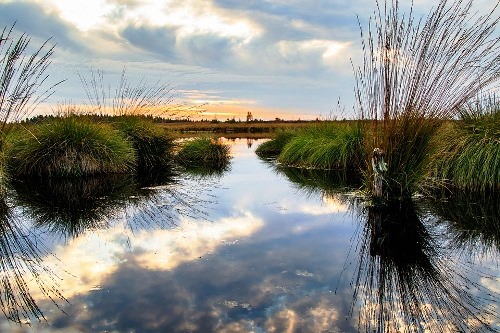 Because Puerto Suárez is a member community of the Mancomunidad Chiquitana (Association of Chiquitano Peoples and Communities), I've also included it under my section on the Jesuit Missions and Chiquitania region of Bolivia.
The town, founded in 1875 and named after Miguel Suarez Arana, is located 394 miles from the city of Santa Cruz and is connected to the rest of the country and Brazil by road, railroad, and one airport. The nearby towns of Puerto Aguirre, Puerto Quijarro, Corumbá Brazil, and further north (but still in the Pantanal) the town of San Matías provide tourism infrastructure including several 5-star hotels and spas and are major points for exports.

The climate here is warm and tropical with average temperatures ranging between 12ºC and 24ºC, cool to pleasant year round.
This area is part of the Pantanal (wetlands), one of the largest wetland areas in the world that covers parts of Paraguay and Brazil as well. The Bolivian portion, although only about 10% of the total area of the Pantanal, is believed to have one of the highest concentrations of flora and fauna species on Earth, due to its isolated location.
At about 350 meters above sea level, the land is flat or slightly undulated, and very marshy, and forested, with abundant vegetation. Water lilies and other plants that thrive in wet environments can be found along river shores, in streams and in the lagoons.
Visitors can fish in Laguna Cáceres and take wildlife observation tours. Fish are abundant in its canals that lead to the Paraguay River. There are many unusual animals, such as capiguaras (the biggest rodent in the world), spider monkeys, jaguars, fox, marshland deer, and hundreds of species of birds.
If you like spelunking, just a few miles from Puerto Suárez, you can see stalactites and stalagmites at the Cuevas de Motacucito (caves). To the South is the Mutún mountain range, where the world's largest iron and magnesium mine is located.