San Miguel de Velasco, (also known as S. Miguel Arcángel) was founded in 1721, by Friars Felipe Suárez and Francisco Hervás and was one of the most prosperous missions. Several indigenous groups thrived together here. Its main attraction is its church, built in 1760. It was restored and it has a beautiful gold-leafed altar. It is one of the most ornate along the Jesuit Mission circuit.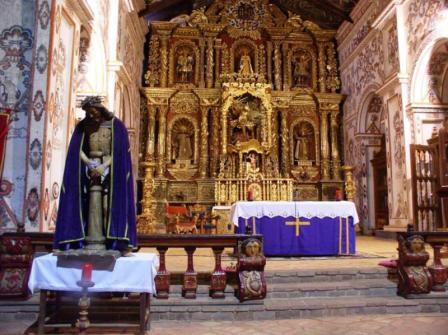 Photo ©2003-forever Dr. Daniel Beams

This is one of the smaller towns on the circuit and tours often include it as a day trip from San Ignacio. It is well worth seeing. Tourists can make a stop at a local artisan shop to see or purchase hand-made souvenirs typical to the region.
The town participates in the International Baroque Music Festival that takes place in several of the Jesuit Missions every two years, and in the Festivales de Temporada (Seasonal Festivals) which are national baroque music festivals that usually take place in August. As of 2009 the Festivales de Temporada will also include theater arts.
The 27-28 of September is also a nice time to go as these are the days of the Patron Saint of San Miguel (St. Michael) and there are festivities including native music and dancing.
Carnaval and Easter week are also important dates when you'll be sure to see festivities along with native food, dress, dancing and music.
Geoffrey A.P. Groesbeck has dedicated many years, clearly much love, and an entire website to this unique region of Bolivia. I strongly urge you to view Mr. Groesbeck's website www.Chiquitania.com as it is THE most complete resource you will find on Bolivia's Jesuit Missions.