The church at San Rafael de Velasco was built between 1749 and 1753 by Jesuit priest Martin Schmid on the main plaza, although the town itself was established in 1696 by Friar Juan Bautista Zea and supervised later (in 1750) by Friar Francisco Hervás. The town is well-known for its "sarao" and "viejitos lanceros" dances. It celebrates its "Fiesta Patronal" (Festival of its Patron Saint) on the 24th of October. Its church was restored by a team of artisans and has a gold-leafed altar and carved wood portals and columns.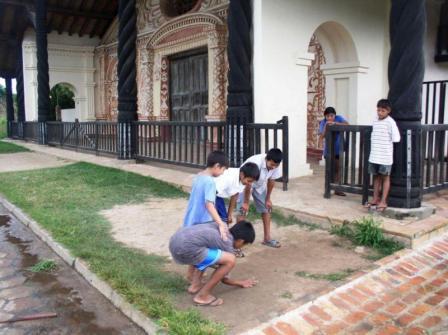 Photo ©2003-forever Dr. Daniel Beams


Like Santa Ana and San Miguel, San Rafael is general taken as a day trip because it is very small and only about one hour from San Ignacio, where nearly everyone stays the night.
Likewise, the town is one of the mission towns that hosts the International Baroque Music Festival once very two years and the yearly Festivales de Temporada (Seasonal Festivals) which takes place on a national level each year, usually in August. And finally, its patron saint day is October 24th.
San Rafael has several rooming houses. See my hotels listing. It also has various restaurants, clinic, mechanic, telephone lines, cellular photos, and internet. There's an interesting artisan shop can visit called the Asociación de Carpinteros ASACAR.
Geoffrey A.P. Groesbeck has dedicated many years, clearly much love, and an entire website to this unique region of Bolivia. I strongly urge you to view Mr. Groesbeck's website www.Chiquitania.com as it is THE most complete resource you will find on Bolivia's Jesuit Missions.