There are so many fascinating places for tourism in Sucre. The
Ciudad Blanca
is beautiful in and of itself. You could spend days walking and admiring the architecture and artistic features of its homes and buildings: antique glass windows, hand-carved wooden terraces, colorful tiles, historic statues, ornate brass door-knockers... I personally have a thing for blue doors.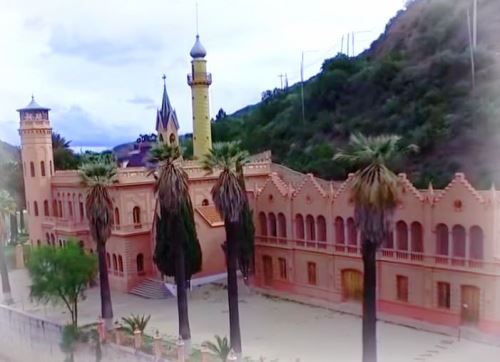 There is so much more to enjoy in Sucre that you can't see anywhere else in Bolivia (or the world): the largest repository of dinosaur footprints ever found on Earth, the chocolate and hat factories which have opened their doors to tourists, an abandoned castle that belonged to the only prince and princess in Bolivia's history, the beautiful cemetery where many of Bolivia's former presidents rest and little boys can recite for you the history of Bolivia from start to finish as they guide you through the tombs. Tourism in Sucre is truly unique. Don't miss these and other one-of-a-kind attractions:
Plaza 25 de Mayo: Sucre's Central Plaza
Plaza 25 de Mayo is the heart of the city of Sucre. Even today, almost every large and mid-sized city, and even most small towns and tiny villages, are built around a central plaza, in true Colonial fashion.
Plaza Cochabamba: Cochabamba Plaza
Plaza Cochabamba is not in Cochabamba. It's actually a small plaza in Sucre. While small, it is worth a visit and can be easily found just two blocks down from Sucre's center square, Plaza 25 de Mayo.
Museo de Anatomía Humana: Human Anatomy Museum
The Anatomy Museum of Sucre takes a bit of getting used to for those of us who have a hard time seeing human body parts, but is very, very interesting.
Museo Antropológico: Anthropology Museum
The Anthropology Museum of Sucre houses hundreds of pieces and artifacts dating from 1200 B.C. to the 15th Century. Here you can see what life was like in Chuquisaca thousands of years before the Spanish arrived.
Antropólogos del Surandino (ASUR): Museum of Indigenous Art
The ASUR Indigenous Art and Textiles Museum of Sucre, Bolivia is located half a block from the Recoleta. The museum features hand-loomed weavings by women of the nearby town of Tarabuco and other textile artists who weave at the museum.
Museo del Chocolate: Chocolate Factory and Museum
This museum opened in 2018 and is truly unique. Para Ti is the largest of numerous chocolate factories in Sucre, which is fast becoming known as Bolivia's "capital of chocolates".
Museo Colonial Charcas: Charcas Colonial Museum
This is the largest museum in Sucre. It houses hundreds of priceless original paintings, artifacts, and furniture from the Colonial era as well as the Museum of Anthropology and a Modern Art Gallery.
Museo Costumbrista Casa Deheza: 19th Century Customs Museum
Located in one of Sucre's old colonial homes built in the late 1700's, it has a large collection of costumes, valuable purses encrusted in gems, artifacts, tools, and more.
Parque Cretácico: Cretaceous Dinosaur Park
The main features of the park are numerous life-sized, scientifically researched replicas of dinosaurs and the largest set of dinosaur footprints on Earth.
Castillo La Glorieta: La Glorieta Castle
One of the most curious buildings constructed in Bolivia, it belonged to the only royalty in Bolivia's history, who also adopted over 100 children.
Museo de Arte Alfredo Gutierrez Valenzuela: Art Museum
Features works of art, statues and figurines of porcelain, alabaster and other luxurious materials, antique furniture, chandeliers, and many other priceless works of art.
Sombreros Sucre: Sucre Hat Factory and Museum
Sombreros Sucre hat company has taken note of the great fascination tourists have with the wide variety of regional Bolivian hat styles and now offers a tour of their factory!
Casa de la Libertad: Bolivia's Independence Hall
It is here that Bolivia signed its Declaration of Independence from Spain, drafted its first Constitution and laws, and named Sucre, its first city, the capital of Bolivia.
Catedral Metropolitana: Metropolitan Cathedral
One of the most ornate and beautiful churches in Bolivia, inside and out. Construction on this magnificent structure began in 1559. To access the chapel, you must enter the "Museo Eclesiastico".
Museo de Etnografia y Folklore: Ethnography and Folklore Museum
The first floor features temporary changing displays. The second floor houses a permanent display of the Uru-Chipaya culture, that was almost decimated by the Aymara and Spanish.
Museo de Historia Natural: Museum of Natural History
Features mostly animals, birds, and fish. It also houses a fairly large collection of insects and butterflies, some of which are quite spectacular.
Parque Bolivar: Bolivar Park and Playground
Parque Bolivar has ample green space and lots of shady trees. There is a children's park and playground area and just down the street is a police station, and a a replica of the Eiffel Tower.
La Recoleta: Catholic Church and Convent
a Colonial-era church and convent built in 1600. Also El Mirador (the overlook), one of the top tourist attractions in Sucre, as it offers a clear, unobstructed view of the entire city.