The Charcas Colonial Museum is probably the largest and most complete of all the museums in
Sucre, Bolivia
. It houses hundreds of priceless original paintings, artifacts, furniture pieces, and more from Bolivia's wealthy Colonial era. Hundreds of original oil paintings cover the walls, depicting the history of the state of Chuquisaca, as well as many religious paintings and silver pieces that previously belonged to some of the many churches and/or the wealthy families of the times.
The Colonial Museum is one of three museums housed in the same colonial structure which was built in the 17th Century. Here you'll also find the Museum of Anthropology and a Modern Art Gallery. You'll see all three if you tour this museum. One flows into another, however no photography is allowed at the Colonial Museum, therefore we are unable to show you the interior. Some of these antique paintings are very fragile and were painted by some of the most renowned European and Colonial artists of the time.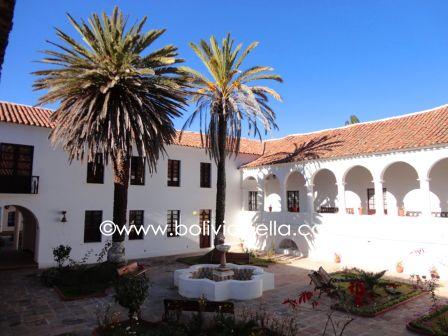 The museum is considered to one of the most important collections of viceregal art. In addition, the "Hall of Presidents" features paintings hung in chronological order of the past presidents of Bolivia. There is a Bs. 20 entry fee if you are a foreigner, Bs. 10 if you are Bolivian.