The Chocolates Para Ti Chocolate Museum, which opened in 2018, is truly unique in Bolivia. Para Ti is the largest of numerous chocolate factories in
Sucre, Bolivia
. Sucre, known as Bolivia's "ciudad blanca" or "white city" due to its many white colonial buildings, is fast becoming known as Bolivia's "capital of chocolates".
Rewind to 1997 when, on a whim during a trip to Sucre, as I was purchasing Para Ti chocolates at the local market, I turned to my friend Michelle and said, "You know, I would really like to know how these chocolates are made". We decided right then and there to see if we could somehow find the Para Ti factory, and started asking around. No one seemed to know where the factory was, but eventually someone mentioned a neighborhood in which they thought we might perhaps almost for sure maybe find it... so we hired a taxi and took off. The driver also didn't know where to find Para Ti but was willing to drive us around until finally, on a little corner, we spotted a very little sign on a red brick wall.
At the time I showed up at their door and unabashedly asked if I could see how chocolates are made, it was a small brick building with a tin roof and just a few employees (6 or 7) and a small room where finished, packaged chocolates were kept. I don't think they'd ever had someone ask them for a tour before, but they very openly welcomed us in and showed us the chocolate making process step by step, explaining how each machine worked and what it did. We watched as women shaped the chocolates by hand, wrapped them and packaged them in hand-made boxes and bags. It was a truly fun experience, not to mention that I am a complete and utter chocoholic, and I left that day saying to Michelle, "I'm thinking that this could be a really interesting tourist attraction!"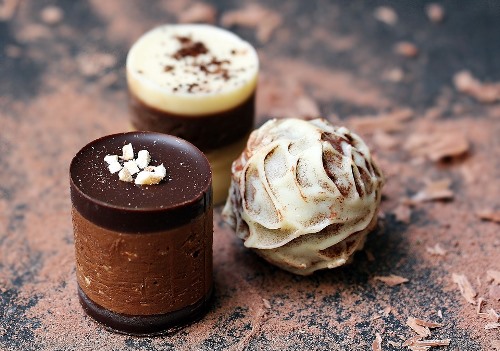 Fast forward to 2011. Fourteen years have gone by, and having seen Para Ti chocolate stores all over Bolivia, I'm thinking "Wow, they have really done well for themselves, how fun would it be to see their factory now!" So I booked a flight and headed to Sucre, this time with my 8 year old.
Upon arrival we found that Chocolates Para Ti now occupied a large building with dozens of employees and wow-factor modern machinery. And to my surprise, we learned that they had opened their factory to viewing by the public. Because they have ISO 14,000 standards to uphold, visitors were allowed to walk down some hallways that had been equipped with floor to ceiling glass viewing panes, but could not enter the factory. We were not disappointed. We were able to see the chocolate makers and wrappers at work making and wrapping their now famous chocolates. We thought it as absolutely amazing!!
Before leaving we were granted a brief interview with management and one of the owners and given some chocolates and a beautiful autographed book to read all about the history of chocolate in Bolivia. If you understand Spanish, it's a fascinating read (more info below)!
Fast forward another 8 years. It is now 2019 and Chocolates Para Ti is currently the largest chocolate factory in Sucre, with numerous high-end boutique chocolate shops throughout the city, and Para Ti brand chocolates in every major grocery store, many gift shops, and even open markets in the country. And, I was not surprised to learn, they opened what they call the Chocolate Museum (Museo del Chocolate) in 2018.
When you visit the Chocolate Museum you'll see the chocolate-making process from beginning to end, starting with the actual cacao fruit, how they infuse their chocolates with flavors, cremes, dried fruit, puffed rice, amaranth, quinoa, nuts, and even chili peppers. Chocolates Para Ti is now focused on expanding to international markets, beginning with the United States, where the brand has already been given FDA approval for export. Para Ti chocolates are made with only Bolivian ingredients. For example, the cacao is produced in the community of Guanay, near Madidi National Park.
This news video features an interview in Spanish but on the right side of the screen you can see the factory and employees at work making chocolates:

https://youtu.be/UOlKuC8axag
Although Sucre has other chocolate factories, Para Ti stands out for several reasons. Their chocolate is smooth and creamy. Their packaging is outstanding: many chocolate bars have photographs of popular tourist destinations in Bolivia. Others are wrapped in authentic Andean woven fabric. The company has done as much to promote tourism to Sucre as any other attraction, in the process becoming a tourist attraction itself. Para Ti doesn't just sell chocolates. Para Ti markets Sucre and Bolivia's top tourist attractions.
Today the Chocolates Para Ti factory stands tall and magnificent on a corner of a hill about 15 minutes from the central plaza, in the Garcilazo zone of the city. The attached museum gives tours in various languages.
Gastón Solares Ávila, one of the principal owners of the company, has written a book called "Sucre, la Ciudad del Chocolate" (Sucre, City of Chocolate) in which he details the history of chocolate, and with great effort was able to include information and photographs documenting not only the history of Chocolates Para Ti, but also some of the city's other chocolate factories. I was told it was very difficult for him to gain access to some of the historical information about the other chocolate-factory owning families because, of course, no one wants to reveal their industrial secrets, especially when the author is the owner of the company directly in competition with theirs. However, his 186-page book, which is sold in bookstores and Chocolates Para Ti chocolate shops throughout the city, gives an amazingly thorough account of life in Sucre, how the various companies were formed, the relationships between the families that own them, where chocolate may be headed in the future, how chocolate is made, and more.
Gastón Solares Ávila was born in Sucre. He received his undergraduate degree in Economic and Financial Sciences from the San Francisco Xavier University in Sucre. He also studied for some time in the United States. He has served as President of the Chamber of Commerce and Industry, President of the state of Chuquisaca's Bicentennial Committee, and as the President of the Sucre Geographical and Historic Society. The Chocolates Para Ti Chocolate Museum is truly the sweetest tour in Sucre!