The Castillo de la Glorieta, is an eclectic castle built during the late 19th century in
Sucre, Bolivia
. This palace is one of the most curious buildings constructed in Bolivia. Its owners, Francisco Argandoña and Clotilde Urioste received an honorary title from Pope Leon XIII on 28 December 1898, who declared them prince and princess of La Glorieta by means of an official Papal bull. Thus they became the only royalty in Bolivia's history.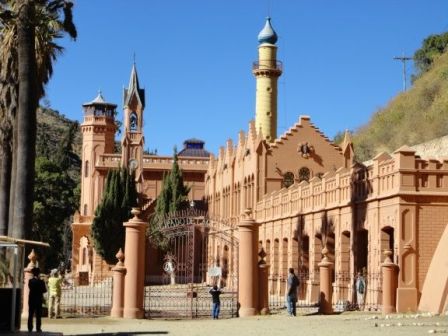 Don Francisco was a very wealthy man. He built a bank in his name and was eventually named Embassador of Bolivia to France. He and his wife fell in love with the many architectural styles and designs they observed during their numerous trips abroad. Thus when they built la Glorieta they combined various different styles including an octagonal tower reminiscent of the romantic period, an Arabic arched portico, and a high Russian minaret with a cupola. The palace walls are of Byzantine heights, there are even Florentine, French and Dutch influences in the architecture.
This monumental structure has three towers. The Prince's tower is 40 meters high with a Russian Byzantine cupola that can be reached by climbing 108 spiral steps. The Princess' tower, built in an Arabic style, rises nearly 30 meters. To reach its cupola you must climb 80 steps. The third tower is an English gothic-style replica of London's Big Ben and towers 25 meters above the Glorieta chapel.
The castle itself has 40 rooms and extensive gardens, which today are not well-kept. The gardens they once enjoyed house various fountains and monuments, including one to Vesta, the Greek goddess of kindness. They also had their own small train running around the property, and it is said they kept many animals.

https://youtu.be/9BR5FPWaD48
The prince and princess could not have children of their own. So they built an orphanage across the river where it is said over 100 children were cared for. They eventually adopted 60 children, all of whom today, are buried with them in the cemetery of Sucre. The ruins of the orphanage, now over 100 years old, can still be seen but are in danger of being destroyed by the river. La Glorieta was declared a National Monument in 1970. It's current caretaker is the Prefecture of Chuquisaca.
La Glorieta is located about 4 kilometers from downtown Sucre along the road to Yotala. You must pass through the "Teniente Edmundo Andrade" military school to visit the palace. You can take a taxi or a No. 4 public bus. The castle is open Monday to Saturday from 9:00 a.m. to 5:00 p.m. Foreigners pay Bs. 15 to enter (about $2.00 dollars).