Taxi companies number in the hundreds in Bolivia. Cabs in Bolivia are relatively cheap. None are equipped with meters. There is a standard rate per person depending on your destination. Before you get into one, it is advisable to ask a merchant or hotel personnel, what the rate should be for the destination you wish to reach.
There are two kinds: privately owned cabs called 'particulares' and radio taxis called 'radiomóviles'. Privately owned cabs are basically vehicles of any type, driven by their owners, that may or may not be clearly marked. Usually they place a small placard on their front windshield and drive around town picking up passengers wherever they can.
Because they are not company cars, nor equipped with radios, if they experience mechanical problems, are victimized in some way, or are involved in an accident, there is usually no way to call for help unless the driver has a cellphone. In addition, if you forget any personal belongings you will have no way of contacting the driver.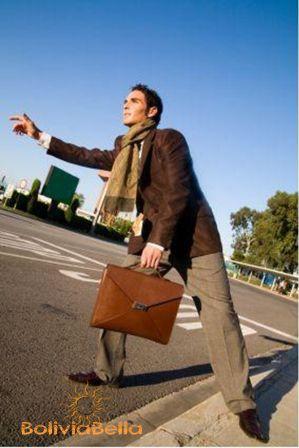 If you must hail a cab from the curb, it is customary to use the hand signal shown here. Notice how our friendly neighborhood model wisely keeps one foot firmly planted on the curb should the cab he is hailing decline to stop. Cab drivers here are notorious for that. If they can't stop for you, they'll simply whiz on by with a total disregard for the lack of distance between their car and your outstretched body.
RADIO TAXIS are also privately owned cars, driven by their owners, but they are clearly marked as taxis. They may have a placard in the front windshield, a small green light above the front seat passenger's visor, and are usually white with a green stripe painted along the entire length of the car. These vehicle owners contract with a company and pay the company daily for the use of radio equipment. The benefit to them is that they get calls and do not have to drive around arbitrarily hoping they pick up a passenger. The benefit to you is safety. In addition, by using a radio taxi, you can call a cab to pick you up anywhere at any time and drop you off at any destination without having to stand on a street corner trying to flag one down.
It's important to find a company that you are pleased with. There are literally dozens of them in Santa Cruz, some with better quality cars, better customer service, and better response times. It's usually easiest to ask which company operates most closely to your neighborhood and use that company because response times to your call for a cab will be shorter. But you can use any company you wish – just keep in mind that their prices are based on distance and frequently not only the distance of your trip in the cab, but also the distance they have to drive to get you (although they shouldn't really charge this but they somehow usually factor that in).
It's always best if you tell the operator your pick up location and destination and ask up front what the charge will be so you don't have to argue or negotiate with the driver later (also so you will have the correct change because 95% of the time, the drivers don't have change on hand). If you ever have a dispute with a driver, demand he/she call the operator ('Por favor llame a su central y pida la tarifa'). The operator will announce the fare over the radio for all to hear. End of dispute.
Keep in mind that most taxis, being privately owned vehicles, are not well maintained. Drivers do not earn very much and barely get by. They do not have a lot of money left over for vehicle maintenance. The companies they work for usually don't have any requirements in place in terms of maintenance either, nor do they pay for maintenance. The majority of them do not have seat belts and NONE have safety seats available for children (although you can bring your own if you like). Lastly, they probably are not insured in case of accidents or injury (most carry the minimum required by law which does not usually pay out very much in cases of physical injury) so if you ever feel your driver is speeding, or driving unsafely in any manner, it is your right to speak up and tell him to slow down. If he refuses to drive safely, you can refuse to pay and ask to get out immediately.
In La Paz and some other cities it is customary to share taxis. As you are driving along, if someone hails your cab the driver will slow down. The potential passenger will state their destination and your driver will decide if their stop is along the way to your destination. If so, they will pick up that person. If not, they will continue without them, always respecting the route of their first passenger. (Unless they are a radio taxi, in which case you are paying for them to drive you exclusively).
This is not the case in Santa Cruz. Usually, if you see a cab already has a passenger in it you should not hail it. Regardless as to whether or not it is a radio taxi, it is not customary to share an occupied taxi here. (The exception to this is the TRUFI which is a totally different type of taxi, explained below).
To find the phone number of a "radiomovil" anywhere in Bolivia, just dial 104 for information. There are literally hundreds of radiomóvil companies, too many to list here.
TRUFIS are another option. They are taxis as well, but have fixed routes. In Santa Cruz they pretty much circle around and around each one of the city's concentric rings. Trufis are easily identifiable by two small flags flying on the hood - one to the left and one to the right. Of course, because of their fixed routes they do not provide door to door service. Rather, they pick up and drop off passengers continuously along their routes. The disadvantage of a trufi is that you will not be the only passenger and it will take longer to get to your destination due to multiple stops to load and unload other passengers. Still, they are inexpensive and you never stray from their routes so you'll never feel lost. There is something to say about safety in numbers too.