There are dozens of sites to see in the department of Santa Cruz, Bolivia's largest state. Some are considered adventure destinations (ecotourism), some are not, and others could belong to both categories. On this page you'll find popular tourist attractions in Santa Cruz that are not exclusively ecotourism sites.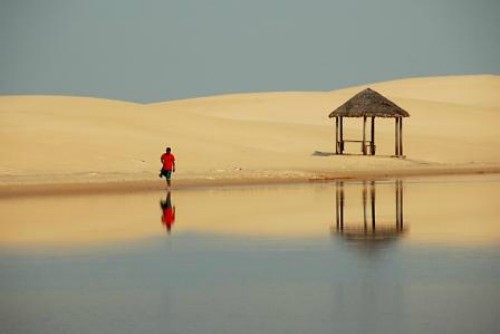 There are many interesting sites to explore in Santa Cruz, the largest of the country's nine states (called "departamentos"). Located in Eastern Bolivia, its capital city, also called Santa Cruz, is the fastest growing city in terms of population, and has become the nation's business, financial, and agricultural capital as well. In this section we'll tell you about some of the more interesting regional attractions, so when we make reference to Santa Cruz, we're talking about the entire State of Santa Cruz.
If you don't plan to venture out of the urban area, visit our section on self guided city tours for all the best sites in our capital city, Santa Cruz de la Sierra. Because of its privileged tropical location and the enormity of the department itself, there are many sites to see. Eastern Bolivian culture and people are completely different from what you might find in the Western or Andean half of the country, so be prepared to be surprised.
In Santa Cruz you can learn about life in the region's many small colonial-era towns like Samaipata and the Jesuit Missions, listen to a children's choir in Urubichá, or attend a baroque music concert. Observe as artisans use skills handed down over centuries to fashion intricate musical instruments in Guarayos.

Learn to create pottery in Cotoca from some of the best artisans around. This is the town "cruceños" flock to when they've purchased a new car. They take their new vehicles to the church in Cotoca to be blessed by a priest. Visit the site where the famed Che Guevara was captured by taking the Ruta del Che tour which makes stops in places like Vallegrande and La Higuera.
Attend a coffee festival in Porongo or dance in honor of a local patron saint. Visit Charagua, one of the towns where brave soldiers fought Paraguay in the Chaco War or Camiri, in the same region, which is Bolivia's oil and gas capital.
Just a little closer to the city visit the Santa Cruz Zoo. Take a short drive to the La Guardia Orange Festival, or just enjoy the town for what it is. Spend the day among giant Amazon water lilies at our favorite restaurant/resort/nature preserve La Rinconada or take a tour guided by a real biologist at Yvaga Guazu Ecological Park and learn about more than 650 varieties of plants at this beautiful garden/park/restaurant and hidden paradise just 15 minutes from downtown. Into plantlife? Visit our Santa Cruz Botanical Garden, which is on the way to Cotoca.
Spend a day or a night or a week at the Güembe Biocenter which specializes in "Health Tourism" (spas, yoga, etc.) and houses the world's largest butterfly sanctuary in addition to dozens of other amazing amenities! Just 30 minutes from downtown you'll find one of the prettiest local getaways.
Check out the Lomas de Arena, a wayward patch of sand dunes somehow isolated amongst the tropical forests of Santa Cruz. No one knows quite how they got here, but the sand is the same as is found in portions of Africa. If you play golf, like kayaking or just want to hang on a hammock, spend the weekend at Santa Rosa de la Mina which will soon be South America's largest golf resort and is located on the way to the Jesuit Mission towns near San Javier and Concepción.
See our Things to Do section for many more parks and gardens, museums and galleries, events and sites, plus tourist attractions and destinations in the Ecotourism and City Tours sections. Our Entertainment page lists many more attractions and you can request much more information and brochures from the Tourist Information Office.
There is a never-ending, amazing variety of things to do in Santa Cruz. Because the department is so large, you are free to choose your preferred landscape depending on how long you will be here, the type of accommodations you prefer, or how much energy you have. Try this region's delicious food or enjoy our nightlife too. Ruta Verde Bolivia is our preferred tour operator for these sites.