Just 17 miles Northwest of
Santa Cruz
there is a small town called Porongo with about 12,000 inhabitants. Most notable are its colonial architecture, church (pictured here), main plaza and antique houses.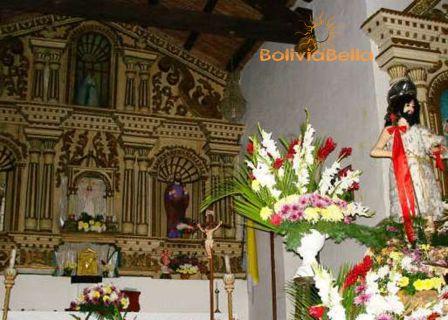 The town was founded by Jesuit Friar Santiago Ribero on 22 February, 1714 and it has a church called Iglesia San Juan Bautista (John the Baptist Church) which was built in 1716. It was probably one of the last to be built by Catholic priests in Bolivia. The Bolivian government declared it a National Cultural Heritage site in 1999.
Some of Bolivia's best coffees are produced in this area and there is a Coffee Festival each year in June following the town's "Fiesta Patronal", day on which the inhabitants celebrate their Patron Saint (John the Baptist). The festival of San Juan takes place on June 23rd. Thousands of people flock to the tiny town of Porongo to walk over hot coals. They believe you have to have faith in order to firewalk without getting burned. June 23rd is believed to be the longest and coldest night of the year in Bolivia.
In September the town celebrates its Festival de la Flauta de Tacuara. The "achachairú", a small fruit found only in Bolivia, also grows plentifully here (try some – they are tart, but delicious!) You can attend the Gran Fiesta del Achachairú in December. In April and May every two years, part of the Baroque Music Festival takes place in the Porongo church as well. The town also has a baroque music school. Porongo is located in one of the nine provinces that are part of Amboró National Park. Families often drive to spend the day or for weekend lunches.
On the same road you take to Porongo, there is a wonderful outdoor restaurant that has a small lake (huge water lilies!) where you can feed the fish, and a great play area for kids called
La Rinconada.
It's a great place to enjoy your Sunday lunch. During the rest of the week you can visit the park and grounds, but the restaurant serves only drinks and snack. You can rent it out for special events.
It features very healthy food, so eat all you want!
Also on this road is the world's largest butterfly sanctuary (and also a 5-star resort and country club) called Mariposario Güembé.
Also you can veer off to spend some time at Laguna Capybara, a lagoon where you can take a dip or just relax with a picnic or do some grilling. It has a camping area as well.
The town boasts another unusual characteristic: Michael Bennett, a native of Stoke-on-Trent, England, a gold miner, served as town mayor between 2002 and 2003. For more, visit our Bolivian Festivals page here.