Bolivia's main waterways consist of rivers and lakes as the country is landlocked and has no seaport.
Lake Titicaca
in the western Andes region is the highest navigable lake in the world. To the North and East several major Amazon tributaries are used. In Southeast Bolivia's Pantanal region, there are several small ports along the Paraguay River and its tributaries.
Lake Titicaca, shared by Bolivia and Peru, is a major tourist destination. Here you can take a small outboard motorboat or larger tour boat to the Island of the Sun and the Island of the Moon. From Bolivia you can cross the entire lake to reach Peru by hydrofoil. Fishing boats are also abundant.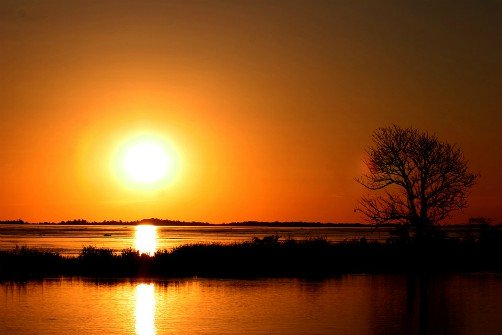 In the Amazon region, rivers are used frequently for transportation, especially in remote regions to which there is very little alternate access. Flat barges use rivers such as the Mamoré and the Madre de Dios to transport cargo (fruit, lumber, and other products) between the many small informal village "ports", most of which are basic river bank landing areas with very little infrastructure.
Large fishing boats transport hundred of pounds of fish toward Trinidad and Santa Cruz. Most of the river boats were not built for passenger service, but you can take an Amazon Cruise on the Reina de Enin, a "floating hotel" for one or more days on a wildlife observation tour, or days tours along the Ibare River on smaller boats, ending in Chuchini.
In the Pantanal region there are two important port towns, Puerto Suarez and Puerto Quijarro. In addition, Bolivia has agreements for free port privileges in Argentina, Brazil, Peru, and Chile, and river ports in Paraguay. Navigation is possible on a total of about 14,000 kilometers of the country's rivers.
Principal Rivers: The Beni, Chapare, Desaguadero, Guaporé, Mamoré, Paraguay, and Pilcomayo form the country's major waterways. Plans have been finalized to widen and deepen the Paraguay River in order to improve access to the Atlantic.
In addition, lagoons abound throughout the Eastern tropical region of Bolivia and many of them have been turned into small family resort-style play areas with restaurants, and fishing and swimming areas. Canoes, row boats and jet-skis are often available for entertainment. Whitewater rafting is a popular sport on our rivers as well.
You can travel Bolivia's lakes and rivers by barge, canoe, motorboat, fishing trawler, cruiser, reed boat, hydrofoil, or on a luxury tour boat.
So whether you swiftly and silently cross the Bolivia/Peru border aboard a hyper hydrofoil; drift slowly along soaking in the lazy tropical sun while you dip your toes into piranha infested waters; or tumble about at breakneck speed over jagged rocks and unexpected waterfalls, ENJOY yourself to the fullest - because on Bolivia's beautiful rivers and lakes, the journey itself is the adventure.