This river cruise is taken on the Reina de Enin Ecological Cruiser, a riverboat (affectionately called a "floating hotel") that navigates on the Mamore River, the largest river in Bolivia, and a tributary of the Amazon River. The cruiser offers 2-6 day tours during which time you will be in close contact with wildlife and nature. It is possible to take hikes, go horseback riding, observe wild animals, visit indigenous communities, or just lay back in your hammock with a cold drink. It's also your chance to search for the pink river dolphin in Bolivia, and if you're lucky, you might even be able to swim with them. During this tour you can also do some birdwatching! This all takes place on the Moxos floodplains of Bolivia's northernmost state of Beni, considered the largest protected wetlands region in the world. It departs from the city of Trinidad.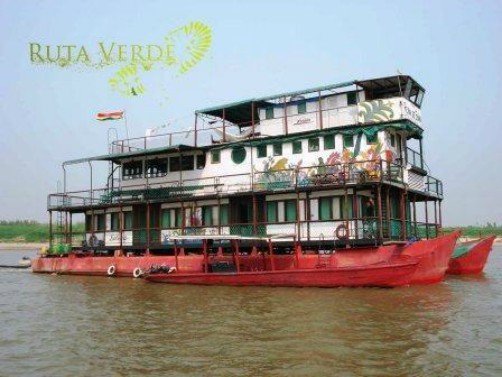 The Bolivian Amazon is an ecological paradise, most of which is located in the northern state of Beni. In the beautiful and dynamic Amazon you'll see a great variety of animals. It will not be difficult to see crocodiles, capybaras (biggest rodent on Earth), turtles and many birds like macaws, toucans and hummingbirds. And although they can be shy, you will probably see pink river dolphins.

https://youtu.be/zSGXrT6X1wo
For more information on this and many other ecotours and tours of Bolivia contact Ruta Verde Bolivia.