Plaza Blacutt, more commonly known as "la plazuela" Blacutt, is located in the "Zona Sur" or southern section of the city of Santa Cruz, Bolivia, just three blocks from the famous Tahuichi soccer stadium. It is surrounded on all four sides by shops and restaurants.
The plaza itself is large and has small playgrounds for children with slides, swings, and little houses on stilts, as well as see-saws. The trees that shade this plaza are old and immense, making it a favorite resting stop on hot days. It is crisscrossed by several tile sidewalks lined with benches.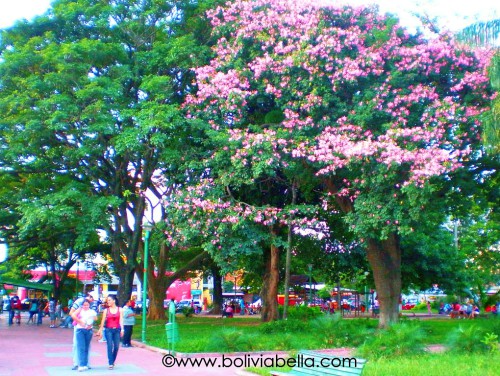 On the northern side of the plaza you'll a restaurant and some ATM machines along that sidewalk. The northern sidewalk of the plaza itself is lined with large carts where you can buy delicious, tropical "cupuazú" juice, or steak sandwiches "sandwich de lomito" made on the spot.
To the left, (along the western side of the plaza) is the large and colorful Cosmic Bowling alley, popular among teens and adults.
Along the southern side of the Plaza Blacutt you'll find more restaurants and a playground for kids.
Along the eastern edge of Plaza Blacutt you'll find more restaurants where you can enjoy typical foods like "silpanchos" and "milanesa" or something more simple if you please. You'll also see a really big grocery store, one of Fidalga chain of grocery stores called Sur Fidalga. You can buy groceries or pay bills at the small credit unions (cooperativas) inside.
Plaza Blacutt is located 2 blocks down from Avenida Irala, a long avenue that runs from West to East (and vice versa) along the southern side of the city, basically from the Ramada (one of the many outdoor markets in Santa Cruz (located on Avenida Grigota and the First Ring) all the way to the Parque Urbano and Don Bosco Catholic Church (the round one pictured on my churches page). All along Avenida Irala you can find stores, banks, pharmacies, doctors offices, a great big car wash, restaurants, and the Clinica Foianini, considered the best hospital in Santa Cruz, and several other smaller health spas and health centers. You'll also see several daycare centers (Trapitos, Pasitos, Ami) and the two towers (soon to be three) of the CAINCO (Chamber of Commerce, Industry and Tourism). All of this is within an 6-block radius of the plaza.
From Plaza Blacutt you are also near several good schools like the Uboldi private school, 2 blocks away, other well-known restaurants. You're also only 4 blocks from the famous Cine Center (a huge movie theater complex and mall with shops, banks, and a food court). Cine Center is across the street from the El Trompillo Airport, one of two airports in Santa Cruz, and just a few blocks down from the Immigration Office. You're also only 3 blocks from the Tahuichi soccer stadium, across from which is one of our other better movie theaters the Bella Vista.
One thing you shouldn't be too shocked by is that on the Eastern sidewalk of Plaza Blacutt, on any given day if there are no police around, you'll see row upon row of pirated CD and DVD vendors, with little portable DVD players so you can see if they work before you buy them (if you choose to help create a demand for these products, that is).
You'll also see people selling used toys and used clothing out of their cars. It's amazing how they can get away with this - about once a week the police come around and scare them off for the day. But the next day they're right back at it.
Sit under the big mango tree that shades the kid's playground on the northern side of the plaza at about 7-8 at night and you'll soon find yourself surrounded by a swirling, cloud of little flapping wings that fly by you so quickly, around and around the tree, you can't see anything but a blur! What you will experience is dozens of bats waking up and coming out to eat and play for the night. My son and I love to sit under the mango tree at this time of night and feel the puff of wind from their wings as they flit past at high speed, and we get dizzy trying to catch of glimpse of them. (For those of you who think they're creepy, they inhabit this one tree only and never venture but a few yards from it - however, we kind of like blending in with the locals).
There's plenty to do here in the southern side of the city, away from the tangled mess of downtown traffic. (Plaza Blacutt is 9-10 blocks straight south of Plaza 24 de Septiembre in the center of the city). On Sundays there are a great many ambulatory vendors selling candied apples, ice cream, cotton candy, balloons and bubbles. Other sidewalk vendors sell candies, snacks and phone cards (there are three public phones on the plaza corners).
Come visit the Zona Sur, relax and take some time to breathe our city in!