City parks in Santa Cruz, Bolivia reflect the tropical, outdoor culture of this region. Parks, gardens and plazas are bursting with color and sounds, shady trees and park benches.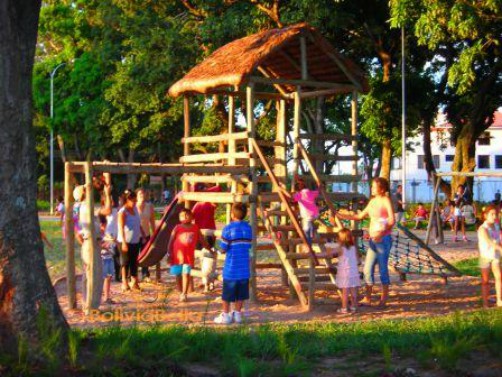 Plazas and parks are very similar, but there are differences. Plazas are usually a central green area which may consist only of trees, benches and the occasional statue. Parks, on the other hand, tend to me far more child and family oriented and inevitably have playgrounds for kids.
Parks also may have other entertainment options. The Parque Autonómico (Autonomy Park) was completed in 2010 and is the largest and prettiest) city park in Santa Cruz. Here you can bike, rollerblade, skateboard (it has ramps too), grill, play volleyball, soccer and more. The Parque Arenal has a small lake, paddleboats for kids and families, and a museum in addition to a skateboarding ramp and small playground. Parque Los Mangales II has chessboards painted onto picnic tables, a soccer field and sand volleyball court, and barbeque pits where you can grill for your picnic.
The Parque Urbano (which literally means "city park") is the oldest and largest green area in Santa Cruz. It was recently renovated and fenced in and, as a gift to the city, a large musical water fountain called the Aguas Danzantes was added. It's a favorite attraction among both locals and tourists.
Parks are usually used for other venues such as concerts, bazaars and fairs, and other public events. In addition, they aren't necessarily the central gathering place of a city or neighborhood - that is, of course, what the plaza is for.
In colonial times, plazas were the foundation of social and political life. Cities and towns were built on all four sides, and expanded concentrically out from there. On weekends, it was where high society promenaded, dressed to the hilt, walking and conversing slowly around and around the plaza with the express purpose of simply being seen. (This is similar to "cruising" in the U.S. and in some towns it is still a custom, although most young people now prefer to drive around the plaza in cars or on motorcyles - which gets noisy!)
City parks, on the other had, may be located anywhere there is a green spot available and are made to entertain. So parks and plazas have different uses and their locations are decided upon using different criteria as well. Santa Cruz also has playgrounds and several privately owned parks.