The Parque Autonomico (Autonomy Park) is the largest and prettiest city park in Santa Cruz, Bolivia. It's truly immense and really worthy of the cruceño pride it evokes. The city built about 30 new parks this year but none comes close to this one.
Located on the 4th Ring just a few blocks to the East of Avenida Roca y Coronado, the Parque Autonomico covers about 10 hectares of land and is filled with beautiful gardens and landscaping, numerous playgrounds for children, several skateboard parks and ramps, park benches, grills and picnic tables all over the place, a soccer field, a beach volleyball court, several snack/restaurant areas, tons of parking space, miles of biking and rollerblading paths, and much more.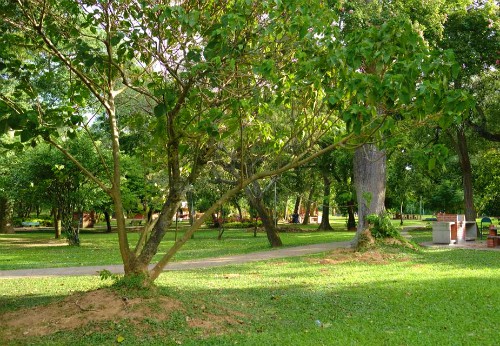 The park really fills up on weekends when Bolivians traditionally spend the day with their families. It's not easy to find a grill and picnic table if you get here after 11 am on a weekend. But during the week, the park is quiet and you can really enjoy a long leisurely walk, smell the grass and plants, take a long bike ride, or play your guitar under a tree. All the while hundreds of birds will accompany with their chirping and singing. It also has an ampitheater and several additional small outdoor stage areas.
The park is open from sun-up to sunset and is truly worthy of a visit. It's a great place to relax, read, write poetry, or work out. On weekends the snack bars put out a small jump-house area for the kids. For every 5 bolivianos you consume (buy a soda and you're covered), you get a ticket for one turn in the jumphouse for your kids.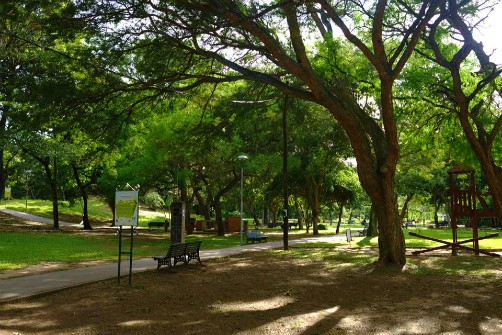 There is no cost to enter the park as it is a city park. You'll see what appear to be two main entrances. One is actually the entrance (there's a guard booth and a huge parking lot next to it) and the other is the exit. Looking for a place to unwind during your trip? Spend a couple of hours here and you'll feel renewed.
By the way, the Parque Autonomico is very near the Rio Piraí. You can visit both places in one day. To get to the Piraí River just stay on Avenida Roca Coronado instead of turning right on the 4th ring to the park. It ends at the entrance to the river.