The Parque Urbano, or "urban park" is one of the largest green leisure areas in Santa Cruz, Bolivia. "Parque urbano" literally means city park; however, there are many city parks. This park was completely renovated and now includes a BIG beautiful musical water fountain.
It is located between the 1st and 2nd concentric city avenues (called "rings" or "anillos" here) and across from San Roque Catholic Church in Southeastern Santa Cruz and is not far from the Terminal Bi-modal (combination bus and train station). Also near this park is one of the best hostels in Santa Cruz - Jodanga Backpackers Hostel.
This park is one of the oldest in the city and also one of the most crowded on weekends. It has two or three (rather dilapidated) playgrounds, a soccer field, long running track, a basketball court and lots of shady trees and benches.
Unfortunately, this park is not well-kept. It used to be just beautiful, but the public does NOT take care of it. It isn't unusual to find garbage such as plastic bags and cups on the playgrounds. The playgrounds themselves are rarely maintained.
What this park lacks in maintenance it makes up for in size. It's a great place to run, if you like to exercise and it's running track is about a mile (1.5 kilometers) around. You can usually find runners out in the early morning and late afternoon.
In addition, it has a small fair ground that seems to have installed itself permanently. Here small children can enjoy rides on tiny helicopters, mini-roller coasters and other small rides.
On Sundays the park is packed. Hundreds of people fill the park and vendors abound. Cotton candy, bright red candied apples, all kinds of other snacks and sweets, ice cream, hot dogs and many types of juice are available.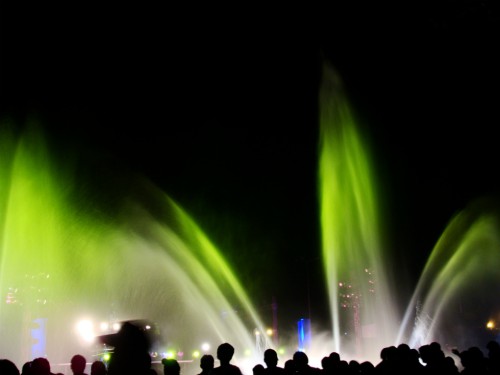 The park has a brick tower on the West side that you can climb (2 stories). From here you can overlook the city and the park itself which covers a total of 6 city blocks. It's a good place to take photos on a clear day. Right across the street from this lookout tower is the San Roque Catholic Church which is also packed on Sundays.
Next to the tower is a small corner where 3 cement dinosaurs have been built. Children seem to enjoy seeing these huge statues.
The events that take place at the park are what really make a trip to the Parque Urbano worthwhile. Outdoor events such as fairs, concerts and other gatherings are held here frequently because the sheer size of the park accommodates them easily. A new addition to the park, as of 2010, is a huge musical water fountain which begins to spout and spray at about 7:30-8:00 p.m. each night. You can view photos of the Aguas Danzantes (Dancing Waters) water fountain here.