Traveling on trains in Bolivia is a great way to see everything between your point of origin and your destination. There are two railway systems in Bolivia with a total of 2290 miles (3685 kilometers) of track used by freight and passenger cars. The problem is that they are not connected to each other.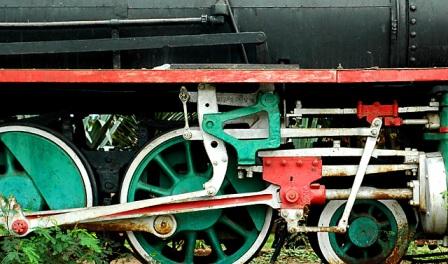 Bolivia hasn't spend the funding needed to maintain its railroads in top condition, much less to spend on connecting these two systems. When the railways were owned by the government (ENFE – Empresa Nacional de Ferrovías) they were outdated and unreliable, but in 1995 they were privatized and 50% owned by foreign investors, mostly from Chile, and service improved considerably. In July 2007 President Evo Morales nationalized ENFE.
The Western Network (Red Occidental) of railway passenger transport in the Andes region of Bolivia was built beginning in 1877. It wasn't until 1976 that diesel engines replaced steam locomotives. It is called La Ferroviaria Andina (FCA). They have two lines: 'Expreso del Sur' and 'Wara Wara del Sur'. The first is a North to South line that runs from Oruro (a town about 3 hours South of the city of La Paz) to Uyuni to Atocha, to Tupiza toward the border of Argentina where it stops at Villazón.
Locomotives and cars are pretty modern and equipped with everything you need for comfortable long-distance traveling. The seats are adjustable, and videos and music, heating and meal service are provided. Both Expreso del Sur and Wara Wara have three classes, yet Expreso is more luxurious and faster than Wara Wara. Even in economy class, you'll have a reserved seat and a waiter. At night you can watch movies.
At Uyuni, another track also splits off and runs westward crossing the Uyuni Salt Flats toward Chile where you can go as far as Calama, Antofagasta, or Arica. Other sections of the line connect La Paz with Cochabamba, Sucre, Potosí, and other towns in between. Their email is pasajeros@fca.com.bo
The Eastern Network (Red Oriental) connects Santa Cruz with Sao Paulo, Brazil running eastward toward Quijarro, in the Pantanal on the other side of the border from Corumbá, Brazil. It also runs from Santa Cruz going South to Yacuiba on the Argentine border.
Beginning in Santa Cruz, the trip to either destination can take anywhere from 12 to 24 hours crossing the lowlands. The trains run every day in both directions and make many stops, sometimes for several hours. You may have to stay in Quijarro for one night as the Brazil immigration office closes for a 3-4 hour lunch and the Bolivian immigration does not seem to have regular office hours, at least not the ones they post on the office door.
The best service is the 'ferrobus' which is not always available, but is fast, usually reliable and comfortable. You can buy tickets up to a week in advance. Traveling in the first (Pullman) class means you will have an assigned seat and that nobody will be standing in the aisle. Next, the express service, known as 'tren expreso', 'tren bala' or 'tren especial'. These have first and second class seats, a dining car and boxcars, 'bodegas', which carry passengers. Some have air conditioned coaches with meal service. The third option is the 'tren rapido', which isn't rapid at all as it stops at every station. The fourth is the 'tren mixto', which carries passengers and cargo. Because it is so cheap, and service is irregular, many of the poorest travelers use this to transport themselves, their luggage and their animals. For these trains, you take your chance buying tickets before departure, if you can find out when that is. Ask the stationmaster, 'jefe de estación', rather than rely on the departure schedule.
Remember, land travel in the Andes and tropical areas of Bolivia can be precarious. High altitude trips can be very cold, especially in the winter (June-August). Low altitude trips in the tropics can be hot, dusty and humid. Travel in the rainy season (November-March) can be complicated by storms and wet, muddy conditions.
Although the trains make many stops, be sure to take snacks and plenty of water as food and drinks sold by local vendors can be of doubtful origin. Carry tissue as public restrooms are not always stocked. Mosquito repellent and sunscreen are also a good idea. Never leave your personal belongings when you disembark. Keep your travel documents, money and tickets in a pouch inside your clothing, not in your luggage. And don't forget your camera!
Most passenger trains are of pretty good quality. Most have reclining seats. Prepare appropriately for the climate depending on your destination. Bring mosquito repellent and if you are traveling during the winter, or in an air conditioned car, bring warm clothing. They totally BLAST the air conditioning and you'll freeze to death.
Speaking of death, you may have heard that the train that runs between Santa Cruz and Brazil is sometimes referred to as the Death Train. Have no fear, this has nothing to do with the abilities of the engineer or the quality of your ride, or your safety. There are several theories as to how this name came to be. One theory is that the mosquitoes are so bad during the rainy season, you'll get "eaten alive" throughout the entire long trip, or contract malaria and die later. Another theory is that people riding on top of the train (not uncommon) fall asleep and fall to their deaths (quite uncommon). Actually, it is called the Death Train because many workers died while building this railroad.
To take a train from Santa Cruz to anywhere else, you'll need to go to the Terminal Bimodal (dual bus and train station). The company that operates this railway is called Ferroviaria Oriental. Their website is only in Spanish and Portuguese. This website has origin and destination cities and Bolivia train schedules in English, Spanish, German.