Don't have time to take classes? WorldNomads offers iPod language guides FREE!
Learn
Spanish
on your iPod MSNBC called them the best freebie on the net -
see the full review
or download their FREE
Spanish
iPod phrasebook! In fact, you can download their free iPod language guides.

No Time to Learn? Get a Phrasebook!
Print out free Spanish phrases
These are some simple Spanish phrases you might want to learn to help ensure you are understood correctly, or can request what you need, while you are in Bolivia. Below you'll find some of the more necessary Spanish sentences translated to English.
Most Bolivians don't care if your accent is awful. They are very appreciative (and usually more respectful) of foreigners who make an effort to speak their language – more so than of those who expect Bolivians to make the effort to speak every other foreign language on the planet. Of course, if they do speak another language they will be eager to show that off and practice with you. So don't worry if your grammar is incorrect or if your accent is very strong. Take a breath, calm down, and JUST SAY IT!
The following are some basic, general, and emergency phrases you can learn (or print out and take with you). Remember, Spanish is read and spoken phonetically, exactly as it is written (each letter has only one sound so there is no guessing involved, what could be easier). Oh, and the letter "h" is silent. So here we go, not necessarily in order of importance - or maybe they are...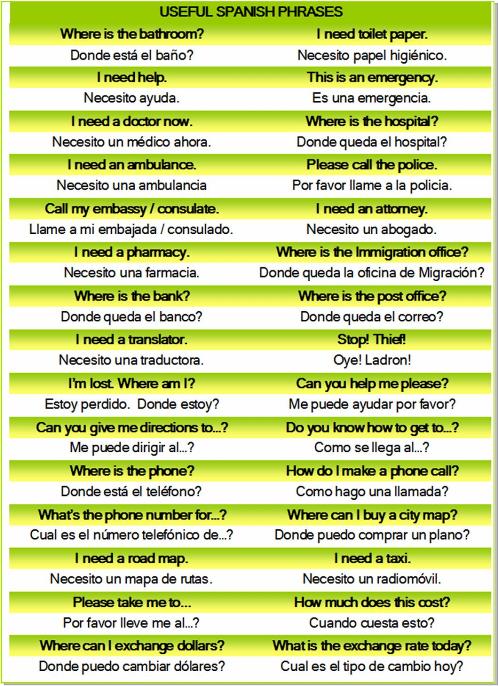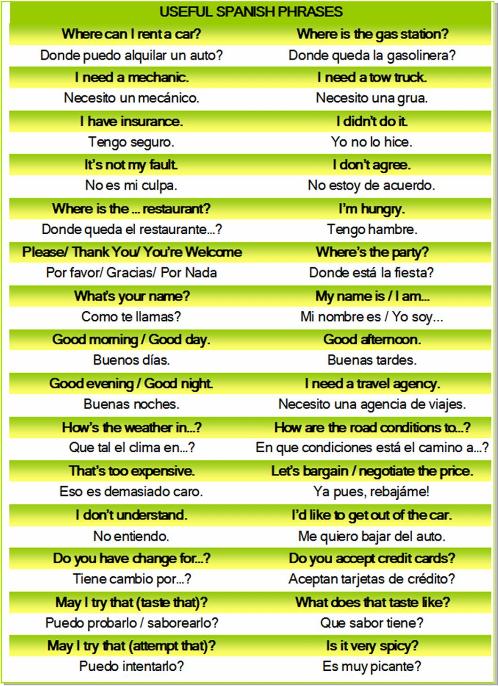 Take Spanish Courses Before you Travel
The following are programs, courses and guidebooks you can use to learn Spanish. As with any product or service you should thoroughly review the information presented, read customer testimonials, and make use of any return-policies or money-back guarantees they offer if you are not satisfied with the offer. BoliviaBella.com does not endorse any one program more than another, does not offer any guarantees over the programs listed, and offers this for informational purposes only.
To learn Spanish in 8 weeks before you get to Bolivia: Click Here!
Synergy Spanish: Click Here
Rocket Spanish: Click Here
Learning Spanish like Crazy: Click Here For Level Two Click Here
The Verbarrator Spanish verb conjunction software: Click Here
Streetwise Spanish: Click Here
Lingo Basics: Click Here
Speak Spanish Fast: Click Here
Surefire Spanish: Click Here


HAVE FUN LEARNING ESPAÑOL VISIT US SOON
Remember, it's all about the effort you make! You don't have to speak perfectly! No one will ridicule you! And if you just CAN NOT handle the language - chill! Many MANY Bolivians speak English too! (And they don't speak it perfectly but they're not too shy to give it a try anyway). So it goes both ways - so just chill out and DON'T WORRY!!! If you speak any Spanish at all, you'll be understood here. Encouraged yet??? Ay ay ay!