Not! Shopping is a very interesting adventure in Santa Cruz, a sort of a sport, if you prefer. You have to get to know the ins and outs of purchasing, the where and where-not-to shops, how to convert your currency to bolivianos, and even how to beat 'em at bartering (and when not to barter).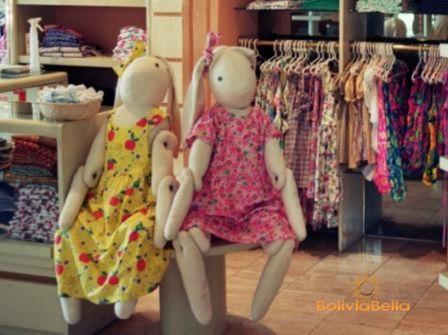 In Bolivia you can purchase just about any product you'd like; however, you might have to do some searching. Shopping can get quite interesting, or quite exhausting, depending on your perspective. Whereas in the US or elsewhere you might head to the mall where you can buy everything on your list in one place, in Santa Cruz you'll need a little guidance.
There are no gigantic malls in Santa Cruz, but there are a few small malls (cruceños call them "shoppings" or "comerciales") that house a variety of small specialized shops and boutiques. There are also some large US-style home improvement stores in Santa Cruz that carry a wide variety of items (mostly imported); however most of your shopping will be done at smaller stores that specialize in a specific line of items, many of which are family-owned and operated. I've comprised a list of boutiques and stores in Santa Cruz categorized by the specific type of item you might be searching for, such as souvenirs, hardware, party favors, or clothing, for example.
Groceries can be purchased at any one of the many mini-marts, supermarkets, and other-sized grocery stores in Santa Cruz. Here most items have a fixed price, you can be pretty certain of their origins, and the inventory is rotated on a regular basis, ensuring hygiene and freshness. There are, however, many outdoor markets in Santa Cruz as well where you can find almost any item under the sun. In the food markets most produce is fresh and brought in several times a week – much of it is also organically grown. You can also find clothing, shoes, leather goods, cosmetics, toiletries, baby items, electronics, gifts, cooking utensils, and just about everything else.
Before you purchase anything, please read these important tips about shopping in Santa Cruz. You'll learn what you need to know about the Bolivian sales tax, how to use and calculate Bolivian currency and exchange rates as well as some Bolivian shopping etiquette. Also, read this for a short lesson on bartering in Bolivia.