LA PAZ PHOTO GALLERY
Galería de Fotos de La Paz
Tourism &nbsp&nbsp Travel &nbsp&nbsp Hotels &nbsp&nbsp Airlines &nbsp&nbsp Restaurants &nbsp&nbsp Agents &nbsp&nbsp Forums &nbsp&nbsp Things to Do
---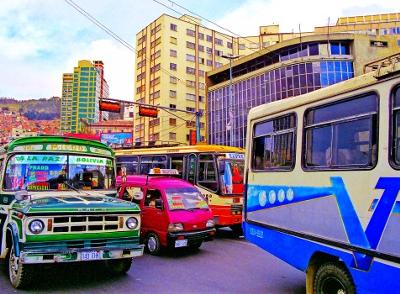 We thought this La Paz photo, taken by Jerry Peek, of the US, really demonstrates how the vibrant, energetic colors of Andean culture permeate even the most mundane urban settings in Bolivia's western region. That's why we awarded this photo FIRST PLACE in our 2008 Bolivia Photography Contest, in the Urban Setting category. Click on the photo to read more. See Jerry's full slideshow below.
Creemos que esta foto de La Paz, tomada por Jerry Peek de los Estados Unidos, realmente demuestra cómo los colores vibrantes y energéticos de la cultura andina impregnan hasta las más triviales escenas en la region occidental del país. Por este motivo premiamos esta foto (PRIMER LUGAR) en nuestro Concurso de Fotografía de Bolivia 2008. Haga clic en la foto para leer más. Vean más fotos de Jerry abajo.


High in the Andes Mountains at over 13,000 feet above sea level, La Paz is one of the highest cities in the world, second only to
Potosí
at 15,000 feet. As Bolivia's second largest city (the largest is
Santa Cruz
in Eastern Bolivia) it the seat of the national
government
and one of the country's 2 capital cities - the original capital is
Sucre.
En la Cordillera de los Andes, a más de 13.000 pies (3000 metros) sobre el nivel del mar, La Paz en una de las ciudades más altas del mundo, después de
Potosí
que está a 15.000 pies de altura. Es la segunda ciudad más grande de Bolivia (la más grande es
Santa Cruz
en el oriente de Bolivia) y es la sede del
gobierno
nacional y una de las 2 ciudades capitales de Bolivia - la capital original del país es
Sucre.
Thanks to Jerry Peek of Photomondiale.com for this slideshow of urban La Paz:
THIS IS A BEAUTIFUL VIDEO OF LA PAZ



ALONG THE ANDES – LAKE TITICACA – TIAHUANACO







Return from La Paz Photo Gallery to Home Page in ENGLISH
Vuelve de Fotos de La Paz a la Página Principal en ESPAÑOL









Custom Search