Bolivia is a landlocked country located in the center of South America. It is divided into 9 departments (states): La Paz, Pando, Oruro, Potosí, Chuquisaca, Cochabamba, Tarija, Santa Cruz, and Beni.
Each of these 9 states is further divided into provinces, and each province is divided into counties. Each county has municipalities which include cities and/or towns, or simply villages or settlements.
You can zoom this map by holding down your Ctrl key and scrolling
or simply use the + and - signs.

It's not difficult to find maps of Bolivia online. Here are a few basic ones that contain general information such as vegetation types, elevation, major cities, departments and provinces.
Bolivians have different names for different types of maps:
If you are in Bolivia, to purchase one locally, look for a "libreria", which in Spanish means bookstore, not library. (Library in Spanish is "biblioteca", if you're interested). In Bolivia they are also usually sold at school supply stores. If you can't locate a bookstore or school supply store ask for directions to the nearest post office ("el correo").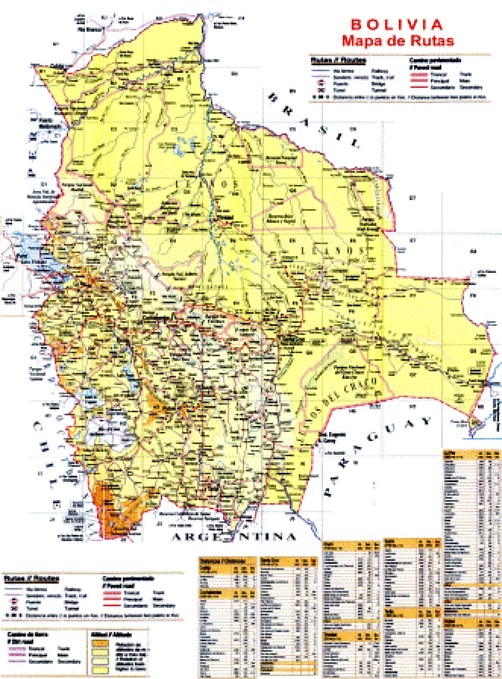 You can also purchase ones that show national parks, airports, and major tourist attractions. These typically have lots of pictures and are easy to use. Just ask for a "plano del departamento" (for of the department or state you are in) or a "guia de las reservas nacionales" (national reserves or parks).
If you are brave and plan to do any driving in Bolivia, you can request one showing most national highways and some secondary roads. In this case you would purchase a "mapa de rutas" (it might look something like the map shown above).
The following is a simple map of Bolivia showing its 9 departments (states). Below it an outline map of Bolivia and its location within South America. It may be useful for school projects and reports. You can download it (an any map on this page) by right clicking on the map and clicking on "save as".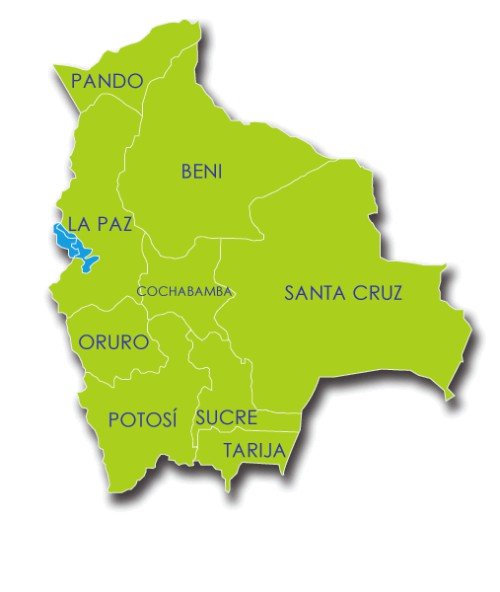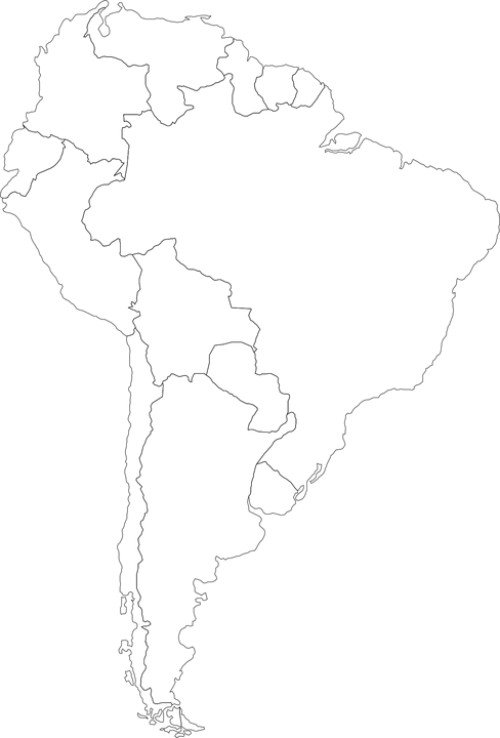 You can also purchase maps of major cities in Bolivia. Just request a "plano de la ciudad". Read our page on Bolivian Geography where you'll find an explanation on the various regions, topography, and exact geographical coordinates, more maps, etc.

BOLIVIA: MAJOR CITIES OF BOLIVIA 10 largest cities of Bolivia