Immigration requirements change frequently in Bolivia and are different for each person or family depending on your country of origin. The costs may also vary by country of origin. Below you'll find a description of the process you'll likely follow if you are planning to apply for
residency
in Bolivia, or extending travel visas (for those of you who are from countries for which visa extension is allowed). See our
Bolivia Visa Requirements
page for more.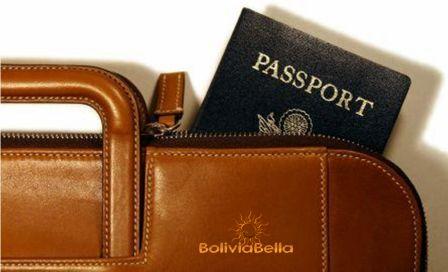 Moving? Contact Expat Services
Based on years of our own experiences with Bolivian immigration, customs, and other institutions, BoliviaBella Expat Services now offers residency application services. We work with bilingual lawyers. Read the information below and contact us to see how we can assist you in applying for residency. We can also help you rent a home, set up utilities, get a drivers license, and more. Learn more about the Expat Services we provide.


The Residency Application Process
The following information is based on personal experience. You will find the process is similar in La Paz, Cochabamba and other cities. However, since most immigration documentation is sent to La Paz for processing, time frames for acquiring residency in other cities are usually a bit longer than in La Paz. Use this information as a basic reference. It should not be understood as legal advice.
In
Santa Cruz, the Immigration Office (Migración) is located near the Tahuichi Aguilera soccer stadium. Or just take a taxi - they all know where Migración is.
Expect to wait in line for long times. On your way in, you should approach the reception desk that is immediately inside the glass doors and ask the attendant for a "ficha" which is a little paper with a number on it - you have to show some I.D. and tell her what your "trámite" will be (what you will be applying for).
Since you are a foreigner, you will pass all the tellers and teller windows that are in a row against the wall to your right, and you'll go all the way through to the end of the room to a window called "Extranjería" (for foreigners).
There the attendants will give you a list "lista de requisitos" of all the documents you will have to present, depending on the type of process "trámite" you will be undergoing.
You can renew a tourist visa, request a one-year residency visa, a two-year residency visa, a five-year residency visa, or a permanent residency visa. Each visa has a different list of requirements, and each has a different cost. These requirements, which you must fulfill PRIOR to filling in your residency application at the Immigration office, require you to visit numerous other institutions (where you will also make numerous other payments to these).
Basically, for nearly all of them, you will have to run all over town getting other documents from other places, so initiate your request for residency or visa renewal immediately upon arrival because this will take time, and usually you only have 30 days upon arrival in Bolivia to get all these documents together and present them to Migración and you must do this prior to the 30 days expiring. The procedure that takes the longest is the Interpol international criminal background check. Begin at Interpol and the continue with the rest.
You will notice, as well, that right next to Migración there are lawyers who will type up your first requirement (a memorial, which is a legal letter) that officially begins your request. This memorial should cost about Bs. 50 per person and no more than that. I always suggest using a lawyer you know or one somebody familiar to you has suggested, but basically almost any lawyer in town can write this for you as it is only a one page letter that says, "Dear Migración, I'm requesting such and such..." There are usually candy and juice vendors right outside the Migración doors, as well a money-changer "cambista" who can change dollars to bolivianos. You'll get more for your money at a bank, however it's convenient if you don't want to go all the way across town to a bank and come back.
So, theoretically, you should be able to get help filling out your paperwork near the Migración office without having to go across town 27 times back and forth. Theoretically.
IN REALITY, this is what will most likely happen: you will make several trips over several days to the Immigration office. In between times, you will be busy making numerous trips to numerous other places, depending on what documentation procedure you are undergoing, during which time you will spend hours and hours in long lines and lots of money.
Here are some of the documents that you will have to obtain or round up from other agencies PRIOR to presenting everything together with your application at Migración. (And you must have them all, or you cannot even BEGIN your process at Migración.) These are all PRE-requisites and they take time. Oh, and by the way, each pre-requisite has its own pre-requisites! I suggest beginning at Interpol because it takes the longest - nearly 20 days. So here we go:
- You may be required to go to Interpol (to confirm and get a certificate stating you are not sought internationally for any crimes and have not committed any crimes in your country or others)
- The police station (called PTJ)(where you will have to acquire a certificate stating you live where you say you live in Bolivia, as well as another certificate that says you have not committed any crimes in Bolivia - so 2 certificates here)
- Cenetrop, the Center for Tropical Diseases (where you get tested for AIDS and other tropical diseases) - you will get two certificates here: one is a certificate that states you are in general good health - you'll undergo a medical check-up, and the other is an AIDS certificate that states if you are positive or negative for HIV/AIDS
- You may or may not be asked to visit the Renta Interna tax office (to ensure you do not owe back taxes, or that your company is operating legally in Bolivia, if you have your own company here or if you will be working for one here)
- The Ministry of Labor (for a certificate stating you have a work permit - basically you take a photo copy of your work contract, if you work for a company and they stamp it - if you own your own company there are numerous other requirements)
- A notary and/or an attorney (some documents must be filled in by them, not you, including the "memorial" which you will attached to everything else and is basically the letter that tells Migración what you are requesting).
- Marriage / divorce / birth certificates, depending on what you are applying for, whether or not you are married to (or plan to marry) a Bolivian citizen, whether or not you married or divorced in the US or Bolivia, if you are traveling with children, etc.
- Photocopy shops for zillions of photocopies, the bank for money to pay each and every one of these tests and certificates (plus you may need to open a bank account in Bolivia if you are requesting residency), and any number of other places. Getting the picture?
This info is provided for general and informative purposes only, so always consult Migración and/or an attorney yourself when you plan to begin your process. I'm just trying to give you something of an IDEA of what you will have to do.
Throughout this entire time you will be approached by "tramitadores": men and women who stand near the doorway of the Immigration office offering their services to foreigners - they can help you get all your paperwork filled out by accompanying you to all the correct places and basically being your guide, or by taking your documents and doing all the footwork for you while you take the day off and de-stress. However, a word of warning:
If you use a tramitador, I recommend always accompanying them everywhere. Bolivia has a BIG problem with falsified documents and identities. Document falsifiers produce fake documents based on copies of originals they "find" (which usually means they have someone who provides them). Stolen documents are also often doctored. So if you lose your passport, for example, it could be turned over to a falsifier who will magically transform your passport into a passport for someone else. I'm not saying tramitadores will steal your documents or that you shouldn't use their services. However, knowing the false document trade in Bolivia is big business, I don't suggest taking the risk. I suggest you accompany them everywhere.
And of course, this is their job, so it isn't a favor they are doing you – they will expect to be paid for their time. They can be handy, however. Just make sure you hire someone who is legally qualified to do so, preferably someone recommended to you personally. Many travel agencies have "tramitadores" who work specifically for them and their clients. There are times when the Immigration office declares that no tramitadores may be used and that all procedures must be done personally. Days or weeks later the tramitadores are all back to work.
Make photocopies of absolutely everything, even if it seems unimportant at the time. Depending on what you are processing, your documents, including your passport or other forms of I.D. could get tied up in Immigration for days or weeks during which time you won't be able to travel. Immigration once lost my file, passport, Bolivian I.D. card and everything else (including, they said, pay stubs they had attached to my file showing I had already paid all that was due, so too bad, I was going to have to pay again as there was no proof I had paid). (Several hundred dollars).
Unfortunately for them, I had photocopied everything including my pay stubs and they were unable to charge me anew. This did not, however solve everything. In the end, I was without a passport for nearly four months while this mess got cleared up and all my documents were replaced (even with copies of everything).
Be aware of local and national events and holidays that could hamper your attempt to speed along your merry way. Many public and private offices close down not only for holidays, but for events they might consider important – even if you do not. Examples: a major soccer game (the entire town could close offices early if the game is important enough).
I've seen the tax office (Renta Interna, equivalent of our IRS) close down all tellers (with 30 people waiting in line) so the employees could all go into the reception area (all glass - like, did they think we couldn't see them?) to eat cake and celebrate a colleague's birthday while those of us who were in line had no recourse but to wait. (Complaining only gets your documents delayed, by the way). Bolivians are super warm and hospitable, but customer service is, unfortunately, not a forté in this country.
The U.S. Department of State has provided the following information on its website:
SPECIAL CIRCUMSTANCES: In the run-up to the July 2006 Constituent Assembly elections, President Evo Morales accused the United States military of infiltrating Bolivia with operatives disguised as "students and tourists." As an apparent result of these comments, some U.S. citizens have reported harassment by Bolivian officials and been subjected to unwanted media attention. In one case, a local Bolivian newspaper wrongly identified an American citizen as an operative for the Central Intelligence Agency. Americans planning on traveling to Bolivia should be aware of the political atmosphere and the possibility of unwanted attention from pro-governmental groups and other Bolivian officials.
For information on in-country visa procedures and requirements, please consult the Bolivian Immigration Service at http://www.migracion.gob.bo (please note that the Web site is in Spanish), fax/telephone (591-2) 211-0960, street address Avenida Camacho entre Loayza y Bueno, La Paz.
In emergency cases, the Immigration Service may permit temporary residency applicants to retrieve their passports from those applications. However, under current regulations in such cases the applicant would need to commence the application anew, including paying the corresponding fees. Any U.S. documents, such as birth, marriage, divorce or death certificates, to be presented in Bolivia must first be authenticated in the U.S. at the nearest Bolivian Embassy or consulate. For information on those procedures, please consult the Department of State Office of Authentications web site, www.state.gov/m/a/auth, and the nearest Bolivian Embassy or consulate.
Visa Information for U.S. Citizens
The Bolivian government announced that effective December 1, 2007, U.S. citizens seeking to enter Bolivia as tourists must first obtain an entry visa from a Bolivian diplomatic post nearest their place of residence by submitting an application, and presenting documentation that includes proof of economic solvency, itinerary and lodging, a police record, and yellow fever vaccination.
If you are going to enter Bolivia as a TOURIST you can apply for a tourist visa at a Bolivian consulate in the US prior to arriving in Bolivia. If you are MOVING TO BOLIVIA and plan to apply for residency you must NOT come on a tourist visa. You must enter on a Special Purpose Visa.