Buenavista Hotels in Santa Cruz Bolivia

Custom Search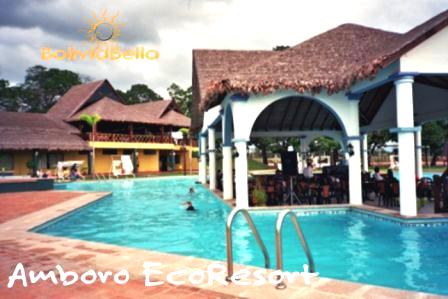 Book hotels in Bolivia on these travel sites:
&nbsp
&nbsp
&nbsp
MATARACU TENT CAMP
provides comfort without harming the environment. Located on the North side of Amboró National Park. Same owners as the Amboró Eco-Resort:

AMBORO ECO RESORT is a large resort hotel about 1 mile from the town of Buenavista. It has a billiard and gaming room, pool bar (in the middle of the pool), horseback riding, tennis and volleyball courts, a soccer field, great restaurant and nice large cabin-style rooms.
Reservations: Av. Banzer Km 5.5
Santa Cruz de la Sierra, Bolivia
Tel: (591-3) 342-2372
Fax: (591-3) 342-1909
E-Mail: reservas@bolivianbloch.com
E-Mail: eco_resort@hotmail.com
http://www.amboro.com

LOMA LINDA CABAÑAS & RESORT This tropical tourist complex has 2-bedroom cabins adequate for families with living and dining rooms, kitchens with refrigerator and dinnerware. Yapacaní and Surutú Rivers are nearby. Buenavista is the entrance to Amboró National Park.
Reservations: Centro Comercial Cañoto Local 110
Santa Cruz de la Sierra, Bolivia
Tel. (591-3) 337-5617 or (591-3) 332-7888
Cel. (591-7) 098-0389
In Buenavista - Tel: (591-3) 323-1332
Email: lomalinda_cab@cotas.net
http://www.eldeber.net/lomalinda/

HOTEL SPA SANTA MARIA LA ANTIGUA is north of the old road to Cochabamba 5 km before you get to Buena Vista (that's about 95 kilometers from the city of Santa Cruz). It is located on a huge working cattle ranch, and is beautiful. Guests can actually help round up cattle and milk the cows! There's also horseback riding, ecological hiking trails and a spa.
La Arboleda, Buena Vista, Bolivia
Tel: (591) 773-91446 or (591) 716-94655
Email: info@santamaria.com.bo
http://www.santamaria.com.bo


CABAÑAS POZA AZUL
Buenavista, Bolivia
(591-3) 932-2078

CABAÑAS LA SAMA
Camino a Santa Bárbara Km. 15
(591-3)343-4639

CABAÑAS LOMA LINDA
Carrt. A Cochabamaba, Km. 103
(591-3) 332-7888

CABAÑAS EL CAFETAL
Km. 3 hacia el Cairo
(591-3) 716-13342

REFUGIO OCOROTÚ
Buenavista, Bolivia
(591-3) 716-2212

RESIDENCIAL NADIA
C. Mariano Saucedo, 186
(591-3) 932-2049
FLORA Y FAUNA HOTEL
Carretera a Guatú
Tel: (591)710-43706

LA PASCANA DEL AMBORÓ
Carretera a Cochabamba, Km. 97
Tel: (591-3) 932-2081

SUMUQUÉ
Av. José Steimbasch
Tel: (591-3) 932-2080

LA CASONA
C. Virgilio Serrate / 6 de Agosto
Tel: (591-3) 932-2083

CABAÑAS QUIMORI
Buenavista, Bolivia
(591-3) 932- 2081

CABAÑAS GUAYTÚ
Buenavista, Bolivia
(591-3) 347-2775


Return from Buenavista Hotels to Hotels Home Page