My Ibare River pink dolphin tour begins with a phone call from Ernesto Rodas, owner of
Moxos Tours
in
Trinidad,
Beni that goes something like "you've gotta get up here to Beni by the day after tomorrow, can you make it?" followed by me questioning why, followed by Ernesto explaining that a river boat press tour is planned and I just HAVE to be a part of it. He's right. He knows I wouldn't miss it for the world!
At 8 p.m. the next night, Friday, I'm at the Terminal Bimodal in Santa Cruz trying to find a bus that isn't already packed. It's the weekend, you can't reserve bus tickets in advance and it seems like EVERYONE wants to be in Trinidad. This is a typical weekend scene at the Santa Cruz combination bus/train station. Many of the immigrants from other parts of the country who live here go home on the weekends to visit family. Finally I find one that for just Bs. 50 (about $8 and considered expensive) will get me to Trinidad by 6 a.m.
Not! I figured the bus trip would be easy: get on the bus, fall asleep, arrive in Trinidad 10 hours later. No such luck. The crazy bus driver drove at breakneck speed careening past huge trucks and other vehicles in the black of the night. I was in the last seat at the back of the bus (the one where you feel EVERY movement of the vehicle).
Eight hours later, as dawn was rising, I was in a pretty nervous state, wishing we could stop for a while to calm down. I tried to concentrate on the gorgeous dawn rising around us, blending from a deep purple to a burst of orange, and regretted that I wasn't in my own vehicle so I could stop along the way to take photos. It was spectacular! And then, out of nowhere... an explosion and we're stuck on the side of the road with a flat tire. Panicked passengers awoke with a start and as the grumbling and complaining began, I hid my delight and whipped out my camera.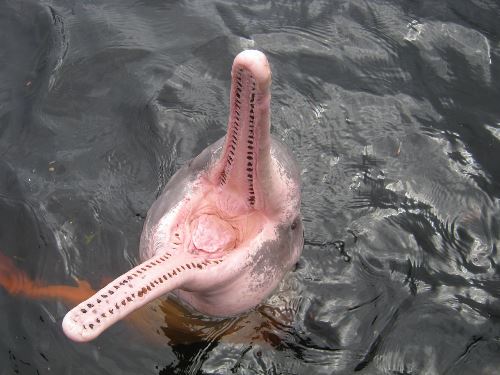 By Jorge Andrade - https://www.flickr.com/photos/jorgebrazil/5716063584/, CC BY 2.0, https://commons.wikimedia.org/w/index.php?curid=19393497
Back on the road half an hour later, he's driving faster than before because now we're late (I'm praying and cursing simultaneously and my mommy instincts kick in – my 5 year old is with me) and then – another explosion and another flat. I can't take it any more. I head to the front of the bus and I remind him the lives of his passengers are in his hands "and if anything happens to my son I'll..." He assures me he'll drive more carefully. I dared not show anyone I was secretly happy to have one last moment with the beautiful natural spectacle that was taking place along our horizon.
By now it's already 6:30 a.m. and we're about 2 hours from Trinidad. The press tour leaves at 8 a.m. and I'm going to miss it. I check my cellphone. No luck. No cellphone towers in the middle of the jungle. Patiently I disembark again, this time with my camera. The sun is just beginning to rise and the entire sky is orange. The jungle is a black silhouette against it and I might as well make the best of the situation – so I take pictures again. This always distracts/comforts me.
On the bus again we finally arrive in Trinidad at 8:30 a.m. and the bus leaves us on a sidewalk by a bar – the entrance to the bus terminal is being repaved. Normally this might be another maddening situation, but at this point it seems like a minor inconvenience considering we've arrived alive at all. But after a phone call to Ernesto I find out the tour has already left the first port.
He assures me if we rush we can catch them arriving at Loma Suárez, the Naval Academy where there is another port. Ernesto the miracle worker picks us up at the bus terminal, drives us to the Beni Hotel where we throw a portion of our luggage in a room I didn't even look at, and we rush off to Loma Suárez, arriving not a moment too soon. The Inia River boat arrives just 5 minutes later.
The Inia (which means river dolphin) is a small motorboat equipped with all the necessary safety equipment such as life jackets. Ernesto's brother Roger Rodas owns the Inia and greets us with a huge smile and I begin to feel like all is well with the world again. Here our dolphin tour begins after a brief introduction. The other passengers are Paula, Maricel and Alicia from Santa Fe, Argentina. They are filming for a television travel program called Punto Cardinal. We hit it off immediately.
Over the next 8 hours we slowly motor down the Ibare River, a major tributary of the Madera River, which in turn is a large tributary of the Amazon River. All the rivers in the Department of Beni are Amazon tributaries. This specific tour is called the Ruta del Bufeo (the river dolphin route). Beni is home to a species of pink river dolphin that cannot be found anywhere else in the world, the Inia boliviensis. Apparently these dolphins are cut off from other river dolphins in other tributaries by several spots of rapids and waterfalls and have evolved into a completely separate species. We hope to film them.
For the first few hours we delight in all the beautiful green vegetation and bird species. Patos cuervo (called "crow" ducks because they are completely black), tall white cranes, beautiful colored birds of all kinds, and then we see an immense tree growing far above the rest on the shore. Roger explains that this is the largest tree recorded in the Department of Beni. As we approach it, we see something high above in the branches: a pair of "batos" (also known as jabirú storks) have chosen this great tree to build a nest. This seems fitting somehow: batos are the largest bird in South America. They can stand nearly 6 feet tall and their wingspan can easily reach 8 or 9 feet. They take only one mate during their lifetime. If a bato is "widowed" it will remain so for the rest of its life. This is an amazing sight!
All along the river banks we pass by families gliding or motoring past us on hollowed out wooden canoes. Once or twice we pass immense rickety wooden barges that appear to have been shabbily assembled from someone's leftover planks. Some look like two or three tied together, but they're watertight and float by laden with produce.
We also pass by numerous small traditional homes made with bamboo or mud walls and dried palm frond roofs. At one point we disembark at one such home and Roger introduces us to the occupant – Doña Ignacia, a very wrinkled old woman with a huge semi-toothless smile. She invites us to climb up the river bank and at the top we spy a guayaba (guava) tree. She's got several, she explains, but "please don't pick the fruit from this one, the tourists have ruined it." ???
The inhabitants of this region, as in many regions of Bolivia are superstitious. Doña Ignacia explains that guayabas must be cracked open – never cut with a knife! If you cut one with a knife worms will come to inhabit the tree. And tourists always cut theirs with a knife – thus in this tree all the fruit has worms. As if to prove this, she beats down several guayabas and upon breaking each one open shows us the tiny white worms. Then she offers us guayabas from another tree and we gleefully enjoy several each. No worms. She's right and who are we to argue with ancient wisdom?
As we thank her and say our goodbye's she asks where we're headed. Fernando (a naval officer who accompanied us) explains we'll go down the river, then back up to Chuchini. She says, "will you be able to get through the channel this time of year?" The comment is lost on me.
Back on the boat we continue on, taking pictures here and there of the many different species of bird life. But no river dolphin and the TV crew is getting anxious. They've travelled half way up South America to film them. And then, suddenly Roger yells, "there they are" and a white head appears out of the water – a dolphin has come up for breath and steam spouts out of it blow hole. For the next half hour or so we shout out "there they are" every time we see bubbles in the water, the distinct small whirlpool pattern they tend to leave in the water, or a slight glimpse of their backs as they rise to the top only to slide back under before we can react. No luck. They don't want to be photographed today. Roger assures us they are numerous and there will be more further down the river. We once again content ourselves with the birds and turtles. The sun is now beating down on us.
Soon Roger says, "everyone close your eyes and do not open them until I tell you to." Obediently we do and he begins a regressive count "ten, nine, eight...OK open your eyes!" When we did we could do nothing but gasp! Before us the river has suddenly opened up into an immense 300-meter wide juncture and to our left and right the enormous Mamoré River is flowing by. Here the water churns slightly and begins to change color. This is the point where the Ibaré River joins up with the Mamoré. The Ibare is the color of Coca Cola and the Mamoré, which flows much more rapidly and carries a lot of sediment, is the color of coffee with cream. The point where they meet is clearly distinguishable – like a line of dark brown running next to the light cream of the Mamoré.
Here we're suddenly greeted with cheers! As we turn our heads we realize we've drawn up next to the Reina de Enin, the largest river boat in Beni. Locals and tour operators frequently call the Reina de Enin a "flotel" (floating hotel). Visitors can travel for a day or several days down the rivers of Beni on this great pontoon-fitted barge. It has comfortable cabins, restrooms and a dining room.
Here we spot the river dolphins again. There are several pairs of them swimming around the slowly churning waters. Numerous ducks and birds are diving in an out of the water. There are fish here and they know it. Alicia bravely dons a life jacket and jumps into the water with Fernando. Roger tells us if they make noise the dolphins will come. Paula, Maricel (their camerawoman), and I climb to the top of our boat to get the best view (and hopefully images) possible. Alicia and Fernando kick and swim, and the dolphins rise up to the surface then quickly slide under again – they are indeed elusive.
I'd heard they were friendly and easy to photograph. Tourists are always eager to swim with the famous river dolphins. But on this occasion they're shy. Maybe there are too many people in the water. The passengers of the Reina de Enin, which is docked on the same shore, have also been swimming and taking off from the Reina on small speedboats. The dolphins don't like it. We get a few partials (a fin, a head, a tail and so on), but no great river dolphin images for Punto Cardinal. Exhausted and cold, Alicia gets out of the water.
Here we pull up to shore and Fernando pulls out two sticks and says "let's go fishing!" It seems unlikely we'll catch anything with just a stick, a string and a somewhat rusty hook tied to the end, but as soon as he throws the rod out, he's caught something – it's a palometa (a tiny piranha). Meanwhile, Roger opens a cooler and begins to serve us what is probably the best lunch I've had in a long time. Cold chicken salad with vegetables and ají (Bolivian picante sauce) with ice cold beer. There's nothing better under a hot Amazon sun.
After an hour or so we circle around the Mamoré/Ibare juncture and cross over to the far shore, filming the scenery (and footage for the show). Seagulls take flight as soon as we approach their "beach". The Mamoré is truly imposing. It's huge! We're in awe.
Soon Roger tells us it's time to head back up the Ibare. We've got to reach a narrow channel which we'll enter in order to dock at Chuchini, an ecological and archeological tourist center where we'll be spending the night. The Reina turns on her engines as well, and soon passes us as we glide back up the river. We sight more dolphins from time to time, and the Argentineans get some of the desired footage.
At one point we pulled up to the shore to try our hand at fishing again. As I catch bagre after bagre (small catfish), Fernando cuts them into small pieces and he and Paula use them as bait. The result: they catch piranha after piranha. Alicia lets out a shout "Piranha?! You let me swim in piranha infested waters?!" But she calms down when Fernando explains that our piranha are actually palometas, a tiny usually non-agressive species of piranha. We had them for breakfast at Chuchini the next day.
Soon we arrive at a tiny opening on the left bank of the Ibare. It was so small we hadn't seen it on our way toward the Mamoré. Here we turn into the "channel" which is less than 3 meters wide and almost immediately we're faced with what might be a problem. Once you leave the river, the overgrowth is dense! The tarope plants (which need no soil to grow) have completely clogged the channel from one side to the other. The engine revs and Fernando is forced to take a 10-meter long pole and help push the tangle of plants out of the way so we can pass through. But even as the channel widens into what seems like another river, we soon see the taropes (millions of them) have completely overgrown it. Here Doña Ignacia's comment suddenly made sense to me. There's a reason I've learned not to argue with ancient native Bolivian wisdom.
As we churn through them at a rate of about 1 foot per minute, we soon realize how difficult our situation is. There is nothing but dense jungle on either side and our destination (Chuchini) is still 2 kilometers upriver. Fernando and Roger let out one loud simultaneous holler "Oye!!! Oye!!!" and it resounds through the now mosquito-infested jungle. I think to myself "there is no way anybody heard that."
I pull a tarope plant out of the water while we wait. It is covered in hundreds of bright pink eggs – snail eggs. And then, when I was beginning to think we'd be spending the night amongst the tarope and snails (and mosquitoes), the distinct sound of an engine floats through the jungle from a distance. Efrem, the 25-year old son of the owner of Chuchini, had heard the calls for help and is heading our way cutting a narrow "causeway" through the tarope with his speedboat. I left the city to leave sounds like that behind, but now it's a very welcome roar.
His engine is much stronger than ours. Fernando throws him a chain and he ties us up to his bright yellow motor boat. Positioning it behind ours, he pushes us through the narrow channel he's made and soon we've left the pesky plants behind. He unchains his boat, sets us free, and speeds on ahead of us and we're headed to nearby Chuchini where we arrive at last with happy sighs of relief.
But the day isn't over. Awaiting us is a midnight alligator 'hunt'.