Tiahuanaco (Tiwanaku) Tours

Tiwanaku Home Page &nbsp Tours &nbsp Hotels &nbsp Photos &nbsp Forum &nbsp Map &nbsp Info &nbsp Plan Your Trip

Use the links above and below to view all pages related to Tiwanaku

Custom Search


Tiwanaku tours have become more and more popular since excavation has advanced and the museum has improved. When I was growing up in La Paz the Aymara did not celebrate the equinox in June as they now do for tourists, nor did the other festivities that now attract tourists take place. Tiwanaku was just a tiny group of houses next to a mostly uncovered site. The only thing we could see here 20 years ago was the temple and the Gate of the Sun. As the Tiwanaku ruins are uncovered and facilities improve, more festivities and legends seem to appear as well. See more on our Tiwanaku Home Page.

Back then the road to Tiahuanaco wasn't yet paved and it was a 2-3 hour drive to get there from La Paz. The museum was just a row of skulls in a room and there was nowhere to eat! Today it is paved, takes under an hour to get there, and you can take a day tour easily from most tourist-oriented hotels and hostels for about $12. Tiwanaku tours are usually just day trips that leave from La Paz. Most leave at about 8 in the morning and return at about 4 pm. You can also choose a half-day Tiwanaku tour. You'll have lunch near the main square of town between visits to the Puerta del Sol, the Tiwanaku ruins and temples (with their amazing monolyths) and the on-site museum. If you would rather spend more time in the area, there are a few places to stay near Tiwanaku too. Click here to see Tiwanaku Hotels.
Tour groups enjoy lunch and entrance into the ruins included in the price, along with a guide (some speak English, some don't speak it well at all). Tiwanaku tours are the reason this little town has grown. Be sure to ask if the entry fee to the Tiwanaku ruins is included in the tour price. If you prefer to spend more time in Tiwanaku and don't want to take just a day trip, there are a couple of hotels in Tiwanaku that you can stay at and now there are restaurants and souvenir shops too. If you plan to travel to the Salar de Uyuni, you can include a stop at Tiwanaku on the way. Here's how you get there.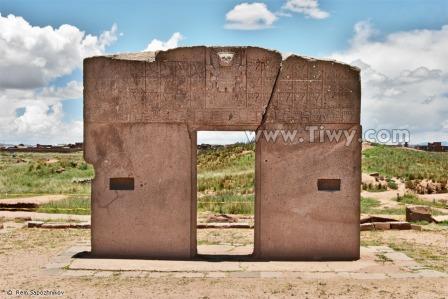 1. The Stones: One of the most interesting things about Tiwanaku is that the stones used to build the temples, some weighing up to 25 tons each, are not from the area. Some of the stones are made from basalt and the nearest place these stones are found is in Copacabana, about 38 Km from Tiwanaku. Other stones are sandstone and the nearest places these can be found are 5 Km away.
2. The Akapana Pyramid: The pyramid is the largest structure and may have been used to store water in ancient times. Much of it no longer exists because its stones were used to construct other buildings on the Altiplano. In 2009 villagers and local authorities decided to renovate it with adobe putting it at risk of losing its status as a UN World Heritage Site.
3. The Kalasasaya Temple: Even though they didn't have the modern tools we now have, the stones of this temple were cut and put together so precisely that you cannot slide a knife between them. It housed what used to be a ceremonial platform, what may have been sleeping quarters for its priests, and several "monolitos" (monoliths) which are one of the more sought-after sights on Tiwanaku tours.
4. The Gate of the Sun: This massive gate, called the Puerta del Sol, weighs over 40 tons and, although it has a crack in it, was built from a single rock. It stands upright and is one of the best known archeological symbols of Bolivia.
5. The Gate of the Moon: This is another smaller and similar gate and has some interesting wildlife carvings on it.
6. The Underground Temple: This partially subterranean temple has nearly 200 sculptures of heads. Some people say they look like aliens.
7. The Gate of the Puma: Here you can see enormous stone sculptures that weigh over 400 tons each.
8. There are other structures that are still being excavated and hopefully over time more secrets of the Tiwanaku culture will be unearthed.
9. Festivities: If you happen to be in Bolivia near the end of June, the winter solstice festival is celebrated on June 21st at Tiwanaku marking the Machaj Mara (the new year on the Aymara calendar). As Tiwanaku tours become more popular, more festivities have been planned to mark other equinoxes, solstices and special Aymara dates. However, when I was growing up in La Paz, none of these celebrations took place. It's mostly done to attract tourism.


Tiwanaku Home Page
Tours
Hotels
Photos
Forum
Map
Info
Plan Your Trip
Return from our Tiwanaku Tours Page to the Bolivia Tourism Home Page