Visit the Ancient Tiwanaku Ruins in Bolivia

Tiwanaku Home Page &nbsp Tours &nbsp Hotels &nbsp Photos &nbsp Forum &nbsp Map &nbsp Info &nbsp Plan Your Trip

Use the links above and below to view all pages related to Tiwanaku

Custom Search


The Tiwanaku ruins guard many secrets about the ancient civilization of the Tiahuanacota culture. Is Tiahuanaco really the oldest city in the world? Visit the ruins of Tiwanaku and decide for yourself. Use this as a checklist of things you need to know about Tiwanaku when planning your trip. Use the links above and below for information on hotels, tours, photos, and more.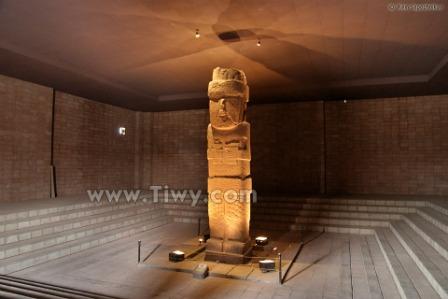 Before you go
1. The Tiwanaku ruins are located just next to the small village of Tiwanaku high on the Altiplano, located along highway 3 that heads West from La Paz to Lake Titicaca. Read more about the Tiwanaku on our home page and be sure to view the documentaries in our Photo Gallery before you go.
2. Be sure you can withstand high altitudes. Located over 12,000 feet above sea level in a very remote region, Tiwanaku may not be for people with heart conditions although it's only a one-hour drive. Read about altitude sickness here and what you can do to get relief.
3. Bolivia's Altiplano communities are very politically active. When they don't agree with something, their favorite form of protest is to block roads. Always stay attentive to the news before traveling anywhere on the Altiplano to be sure you don't get stuck before or behind a road block as they can become violent and frequently last for days. Also be sure your tour operator will refund your money or has a Plan B tour to offer if this happens.
What to take
1. Sunglasses. On the stark, arid Altiplano there are few trees for shade.
2. Sun block. The sun is strong so you'll need this if you burn easily.
3. Moisturizer. This is an extremely arid region and your skin will dry out.
4. Bottled water. There are small stores in the village but take some just in case.
5. Warm clothing. In the highlands it is very windy. Although it may be warm during the day, nights are very cold. Most tours to the Tiwanaku ruins return to La Paz by about 4 p.m. but if you choose to stay the night, bring warm clothing. See today's weather in Tiwanaku and a 15-day forecast here.
6. Sleeping bag. The more expensive hotels have heating but cheap hostels may not. Windchill factors make it feel even colder than it is.
7. Bring cash. There are no banks or ATMs in Tiahuanaco.
8. Proper cellphone. If you plan to bring your international cellphone, you should know Bolivia uses a different system than many countries. Read more about that below.
9. Cameras, batteries, battery chargers, cellphone charger, electric current converter and if you use a digital camera, extra memory cards. The electricity in Tiwanaku is 220. I recommend a solar cellphone charger
or a Chargepod6
especially if you plan to share a hostel room as some have very few outlets.
You can find some of these along with other important items and accessories such as backpacks, adapters, etc. in our Pack it Up! Shop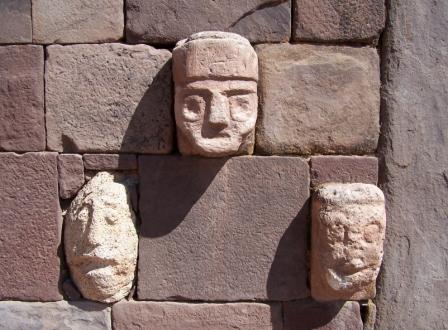 When to go
Tiwanaku is located at over 12,000 feet above sea level and it's cold most of the year, although you may feel warm enough between noon and 3 p.m. to take off your jacket.
During the rainy season, between about November and April, the temperature is warmer. However, nights remain cold. Windchill factors make it feel colder than it is. In the winter, especially in June and July, temperatures can drop to well below freezing. The air is very dry and it doesn't rain. Bring lots of winter clothing during this time.
Click here to see the weather in Tiwanaku today and for the next 15 days. Click here to see more about the climate in Bolivia.
Tourist Information
1. The electricity in Tiwanaku is 220V if you plan to stay the night at a hotel or hostel.
2. There are no banks or ATMs at the Tiwanaku ruins. Bring cash.
3. The Hotel Akapana accepts credit cards. Otherwise you'll need cash. Here's more on Bolivian money.
4. The Hotel Akapana has phones and internet service. In Tiwanaku there are a couple of little stores where you can use the phone. If you plan to bring a cellphone with you, be aware that Bolivia is on a different grid and many overseas cellphones don't work here. You may be better off renting a cellphone. If you choose to travel without one, here's how to place phone calls in Bolivia.
5. Many tourists don't know that by law you must carry your documentation at all times.
How to Get There
Tours to the Tiwanaku ruins are offered by just about every tour operator or travel agency, and nearly all larger hotels and hostels in La Paz. You can take a day tour easily for about $12. Most leave at about 8 in the morning and return at about 4 pm, although some also offer the choice to spend just a half day. Tour groups enjoy lunch and entrance into the ruins (be sure to ask in advance if these are included in the price) along with a guide (some speak English, some don't speak it well at all). You'll have lunch near the main square of town between visits to the Puerta del Sol, the Tiwanaku ruins and temples (with their amazing monolitos - monolyths) and the museum.
It takes under one hour to reach Tiwanaku, so you don't really have to pay for a tour. You can go by your self by taking a small van straight across the street from the cemetery in La Paz.
Plan your trip
Tiwanaku Home Page &nbsp Tours &nbsp Hotels &nbsp Photos &nbsp Forum &nbsp Map &nbsp Info &nbsp Plan Your Trip