The Mancomunidad Chiquitana is the "Association of Chiquitano Peoples and Municipalities" of Bolivia. The Chiquitano peoples, one of Bolivia's almost 30 ethnic groups, inhabit many towns and communities throughout the Eastern region of Bolivia called the Chiquitanía. Most of this area is located within the department of Santa Cruz.
Throughout the past several hundred years of Bolivia's history Bolivia's Eastern peoples and communities have been largely ignored or forgotten by the Bolivian governments, which have largely concentrated on the Aymara and Quechua peoples of the Andes. Even today, most of Bolivia's planning and budgeting has been reserved largely for Western Bolivia.
By forming associations of communities (mancomunidades) smaller less populated indigenous communities can better organize and plan for their needs and development and ensure they are represented politically. Many of Bolivia's over 30 ethnic groups have formed mancomunidades in an attempt to gain greater acknowledgement, and more funding, from the government. They also work with the municipal and departmental governments, such as the prefecture of Santa Cruz.
Mancomunidades form committees and select representatives from each community to communicate each town's needs. The committees present these to the government in the form of Annual Operating Plans and other types of documents designed to demonstrate how the communities plan to use their land, natural resources, and income generating activities to function, develop, and improve living conditions. Through the mancomunidades and the organized plans they present to the government, the communities attempt to access funds needed for specific projects such as the construction of schools or health posts, water projects, electrification projects, and so forth. Still, much funding comes from international cooperation and non-governmental or non-profit agencies, especially in vast (and largely remote) Eastern Bolivia.
I met with Director Adrián Leaños who was kind enough to spend some time explaining to me how the Mancomunidad functions, the types of projects it takes on in representation of the communities, and how these are presented to the government. Because many of the projects are funded through international cooperation and development organizations; therefore, the Mancomunidad Chiquitana spends much time and effort raising funds.


Mission, vision and objectives
The Mancomunidad de Municipios Chiquitanos (its formal name) groups the towns of San Miguel, San José de Chiquitos, Concepción, San Matías, Urubichá, San Antonio de Lomería, Roboré, San Ignacio de Velasco, San Rafael, San Javier de Velasco, Puerto Suárez, Puerto Quijarro, El Puente and San Ramón, all of which are members.
VISION: Modern, efficient municipalities with authorities and citizens who are capable of fulfilling thier needs and facing emerging challenges.
MISSION: Expand the "mancomunidad" process in the Chiquitanía region of Bolivia, incorporating production and sustainability criteria in all actions, joining forces with public and private, national and international sectors, to promote the sustainable development of its member communities.
OBJECTIVES
1. Represent the member municipalities before public and private entities.
2. Attend to the joint needs of the member communities
3. Sustainable and economic development, seeking improvements for all members.


Tourist guides, maps and information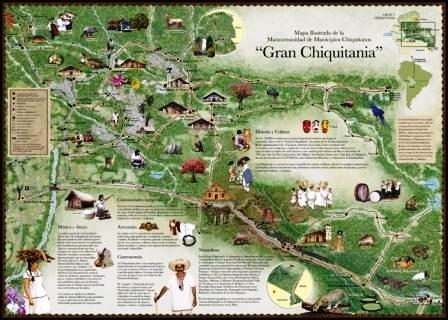 The Mancomunidad Chiquitana has its main offices in Santa Cruz, Bolivia across the street from the Tahuichi Aguilera soccer stadium. Aside from community and natural resource planning, the office also offers cultural and tourist information on the Chiquitanía region.
For information on transportation to and within the Chiquitania, maps, guides, lists of the artisan shops in the communities, and lists of hotels, restaurants, festivals, events, stores, and tourist attractions in the area, you can visit their office in Santa Cruz:
Avenida Ana Barba #530 - Esq. Omar Chávez - Santa Cruz, Bolivia
Tel: (591-3) 355-0611 Fax: (591-3) 353-8206
Email: info@mancochiquitana.org
Their website
is beautiful. It's in Spanish but contains information on each of the member communities. It's full of great information for tourists as well and lots of wonderful pictures. Even if you don't understand Spanish take a moment to visit the Mancomunidad Chiquitana website and click on TURISMO, then on each community name. You'll see some great photos of each of Bolivia's beautiful Chiquitano communities.
Download the above map of the Chiquitanía and Jesuit Mission towns from their website. You'll need WINRAR to unzip the file and PhotoShop to open it. On the back of this big map there is a full listing of all the hotels, restaurants, festivals, artisan shops, means of transportation, services available, and tourist attractions!