Foreign Embassies in Bolivia

Return from Embassies to Travel Planner
Custom Search

&nbsp
&nbsp
&nbsp
&nbsp
These are some of the embassies and consulates of English-speaking countries present in Bolivia today. For more embassies see EmbassiesAbroad.com or EmbassyWorld.com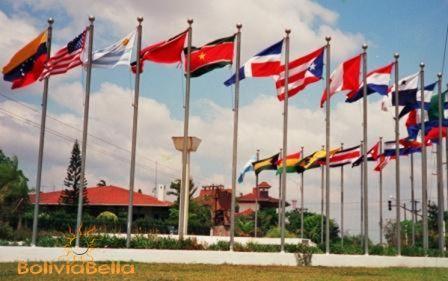 Some countries have fairly permanent offices and representatives with paid and assigned posts, such as the USA; however, other countries may only have an honorary representative for as long as that person chooses to stay in Bolivia, since they are volunteering their time as an agent. In addition, representatives for some countries are assigned for only a specific amount of time. For example, some diplomats move to a new post every 2 years, or every 4 years. Some embassies function as regional embassies, providing services covering more than one country.
Canadian Consulate
2678 Víctor Sanjines St.
La Paz, Bolivia
City: La Paz
Phone: (011 591 2) 432-838
Fax: (011 591 2) 430-250
Canadian Embassy
2678, Calle Victor Sanjinez, Edificio Barcelona
2nd Floor, Plaza España
La Paz, Bolivia
City: La Paz
Phone: 591 (2) 241-5141
Fax: 591 (2) 241-4453
Email: lapaz@international.gc.ca

United States Embassy
Avenida Arce No. 2780
Casilla 425
La Paz, Bolivia
City: La Paz
Phone: (591) 2-216-8000
Fax: (591) 2-216-8111
Web Site: http://bolivia.usembassy.gov/
Email: consularlapaz@state.com
Office Hours: Mondays and Thursdays 1:30PM to 5:00PM Tuesdays and Fridays 8:30AM to 12:30PM, and 2:00PM to 4:00PM (except U.S. and local holidays)
British Embassy
Avenida Arce No.2732
Casilla (PO Box) 694
La Paz, Bolivia
City: La Paz
Phone: 591-2-243 3424
Fax: 591-2-243 1073
Web Site: http://www.britishembassy.gov.uk/bolivia
Email: ppa@megalink.com
Office Hours: Monday to Friday from 09:00am to 12:00pm
Consulate of Ireland
Pasaje Gandarillas No 2667
Esq. Macario Pinilla, Sopocachi
City: La Paz
Phone: +591 2 2421408
Fax: +591 2 2411873
Email: amtrac@acelerate.com
Consulate of Australia
Calle Aspiazu 416
Sopocachi
La Paz, Bolivia
City: La Paz
Phone: +591 2 211 5655
Fax: +591 2 242 2957
Email: australiaconsbolivia@mac.com
New Zealand does not have an embassy or consulate in Bolivia. The nearest embassies and consulates are in Argentina, Chile, Peru and Brazil.
Honorary Consulate of India
Hansda Ltd., Calle Mercado
esq.Yanacocha 1004
Cajo de Correo 10800
City: La Paz
Phone: +591-2-355317
Fax: +591-2-370397


Expat Services
Expat Meets
Expat Forum
Live in Bolivia
Site Tools