There are a couple of large water parks in Santa Cruz, Bolivia. Aqualand and Playland are full-sized water parks that have become major tourist attractions and even more popular among locals. Both are open during South America's spring and summer (September through May) and close between June and August.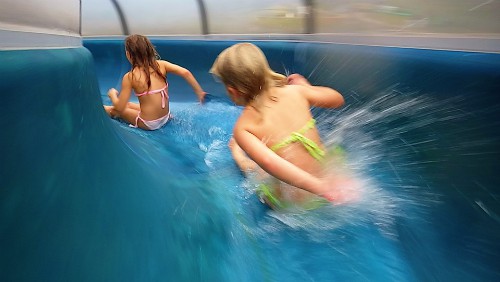 Although Aqualand is the larger (and therefore slightly more expensive) of the two, both have water slides, pools with artificial waves, pools and other water play areas for younger children, restaurants, parking, and lots of space to enjoy the sun. Both are located on the same side of the highway to Viru Viru airport, pretty close to each other. Tickets for both can be purchased at on site, at hotels, and through some travel agencies.
PLAYLAND
Km. 11 Carretera al Norte
Santa Cruz - Bolivia
Tel: (591-3) 385-3270
7 Days a Week 10:00 to 6:00

AQUALAND
Carretera al Norte Km. 12
Santa Cruz - Bolivia
Tel: 385-2500
7 Days a Week 10:00 to 6:00
Weekends at both parks tend to be jam packed and there are typically long lines for the water slides. However, if you can spare a weekday, you can have tons of fun in the sun. On the other hand, there are tons of country clubs and outdoor restaurants as well as smaller public pool areas and resort-style swimming pools that have parks and other entertainment facilities (typically our outdoor restaurants tend to be more like full resorts and people spend the entire day there), so you'll have no trouble finding some cool water to splash in on a hot Santa Cruz day.