Don't Miss These Outdoor Restaurants

---
Restaurants | Food Home Page | Tourism | Plan Your Trip
---
Santa Cruz, Bolivia is ideal for outdoor restaurants ("restaurantes campestres"). With its beautiful tropical climate throughout most of the year, locals and tourists alike are able to enjoy a long, lazy lunch or dinner under the sky. And believe me, we totally take advantage of our great climate! Most people prefer to socialize outdoors! Sidewalks are brimming with cafés, bars and restaurants at any hour of the day.
Although most restaurants in the city have at least a small outdoor section, this page lists really rural out-in-the-country outdoor restaurants – most are not far from the city of Santa Cruz. They make for a great day trip. Some have playgrounds, others are huge complexes with swimming pools and other forms of entertainment. Either way, they are great places to spend the day and enjoy a great "camba" meal. Some are inordinately beautiful!
Dress casually, go on an empty stomach so you can eat a lot and sample tons of news stuff, and be prepared to dance or at least enjoy some outdoor live music at some. Some of these open only on weekends.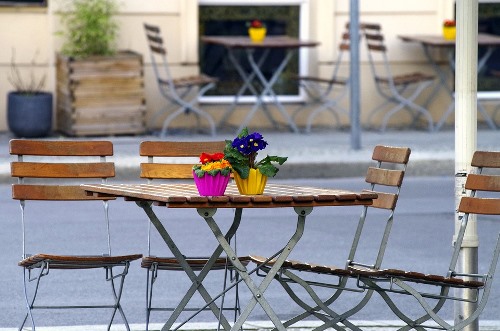 BIOCENTRO GÜEMBE MARIPOSARIO ORQUIDARIO
(also the largest butterfly sanctuary in the world)
Km. 7 Camino a Porongo Zona Los Batos
Santa Cruz de la Sierra, Bolivia
Tel: (591-3) 370-0542
www.biocentroguembe.com/


LA RINCONADA
(gorgeous! great pond, parks and pools for kids)
Buen Retiro Porongo
Santa Cruz de la Sierra, Bolivia
Tel: (591-3) 322-1622
www.larinconada.com.bo


ECORESORT COLPA CARANDA
(really pretty, not that far at all)
Km. 32 ½ Carretera al Norte
Santa Cruz de la Sierra, Bolivia
Tel: (591-3) 339-2467

HELMUT'S DELIKATESSEN
(really good German food, totally worth the trip)
Doble Vía a La Guardia Km. 17
Santa Cruz de la Sierra, Bolivia
Tel: (591-3) 384-0129

DELIKATESSEN AUSTRIA
(really good – great if you're going to Buena Vista)
Carretera Montero Km. 38
Santa Cruz de la Sierra, Bolivia
Tel: (591-3) 923-2467

RINCÓN VALLEGRANDINO
(popular among locals, gets loud, lots of dancing)
Villa Antofagasta, Carr. a La Guardia Km. 4
Santa Cruz de la Sierra, Bolivia
Tel: (591-3) 352-1170


RESTAURANT PARQUE YVAGA GUAZU
(beautiful eco park with guided tours, 650 species of plants!)
Doble Vía a la Guardia, Km. 12 ½
Santa Cruz de la Sierra, Bolivia
Tel: (591-3) 357-3767

RESTAURANT EL PEREGRINO
(lunch here, check out Cotoca in the afternoon)
Km. 17 Carretera a Cotoca
Santa Cruz de la Sierra, Bolivia
Tel: (591-3) 338-8170


---
Restaurants | Food Home Page | Tourism | Plan Your Trip
---