It is broadly like the
Death Road
out of La Paz except there is over 5 hours of it (in a car, much longer in a bus). In a lot of places it is a single-track road, with hairpin bends... and is not asphalt.... The upside to this is that you will enjoy fantastic views into the valley below (if you dare to open your eyes).
Those of a nervous disposition and who have the funds to fly would be well-advised to do so. Our bus from Santa Cruz took 15 hours (arriving slightly early – the first time I had experienced this in Bolivia) though this was during the dry season and I would expect it to take far longer from November to March (during the rainy season). The journey got very cold during the night and you should wrap up well.
Tarija is a well-maintained city and much effort and funds have been put into the stretch of road that enters the city, which is lined with trees and flag poles. Like Santa Cruz, Tarija too wants autonomy from the central government and there is an "Autonomia" wooden post at the entrance to the city.
Unfortunately on the morning we arrived, the main plaza had been blockaded by sand trucks and all the traffic in the city was diverted, leading to long delays in the streets.
We found a place to stay within our budget (Hostal Miraflores at no. 920 Calle Sucre, 170Bs per night for a double en-suite room, price including breakfast). Clean, quiet, all the hot water you want and a simple breakfast of coffee and a sweet roll. I would certainly recommend this place. Much cheaper accommodations can be found closer to the bus station but that is not a great area and you would still be 17 blocks from the main plaza.
We wandered down to the main plaza to orientate ourselves then went to the Museum of Archeology and Paleontology (free).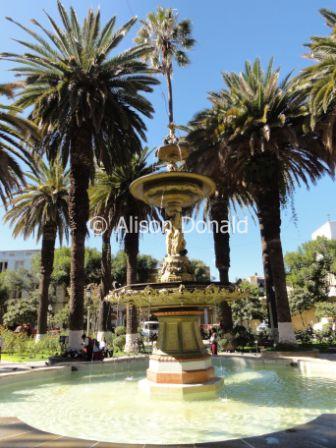 The reconstructions of a giant prehistoric sloth and armadillo were the first I'd heard of these animals – it is interesting how these creatures are generally ignored in all depictions of prehistoric animals yet the old favourites of the sabre-toothed tiger and woolly mammoth are the stuff cartoons are made of.
Tarija is full of places to eat and so you never need go hungry, though it took a bit of searching to find a place that did even a typical Bolivian almuerzo (set lunch) instead of the usual burger and chips fare. We found a place called La Candela in Plazuela Sucre. Don't let the cheap, gaudy plastic banner put you off – this place is a real find.
The afternoon found us on a guided tour of the Casa Dorada (strictly speaking it was painted in silver and gold, and pretty gaudy from anyone's point of view). The upstairs rooms of the house have displays of the riches one wealthy family had shipped over from Europe. The items are well-preserved and certainly worth a look. Our guide was pretty unenthusiastic but that was not enough to take the lustre off this place. One word of warning: don't lean on the upstairs banisters – neither party will come off well from this! Guided tours are currently done at 9am, 10am, 11am, 3pm, 4pm and 5pm every day of the week. The cost is 10bs per person.
Later that afternoon we set at an outside table of Gatto Pardo in the main plaza. The sand trucks and their protesting drivers had gone and it was business as usual. We returned later that evening for our supper too as I saw a fellow expat through the window and went in to say hello.
The evening is also a good time to visit the churches and the cathedral, which open from 6pm.
The tourist office in Tarija is very easy to find (perhaps hard to miss would be more accurate) and is open long hours. We asked for recommendations on a winery to visit the next day and whilst we did not strictly speaking receive this, we walked out with a folder, maps and plenty of flyers showing us what we could do. They seemed to be keen that we take an organised tour (banners for which were in evidence in the office) though I was sceptical of what looked broadly like a generic, bland tour. And at 100Bs per person per half day, this would be more expensive than hiring a car between the two of us and doing exactly what we wanted.
Other, more specialist, tours are available, though they are more expensive and more costly again if there are fewer than 3 people.
Those people who don't want a tour and can't or won't hire a car can reach most places easily by public transport (get the map from the tourist office that shows where the bus and trufi stops are), though waiting times mean that you will see far less in a single day.
As you may expect for Bolivia, the formalities for hiring a car were few and I don't think we would have been asked for a driving licence if we hadn't shown it. We were required to leave an ID for security but no credit card was asked for. We paid US$50 for 24 hour hire of a pretty much brand new small Suzuki hatchback and spent about another US$7 on gasoline.
The roads in and Tarija are of very high quality and during the week are largely free of traffic. Taking the road towards Valle de Concepción, you will past by several bodegas (wine stores) and the pretty village of Uriondo will be the first settlement you come to. You could happily wander round these sleepy streets for a while. The village is also home to the Casa Vieja winery. For anyone who has ever seen mass wine-production in a gleaming factory, the wooden structures, dim lighting and low ceilings here will be a revelation. I don't think you could get any more "artisan". We arrived too early for a wine-tasting but having seen the menu (local favourites such as saise and pollo picante), we vowed to come back for lunch.
In the meantime we set off on a driving marathon to visit the outlying villages and their pretty churches. Of these, Chaguaya was the most interesting. It felt like we were on the edge of the world. More animals than people were in evidence and everything was shut (it was just before noon on a weekday). We had a quick look inside the sanctuary with its pretty ceiling. A walk up the incline beside the building was surprisingly hard and I felt very short of breath though we were out of the normal range at which altitude sickness may be a problem.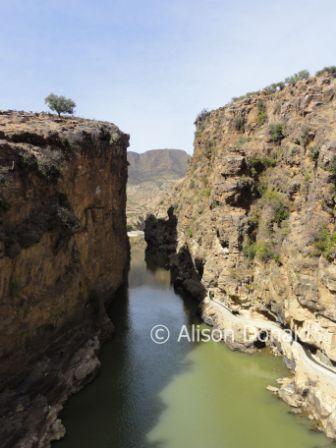 From Chaguaya, you can return to Tarija via the road you arrived... or take the cross country dirt track road. Though a normal car could cope with this rough road during the dry season, a rental company would not be amused if they thought you were going to take a standard vehicle on this road.
Only a relatively short distance of this road is actually a rough track though the poor quality means it is lengthy to drive. From slightly before Juntas back to Tarija the road is asphalt and of very good quality (there are very few heavy vehicles to spoil it) and before we knew it we were back at Casa Vieja for lunch. We were clearly doing something wrong as at no stage did anyone ask us if we were interested in a (paid) wine tour or wine tasting. We ate as much of our (disappointing) lunch as we could, overlooking the beautiful vineyards, and continued on our driving marathon.
Passing through Tomatitas (lined with restaurants and close to a river for those who wish to splash about), we quickly arrived in the pretty town of San Lorenzo which was particularly quiet given as it was the siesta.
We paid a quick visit to La Casa del Vino (where wines are available to sample and to buy) and waited for the museum of Moto Mendez to open. The Señora at La Casa del Vino had warned us that the time-keeping of the museum was a little slack (actually she said something a fair bit stronger, but anyway) and sure enough, we sat outside in the sunshine for 20 minutes before the sour-faced key holder appeared to let us in.
The tiny museum is actually the tiny house that the war hero lived in with his mother. Though it contains a range of copy documents and interesting original items (swords etc) maybe the house itself is the real attraction – a humble dwelling only one room wide. Most of the house is only one storey too. Entrance 2Bs.
The market is at the further corner of the square and in the afternoons you can buy a wide range of drinks and baked goods. From there we went to Coimata, where there is a small waterfall and swimming area. There were also people camping but there are no utilities in the area.
And finally to the San Jacinto Dam. At the same end of the lake as the dam, you can find simple snack bars and pensions (cheap restaurants). If you see them, try the cangrejitos (miniature crabs, eaten whole in one mouthful) and the tiny fried fish. You can also take a trip in a rowing boat halfway out into the lake and back. This was perhaps my favourite part of the trip as the sun was setting and we enjoyed almost total peace on the lake.
That evening we dined at El Fogón del Gringo (Calle La Madrid, just off Plaza Francisco de Uriondo). This is a place for people who take their beef (and wine) seriously and I would highly recommend it.
I think my main issue with Tarija is that apart from the plazas (of which Tarija has more than its fare share), it is not a particularly photogenic city. The streets are narrow and compared to many cities in Bolivia there are few beautiful buildings. I am sorry to say that many of the buildings I would have chosen to photograph had been daubed with graffiti. I also didn't like that in the evenings the narrow pavements were full of stallholders, forcing you to walk in the road.
Large cities in Bolivia are few and far between and these distances (generally the result of the small matter of a mountain range) mean that each city has its own identity. To me, Tarija felt very "organised" with great roads and little things like specified bus-stops. I felt the Argentine influence in the food – a range of different cuts of meat, coffee served with a glass of water, ice cream is artesanal rather than brightly-coloured and mass-produced.
In my opinion the city of Tarija itself has few specific attractions for tourists though if you like wine and/or beef and/or the great outdoors you could spend a very happy few days here.
It would be an ideal place to spend a bit longer (perhaps to learn Spanish) and I can see why so many extranjeros end up living here. It has a beautiful setting and has a great selection of restaurants at very affordable prices. Almost everything is within a few blocks of the main plaza and during the day there should be no problems walking around the city's streets.