Tarija is one of the prettiest regions of Bolivia. It has valleys, low mountains, forests and plains and a wonderful temperate climate. It's been compared to Andalucía Spain and is home to some of the highest vineyards in the world. Read about
the 4 main regions of Tarija
.
The rich colonial history of Tarija is as colorful as the many flower-laden parks and plazas that can be found throughout the area. The city, its people themselves, and its vineyards and wines are the main attractions in this region of the country where other forms of tourism haven't been strongly promoted yet.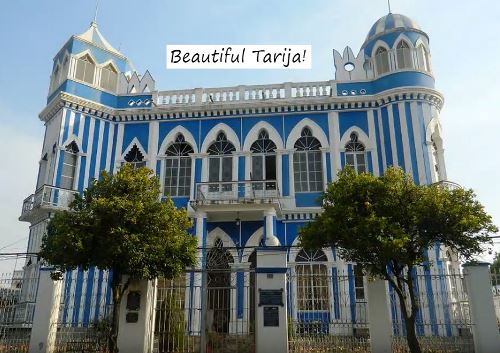 However, this is changing as Tarija is now Bolivia's fourth fastest growing city and more importance is being given to promoting the valley wine routes, mountain scenery, rivers and lakes, and the natural beauty of the region in general, for tourism. Because most tourist attractions in Tarija are historical, an understanding of regional history is recommended. Read about the 7 natural wonders of Tarija.
Tarijeños are festive by nature, proud of their heritage, and very hospitable with foreigners. This is reflected in Tarijeño music and dance which can be easily distinguished from all other types of Bolivian music. It is lively, rhythmic, and influenced by both the rural lifestyle of the chapaco or chaqueño, Tarija's cowboys whose costumes are very similar to those worn by Argentina's 'gauchos', and its Spanish heritage, as can be seen in the flamenco-inspired dresses of the women. (Read more about Tarija's music and typical clothing styles on our pages about Bolivian music types and Bolivian clothing.) At one point in history, Tarija had to decide whether it wished to become a part of Bolivia or remain as a territory of Argentina. Today, more tourists are from Argentina than from any other country, both due to the geographic proximity and the shared heritage (not to mention their shared love of excellent wine).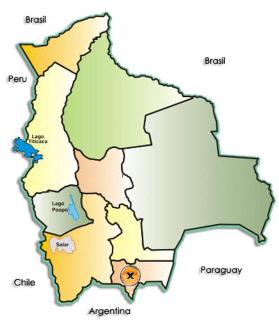 What tourists and foreigners who reside in Tarija are often most taken aback by is the laid back, friendly nature of the tarijeño and the ease with which they smile and laugh. Despite being fiercely proud and protective of their region, they are very open and accepting and with the rare exception, probably offer the friendliest customer service in Bolivia (good service is, unfortunately, not something Bolivia is generally known for). Unless they are discussing politics, tarijeños are of a very relaxed nature and not known for their punctuality, something that takes foreigners some time to get used to. However, nowhere in Bolivia are Bolivians known for their punctuality. Tarijeños love to share stories, music and dance, and can spend hours discussing the history of their city and region. They are plentiful in their generosity and won't think twice about giving a tourist or new friend a gift. This generosity extends into their time. Many tarijeños will easily change or cancel plans of their own to spend time showing a newcomer around.
Nights are cold but long in Tarija where plazas are lit until late and people lounge on park benches into the wee hours discussing life in general. This city of 220,000 doesn't even have a movie theater and why would it? Everyone is out at the plaza or sharing dinner at the numerous outdoor cafés and restaurants. In fact, tarijeños are so sociable home restaurants in front patios or living rooms are apparently not at all uncommon. As long as they feel their city or region is being respected, tarijeños welcome outsiders with ease!
All of this changes when their region, fiercely independent nature, and local culture and traditions are threatened. Tarija has experienced a very rapid influx of immigrants from other regions of the country, mostly the Andes and valleys, since oil and gas became a prime commodity in the region. This has caused great tension as newcomers demand services and utilities, attempt to participate in local politics and decision-making, and seek changes in the local norms. The city is having trouble keeping up with its growth, especially since many immigrants practice 'informal commerce' and do not contribute to the municipal economy in the form of taxes. The city's rapidly growing population is putting pressure on the landscape and Tarija's ability to plan its growth.
This may be one of the reasons Tarija is now giving more priority to developing tours, attractions and routes. It's a way to preserve the local culture and folklore, historical monuments and buildings, and ensure others learn to appreciate them so they aren't absorbed and lost among the many incoming cultures that are unwilling to adapt to local customs. Tarija is working to maintain the vestiges of its local identity before they become mere bits of memory. So run, don't walk! Go experience the fruity wines and singanis, delicious foods, frequent festivities, hospitable warm people, and lovely landscapes of tantalizing Tarija. Because those are the memories you'll want to keep of this quickly changing place.