I hope a towing service is the last thing you will need while you travel or live in Santa Cruz, but if you do get a flat tire, run out of gas, get caught in a flash flood, or get in a fender bender, there is help on the way.
You'll have to be patient, though. There aren't many companies that provide this service, and you may have to wait your turn. If you are just having mechanical trouble this can be annoying, but if you have been in an accident, you must by law wait for the police to arrive at the scene anyway, and by the time they arrive, your tow truck most likely has as well. Sometimes the police come with a tow truck, but not usually and it's not theirs, it's still usually a private tow truck they just happen to know.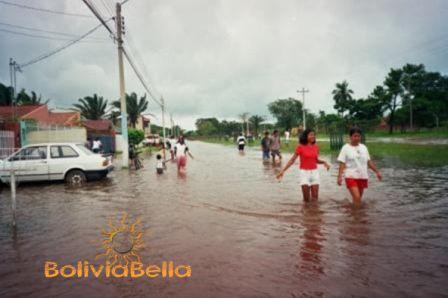 You will be expected to pay the driver cash up front. Most drivers are just private truck owners who drive around looking for vehicles in mishaps. You will have to negotiate a price with them and pay them on the spot. They will most likely not have a receipt to give you. They are not equipped to take credit cards, and will not bill you later, especially if you are a tourist, for obvious reasons. If you are in an accident (try to remain calm) and the police bring their own tow truck, your vehicle will most likely be taken directly to the police station and impounded there until an agreement for repairs is arranged between the parties involved.
Beware! MOST Bolivian drivers do not have car insurance although it is supposedly required by law. While you are at the police station, you will each give the police your side of the story, a report will be made, and if you have insurance, a copy of this report will be required by the insurance company before your car is released for towing to a mechanic or body shop. You will be expected to pay all towing charges, including the police tow service to impound, and you may be charged impound fees per day as well. This must all be paid in cash. If you were driving a rental car immediately contact the rental company. They can send a representative to meet you at the police station who will most likely accompany and help you get through the entire process, especially if you don't speak Spanish.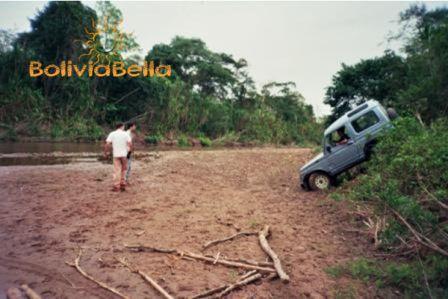 Whatever your reason for needing help, whether you called for one or the police brought it, stay with your vehicle! Follow in a taxi and do not lose sight of it. You may never see it again if you do. So, that having been said, stick to using a reputable service that can be traced back to a real, physically visible, well-known office that has a real address and phone number (and usually set prices so you don't have to negotiate with the driver right there on the scene). That's why I recommend using the AUTOMÓVIL CLUB BOLIVIANO. Phone: (591-3) 341-8000.
The ACB is a non-profit organization. They are located just behind the big Hipermaxi supermarket that is visible on the corner of Av. Banzer and the 3rd Ring (between Av. Beni and Av. Alemana. (About 5 blocks straight north of the "Cristo" statue). Their office has a gas station and mechanic shop right on the spot where you can also get an oil change, have tires rotated or changed, or fill up on gasoline. Have a snack at their on-site snack bar while you wait.
The ACB is a social club, associated with the American Automobile Association, but on a much smaller scale. They can help you process an international driver's license ($55 non-members, $30 members) and provide towing service (not free) to their members. They also provide maps and help you with travel plans, though they do not operate as a full service travel agency. They can also send a mechanic to your car if it breaks down to try to get it up and running without towing it.
They will also send their trucks to non-members, but you will pay just a little more for the service. It usually costs about Bs. 50-80 within the city (about $8.00-12.00), more for longer distances. My car once broke down at 11:00 at night 80 miles north of Santa Cruz. I called their on-call number on my cellphone. I was alone with my baby, it was pitch black and pouring rain. They sent me a truck which arrived in about 2 hours, around 1:00 in the morning. The cost was nearly Bs. 600 ($75.00). Point being, even the most expensive emergency charge is still not even CLOSE to what it costs in other countries.
You can become a member of the ACB for a modest monthly fee. As a member you are granted free, unlimited access to the Automóvil Club Boliviano's Country Club, just 1 mile north of Viru Viru Airport. There you can enjoy the entire day at one of three swimming pools, have a snack or lunch in the cafeteria, or make reservations to hold an event or party there. It's very pretty, well-kept, and relaxing. You can go every day or just on weekends, and if you invite guests, they pay a very very small entrance fee. The club is closed on Mondays for pool cleaning.