Workin' at the carwash in Sucre...yeah!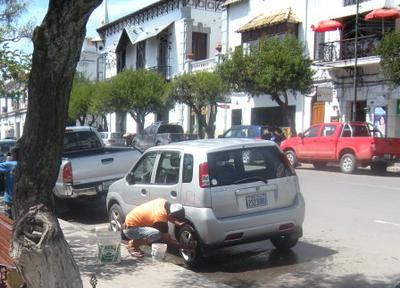 Residents in Sucre have a pretty cool convenience when it comes to washing the car. Now, in the States one could run across some high school kids having a fundraiser at a gas station or have that special treatment at one of the big car wash venues and pay a little extra for hand washing, or just do it yourself at home. But here, just drive to the square, find a space and there are a slew of car wash guys to bling your ride while you shop, do banking, have a café or whatever.

They wash, dry, polish, tires and all and then you inspect and pay. These guys are out here all the time as they tote their five gallon buckets, rags, towels and brushes. They get the water by dipping the buckets in the fountains and bringing them out to the street. I have seen as many as twelve or fourteen cars being done at once on three sides of the square.

This is just one of the many typical street venues and a means of making some money, a living in most cases. Just a couple of bucks (US) provides income and adds to the local economy, but to watch the hustle and attention to detail is nice to just sit back and observe an entrepreneurial spirit, much seen across the city...
Join in and write your own page! It's easy to do. How? Simply click here to return to Sucre.