Stones and Elbow Grease in Sucre
by Stephen Nagy
(Sucre, Bolivia)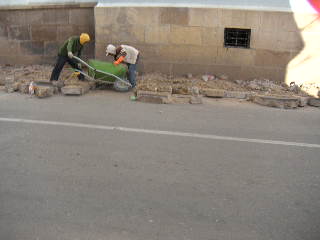 Many years ago I did road construction for a sub contractor of Florida Power and Light in Miami. Here in Sucre sidewalks are being replaced and reconstructed. I have been watching these three guys....three take on a very long sidewalk built decades ago for sure. It is a method to be admired.

First, they work around and amidst both auto and pedestrian traffic without barricades and nothing stops moving. The stones that were beneath are saved and reused. The concrete is bagged and mixed with a small gas-run mixer loaded by hand (concrete, sand and water) dumped in a wheelbarrow and then poured into curb molds made of plywood and staked with rebar. Perfectly straight and leveled with the slope of the street. When cured stones are placed very neatly as a bed and topped with more concrete, once that cures the top layer is smoothed on, joints and skid lines are artfully crafted and then sealed. Perfect drainage, non slip and durable for many years.

Three guys and a small mixer, so typical of Bolivian construction. Forty years ago we did sidewalks quickly and with large machines, steel forms, and the big old cement truck. But somehow I seem to prefer the ones here. The cost has to be much less and the results as good as or better, but the way these guys work is simply amazing, almost artistic. Of course there are modern buildings that use the latest equipment all around the outskirts of the historical center, but the care and talent it takes to replace what was already there without any interruption of business and commerce is kind of cool to watch. It may take a bit longer but they use less than half the concrete we did in the U.S. by utilizing stones much harder than concrete as a base. Two natural resources, stones and elbow grease.
Join in and write your own page! It's easy to do. How? Simply click here to return to Sucre.