Sancho Panza - The Spanish Table in La Paz, Bolivia
by Mick Huerta
(La Paz, Bolivia)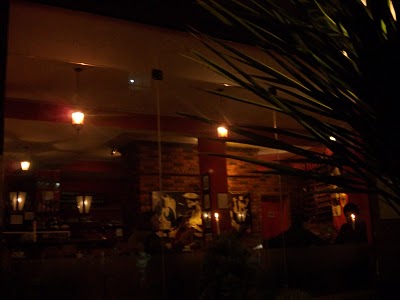 Restaurant "Sancho Panza": The exterior is rather unpretentious. Not much to be done when you´re located in a tall building. Just a couple of signs with logo, a sculpture of Don Quixote (Sancho's jefe) outside the door and your name tastefully etched into the large plate glass window. Perfect. Open the door and enter Spain. Vibrant red on the walls, a copy of Picasso´s Guernica and a silent flat screen sporting Euro-football, the room felt ample, warm and cozy.


Tapas? Of course tapas! Being it´s sourced fresh from Peru; our first impulse was to order a Tabla of seafood (an assortment). It was explained that the Tabla held food enough for 4-5 people, even with big appetites some items would go cold in the time required to eat it all. And we, being two, couldn´t have eaten it all. We ordered, instead, à la carte.
Calamares a la Romana - Squid fried in batter
Gambas al Ajillo - Shrimp to the Garlic
Croqueta Pollo y Jamon - Croquette of Chicken & Ham
All three were temptingly done and well presented with individual salads for each tapa. The aioli sauce was fresh and bright; Salsa Golf, a classic with seafood was good. However, I prefer Salsa Romesco but that´s just being nit-picking. On a prior visit, we sampled the Tortilla Española which was as good as any I´ve enjoyed in Madrid and the Jamon Serrano heavenly. Seems there´s now a Polish chef in Bolivia making ham Spanish style; to that chef we say welcome, we are happy to share the same city! Without missing a beat Sancho Panza puts this Spanish Jamon to good use! And best of all in the form of tapas!
One word of advice, Bolivians fancy all fish and seafood well cooked. So if you prefer to eat in the style of seaside Spain (lightly cooked), just let your server know. They love to accommodate. To end the meal with Crema Catalana is ideal. If Crème Brûlée springs to mind, know there are differences in baked custards. Crema Catalana is not made with heavy cream like it´s French cousin which is served cold. So if a lighter dessert traditionally served warm appeals then this is your sweet finish. The version at Sancho Panza is very good!
The wine list is well thought out. The Barra variety bread was great for dunking in the sauce of our garlic shrimp. Lunch is either prix fixe (approx. $4.90) or a la carte. Our dinner was $20 for two with wine.
Pablo Zarate Osuna, the owner from Madrid, has clear vision that his restaurant should offer the classic plates of Spain. He even insists on pure Spanish olive oil; the green Borges liter tins are proudly displayed in a row above the bar. In all of the Andes, there are not many Spanish restaurants; even fewer who have the lofty goal of authenticity and then deliver. There are many surprises in store at Sancho Panza in La Paz, Bolivia and the attention to detail will readily transport you to the Spanish table. It all comes together to make this a delicious job well done!
Restaurante "Sancho Panza"
Avenida Ecuador 738
Edificio Miguel Ángel, Sopocachi
La Paz, Bolivia
Copyright © Mick Huerta 2011. All Rights Reserved.
http://mickhuerta.blogspot.com
All Accordin' - Travel, Food, Wines and Gardens!