Micro Mercados in Sucre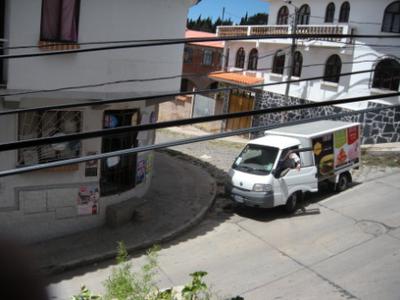 On my street alone there are five or six of these little stores, reminiscent of the corner store when I was little. They have all of what a modern C-store has in the US and then some. All with security bars and all with a person to sell you what you want from penny candy to a bottle of Scotch. Most have fresh bread baked daily and all have Coca Cola, a Bolivian staple. Seems as if every block in Sucre has a micro Mercado as a way of life here. Kids can walk up the street and run an errand or just get some candy for a few cents.

Lucia runs the one downstairs from me and as typical of all the stores, she knows her customers, as they are her neighbors. What they don't have are the tax-ridden high prices one pays in the US, which has pretty much wiped out most of those corner stores each neighborhood used to have. Opposite of those chain C-stores are owner-run-and-cared-for markets that cater to their neighbors, no guns or security cams needed, just friendly one on one service.

They have many distributors that circulate amongst them, each specializing in their products: the fresh bread guy, the egg man, the meat guy, etc. and a few fresh produce marts here and there. All of these are on the street level of the homes in which they live and are family affairs meant to add to the support of each home. They almost always have security bars as one can not just pass on the cost of theft like US stores do for the sake of volume, nor are they burdened with tax, license, liability issues and waste.

If you live in Sucre you will feel the true convenience if you have lived elsewhere but to the residents here it is just a way of life. Poorest country? No, not by a longshot as residents don't have to get in a car and drive to the store, pay ridiculous prices for food and even worse the amount of tax used to inflate the cost of living. People in Sucre contribute to each others' welfare far, far more than the US where many don't even know their neighbors.
Join in and write your own page! It's easy to do. How? Simply click here to return to Sucre.