Linaza is one of the most refreshing juices I've ever had. It's really light and has a very mild flavor, but served super cold, it's about the best drink I've ever had on a really hot day (other than lime juice, which I'll also post a recipe for). Linaza is linseed (also known as flax seed). It's healthy too!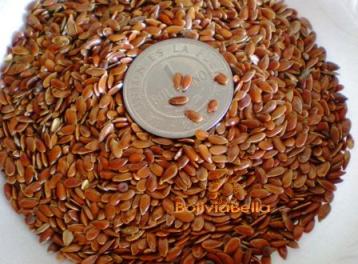 Ingredients
100gr (about 1/2 cup) Linaza (whole flax seed, or flax seed flakes, sold in health food stores)
1 1/4 Liters of water
1 whole stick of cinnamon
3 whole cloves
a pinch of nutmeg
Sugar to taste (preferably cane sugar or turbinado sugar for the best flavor)


Instructions
Boil the whole cinnamon, 3 cloves and pinch of nutmeg in the 1 and 1/4 liters of water for about 15 minutes-
Add the whole or ground linseed
Add sugar to taste and cook for about 20 more minutes.
Serve cold.
This juice is sort of whitish in color but also sort of a murky transparenty color. What do I like even better? Raw linaza juice.
Other Interesting Facts
Linseed (flax seed) is perfectly safe for human consumption. But it's also used in many other products. The cosmetics industry uses it a LOT! One of the healthiest things for your hair is linseed. The paint and varnish industry also uses it to treat wood, and as a paint drying and setting agent. Linseed oil is also commonly used.
Linseed is rich in Omega 3, 6, and 9 fatty acids, something our bodies need. However, like most natural foods, you can best take advantage of these nutritional qualities by consuming it raw. Linaza helps lower cholesterol and the chance of developing heart disease.
Linseed juice is slightly "nectary" in texture (but shouldn't be very thick) and you should drink it soon after making it because it tends to get mucousy and sticky as time goes by. Don't drink if after 3 days or so. It will gradually take on a fermented flavor.
You can purchase linseed whole or flakes in most health food stores. Usually I blend the whole linseed with about 1/2 a cup of water before using it - it makes this juice must more flavorful. Before serving the juice, I strain the seeds out. I don't particularly like flax flakes because they make me feel like coughing when I try to swallow the juice.