Uriondo is a sleepy Colonial town in Valle Concepción, in Tarija, Bolivia's vineyard valleys. Located just 25 miles from the city of Tarija, Uriondo is known as Bolivia's
grape capital
. 30% of the grapes grown here are for eating and the other 70% are used in the production of wine. If you take a tour along the wine route (Ruta del Vino) you'll likely make a stop here.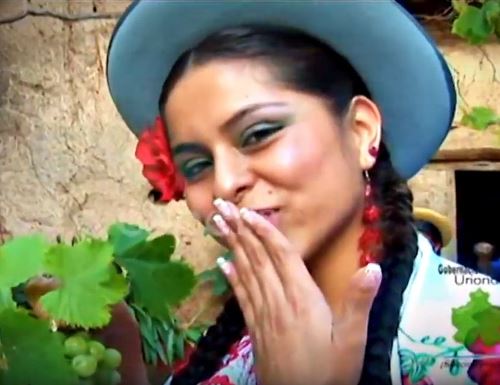 As you enter Valle Concepción you'll drive upwards through the hills along a paved highway. Soon, in the distance you'll see the small town of Uriondo in a valley below, with its double Church towers and plastic-flowered graveyard on the outskirts of town, surrounded by vineyards against a backdrop of mountains.

https://www.youtube.com/watch?v=4WSVWeLaqyo
Uriondo itself has a small central plaza and a walk through its Colonial streets and structures is interesting. What you'll want to look for in Uriondo are the vineyard haciendas like Casa Vieja, or restaurants like Las Tinajas and La Bodega del Abuelo. This is where you'll experience what it must have been like to live in Tarija hundreds of years ago. Casa Vieja is especially interesting.
The town also has a few small stores, a pretty church worth entering, a police station, and a phone calling center. Taxis back to the city of Tarija line up at the main plaza. The best time to visit Uriondo is in March during the "Festival de la Vendimia" (Grape Harvest Festival). It is 3 days long and hosts up to 50,000 tourists per year.