Volunteer with Up Close Bolivia

---
Volunteer in Bolivia | Volunteer Forum | Live in Bolivia | Plan Your Trip
---

UP CLOSE BOLIVIA
www.upclosebolivia.org is based on the concept of "RECIPROCIDAD" which means "reciprocity" - a concept at the heart of Andean culture. It is all about giving back and contributing in a way which enriches both the person who is giving and the person who is receiving equally. The essence of our work is to ensure that the needs and expectations of our volunteers and the local community projects are mutually met and both parties are enriched and strengthened.
Where are we based? Mallasa is 30-45 mins by bus from the La Paz city centre. It is a beautiful semi-rural village surrounded by mountains and is home to the Valley of the Moon. There is a very strong sense of community - perhaps the most enriching aspect of our volunteers' experience to date has been participating in this small community and getting a very real flavour of Aymara culture. As very few people speak English it is also the perfect place to learn / improve your Spanish.
Who are we? UP CLOSE BOLIVIA is a family-run enterprise set up by Emma, an ex-volunteer from England, and her Bolivian husband Rolando. The organisation is deeply rooted in the local community, and the aim is to give the volunteers a true sense of belonging and welcome them into the community. The founders of UP CLOSE BOLIVIA were also instrumental in the set up and sustainability of the Valley of the Moon Children's Centre.
Emma and Rolando have been opening their home to receive volunteers from all over the world over the past ten years with great success for the project and also the volunteers. Please click here to see a short video which presents many of the projects and describes what life is like as an Up Close Bolivia volunteer:
For updates, photos and posts from our current volunteers you can also visit our
our Facebook page
for more detailed information about the projects and also testimonies from current and past volunteers.

Our Volunteer Projects
It is likely that UCB volunteers will participate in more than one of the projects listed below. We place volunteers to respond primarily to the needs of the community and also to match the skills and interests of our volunteers. 1. Our main project is with the Valley of the Moon Children's Centre. Please watch our video made by one of our volunteers about the Children's Centre:
It is a community-run centre for local indigenous children from poor backgrounds, aged six months to four years, in Mallasa. Here is a blog from some past volunteers which gives a good overview.
The role of the volunteers is to give practical support to the local women who work in the nursery, feeding and washing the children, and keeping the nursery clean. Some volunteers also help out in the busy kitchen, to prepare wholesome and nutritious meals for approximately 80 children and work in the Nursery Green House. Volunteers also provide educational support in the Montessori based curriculum, preparing additional activities and lessons to reinforce certain aspects of language development, social skills etc.
The Valley of the Moon Nursery runs from 8am to 4pm Monday to Friday. Volunteers usually work 8am to 1pm. Lunch and snacks are provided.
2. Support to Equine Therapy Centre: support a local foundation that provides therapy using horses to children with special needs, with physical and mental health disabilities and children with behavioural issues. This is a new and very innovative project in Bolivia and in view of our volunteer house in the beautiful valley of Jupapina. Volunteers provide practical support to take care of the horses and also receive training to assist in the therapy sessions. This project will involve work at the weekends.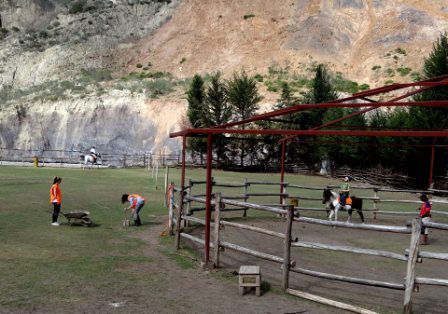 3.
After School Clubs
: this project responds to the expressed need of local families to have somewhere safe and stimulating for children in the afternoons, as many finish school at midday and would otherwise would be left alone at home. The clubs run Monday and Wednesday, 3.30pm – 5pm with a group of between 15 to 20 children, aged seven to 12 years. Each session volunteers provide educational and undertake recreational activities which promote their rights through art, dance, theatre, ecological education, sports and film.
4. Football Coaching: Football is the national sport in Bolivia but until recently it was exclusively for boys. Up Close Bolivia supports a local football school in Jupapina that aims to integrate boys and girls, fostering not only technical expertise but also key values around team work, gender equity and communication. There are approximately 40 children and classes take place on Tuesdays and Thursdays in the afternoons.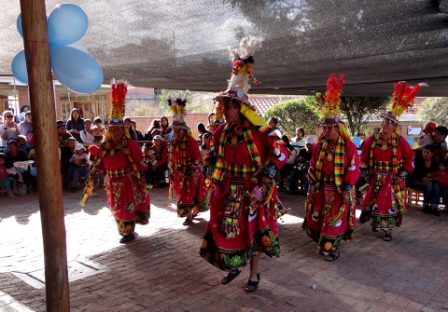 5.
Strengthening local eco-tourism and English teaching
: Mallasa and the countryside around are very beautiful and attract many international and national tourists to visit the Valley of the Moon, the zoo and the local parks and valleys. There is great potential to develop community-based tourism. Up Close Bolivia works to build capacity among local people to take advantage of opportunities in this sector providing support to local family-run initiatives and also running English at the local school for 25 to 30 children aged 13 to 16 years old. The students are very enthusiastic and the classes serve as a cultural exchange between the students and volunteers, where the students present and share their culture and identity, as well as have the opportunity to learn about similarities and differences with foreign cultural practices. The objectives of these classes are: increase their vocabulary through teaching exercises, promote student interest and increase their knowledge of domestic and foreign cultural practices and promote self-esteem of students to express themselves in front of a group. The classes take place on Tuesday and Thursday, 12 45 pm to 14 00 pm in the local school in Mallasa.
6. Environmental and art work: Up Close Bolivia works with community organisations, including the local using art, particularly murals, occasionally theatre and workshops etc., to raise awareness about local sustainable and ecological development and on specific issues such as recycling, worm composting and mini greenhouses. On a regular basis, we offer our services to local organisations to improve and clean up the environment, this may involve tree planting, clearing rubble, rehabilitating playgrounds and schools, amongst other activities. Click on these links to see more photos of some of our art and environmental work and murals plus more murals and painting the local school.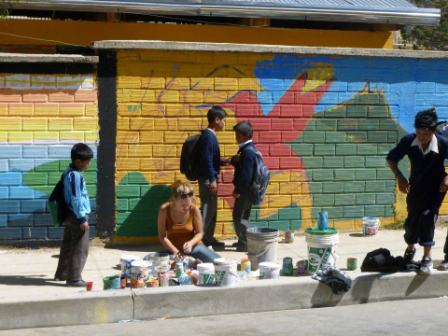 7. Support to Mallasa Zoo: Our volunteers work alongside the zoo team on a programme which improves the quality of life for the animals and birds, many of which have survived trafficking or abuse and come to the zoo as a refuge. Volunteers work in the kitchen to prepare the food and also create "toys" for the animals to stimulate the animals. For safety reasons the volunteers have very limited access to the wild animals but it is the opportunity to work in a beautiful environment alongside very friendly and knowledgeable committed zoo staff. Volunteers also contribute to environmental education programmes supported by the zoo.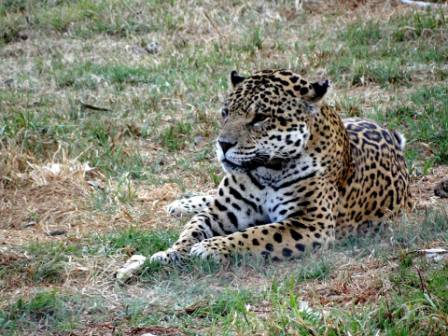 8.
Fundraising strategies
: The founders of Up Close Bolivia do a lot of fundraising to sustain the Valley of the Moon Children's Centre internationally, and give technical assistance to local fundraising efforts too. Volunteers provide support in this area by sharing news and results of our work in the Children's Centre with existing and potential donors through newsletters, the use of social networks etc. as well as a very popular monthly pub quiz held in a city centre pub.
9. General help with computers and web page social networks, blogs etc.: We ask all volunteers to help us with communications work and to keep our webpage for Up Close Bolivia and the Children's Centre up to date and dynamic, through posting testimonies, sharing photos and blogs etc.

The kind of volunteers we are looking for:
Language
: At least a very basic level of Spanish is very useful - or you can buddy-up with another volunteer to help you communicate with the project staff and children. Very few speak English, so it is a perfect place to learn Spanish!!!
Personal Qualities: We seek volunteers who are open to diversity and exploring new cultures in a respectful way. We seek people who are friendly and can work in a team with the indigenous women who manage the nursery for example, valuing their skills and experience. We seek people who are mature and love children, who are patient and also have a great sense of fun and creativity. We seek people who are flexible. Often the Bolivia context is unpredictable, and plans and programmes may change along the way.
Professional Skills: Professional skills are not a requirement. Many of our volunteers come to develop new skills – however, we proactively seek out people with the following skills and experience:
• Early childhood educators and teachers
• People with Teaching English qualification
• People with experience of equine therapy and horses
• Physiotherapists
• Occupational Therapists
• Physcologists
• Football coaching
• Artists / Muralists
• Agronomists
We particularly welcome volunteers who can spend 1-3 months (or more!) with us. This is because this strengthens and gives more continuity to the projects that we support. Volunteers that can stay for 4 weeks or more will have access to volunteer in all of our projects.
If you only have a week or two to volunteer then we are very happy to set up a volunteer placement in all of the projects, with the exception of the Valley of the Moon Children's Centre. The minimum time to work in the nursery is 1 month; this is to avoid quick turnover which unsettles the children that we work with.
Costs: Volunteers pay 3500 Bolivianos – approximately USD$500 and if you want to pay directly into a UK bank account, then the cost is £367, to cover bank fees. The fee covers project costs, 24-hour support plus pre-arrival and post-arrival orientation from our Volunteer Coordinator, as well as accommodation (see more information below).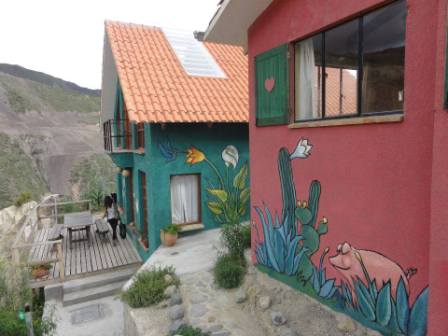 Accommodation
: Volunteers live in shared volunteer accommodation in the grounds of our family home with some of the best views in La Paz over the mountains and down in the valley below. There are single and shared rooms – depending on availability. The houses are very comfortable and fully equipped with kitchen, shared living areas, hammocks, Wi-Fi, cable TV and DVD machines and access to the family washing machine.
The Up Close Bolivia team will also provide:
• Prior to your arrival we will communicate with you to discuss what your expectations and interests are.
• You will receive an orientation information pack about La Paz with practical advice and tips from past volunteers covering issues from safety, health topics, cultural do's and don'ts, travel in Bolivia and neighbouring countries etc.
• Meals and snacks when working at the nursery.
• Twenty four hour support for emergencies and regular meetings with a local Volunteer Coordinator.
What isn't included?
• Language classes: We can set up one month (or more) of Spanish classes with experienced teachers – the intensity and level of these classes will be set up to suit your needs.
• Meals (lunch and snack are provided if you are working at the nursery see above). There are many cheap local shops and restaurants nearby and you can budget about USD$5-7 for food.
• Local transport to and from projects - approx 50 cents/ 30 pence a day.
• Travel and tourism in La Paz and beyond – however, we can put you in touch with good local travel agents and share our tips on travel in Bolivia.
• We will arrange a pick you up from the airport / bus terminal when you arrive approx USD$13-15.
Application process:
1. Please Fill out the UP CLOSE application form (link on website www.upclosebolivia.org)
2. Send us the name of two personal references that we can get in touch with via email and who can vouch for your suitability to undertake this kind of volunteer work.
Once the placement has been agreed we will ask you to fill out an agreement which sets out both the roles and responsibilities of UP CLOSE Bolivia and the volunteer, so that everything is clear and we can avoid any misunderstandings during the placement.
---
Volunteer in Bolivia | Volunteer Forum | Live in Bolivia | Plan Your Trip
---