Films always portray long-distance bus travel in South America in the same way: windows open, curtains closed but billowing in the cross breeze and the sun setting in a pink sky. Poetic yet unknown to me as I had tended to make my longer journeys overnight. I think it was appropriate after my adventures touring Buena Vista that the bus I caught back to Santa Cruz was one of those buses.

I've got a theory that the day of the week you visit a place is crucial to your experience. Based on this, you would think I should know better than to visit a working coffee factory on a Saturday. There was some logic in choosing to visit over the weekend: having only visited Samaipata during the week, I was interested in how this other Cruceño weekend haunt would fare on a Saturday and Sunday.
We'd passed through Buena Vista the previous weekend on our way to lunch at a cabaña near River Yapacaní. So when this sleepy town had an official from the police or military police on every corner, I was not sure what was going on. Yapacaní is notorious for (allegedly) being a centre of cocaine production and I reasoned with myself that maybe Buena Vista was inline for a crackdown that weekend. However, I was not sure where my hotel was and none of the officials I stopped to ask seemed to know either, though they were very polite about it.
As I got further away from the plaza and closer to my hotel, the officials were closer together and there were a great number of people around, considering it was siesta time. I began to wonder what I had got myself into.
I checked into my hotel and contemplated going for a swim however luckily my curiosity got the better of me and I left the hotel, intending to ask one of the officials what exactly was going on. It can seem like there is always a party in Bolivia, but this time it was palpable.
I didn't need to ask anyone as I could see the source of the large numbers of people and I heard the words "Evo Morales" over a loud speaker. I can very rarely make out loudspeakers in English, let alone in my adopted language, but that was enough and I headed towards the stadium.
I bought a bottled drink from one of the street vendors and casually dropped in a question whilst paying. "Evo está aqui?" A shake of the head. Not yet.

I found myself a position in between the concrete bleachers and the wire fence. There were maybe a hundred people inside the grassed and fenced area. Occasionally people would try their luck at joining them but were swatted away by the military police guarding the entrance. These people would then retreat to the bleachers.
Santa Cruz is very ethnically mixed and there are a large number of people who would consider themselves white. Here no. I felt very conspicuous but not unwelcome. The two official Bolivian flags – the banner of green, red and yellow, and the controversial wiphala - abounded. (The wiphala is the flag of rainbow colours set out in a checker-board design, controversial as it is now one of the two official flags of Bolivia but represents the indigenous/ Andean peoples and not the mixed and white peoples).
Having said that, there were a disproportionate number of mixed/ white peoples allowed inside the arena whilst the Evo faithful were largely kept outside.
I caught the eye of a gentleman on the right side of the fence. "Evo is here?" I asked again. Not yet. "Ah, la hora Boliviana" (Bolivian time) I said with a smile and we made some small talk. He was from the village and also asked me if I wanted to enter the stadium. It turned out that it was a local youth sports event and the President was here to open the show. I saw the cream 4x4 vehicles containing Evo and his entourage arriving and decided to try to enter the stadium. As it was they didn't bat an eyelid and opened the fence door.
The mayors of the surrounding areas each gave speeches, and Evo presented them with certificates stating how well they were progressing with various projects in their villages.
It was Saturday afternoon and he was dressed very casually in jeans and a short-sleeved shirt. He was given a hat to protect him from the sun and he played with a balloon whilst listening to the other speeches. When he burst it, I jumped more than he did.
He kept looking up at the bleachers and would wave and smile at those in the crowd. Whatever you think about Evo, you cannot deny that he has an immense following and a hardcore of fans achieved by few leaders.
Evo too gave a general speech and I even understood and laughed at some of his jokes. He talked about the importance of investing in sports for children. Throughout the entire event we were allowed to get really quite close to him for photographs, though security overall was tight and there were some none too subtle "undercover" bodyguards.
So in this sense I was right: the day of the week I made my visit was crucial to the experience.
From there I took a motorbike taxi to Hacienda El Cafetal, the real reason I had planned on touring Buena Vista. I had wanted to visit for a while but I had been told that it is more interesting from April to June when they harvest the coffee beans and you can see the processing plant fully in action.
My tour around the grounds and the factory covered the whole experience from the germination of the plants to the finished roast bean and the best way to prepare your coffee. It took about 40 minutes and was conducted by a worker from the plant who had 20 years experience.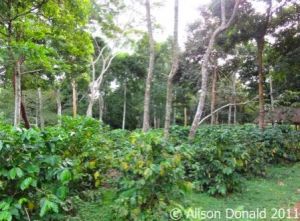 The space given over to growing coffee on the estate is relatively small (30 hectares but expanding); however, they receive coffee from all over the region (e.g. Samaipata, La Guardia) to process. In addition, their beans are blended with those grown in the Yungas region.
Around 90% of the total crop is exported, 3% sold to other domestic brands and the remaining 7% packaged and sold under the Buena Vista brand here in Bolivia. This coffee is expensive even by UK standards, costing around US$5-6 for a 250g bag. A poorer quality domestic coffee can be found for under a dollar a bag in supermarkets. I am now on my third bag of Buena Vista coffee (the one in the black and gold bag) but I feel a bit disloyal in admitting that these beans are all grown in another area of Bolivia (at higher altitude) and only arrive in the Oriente (East) for the second stage of processing.
Due to the altitude (or lack of it) in Buena Vista the beans by themselves would not produce good coffee; however, they are a good base for blending and this takes place in the glassed area of the factory from Monday to Friday. These are also the days for roasting and it is this process which produces the aroma we consider to be coffee.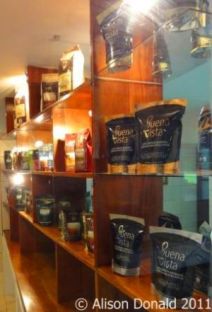 The cost (20Bs if you are staying at the hacienda, 35Bs if not) also includes tasting the coffees at the cafe inside. Juan Carlos (the manager) is a born host, very enthusiastic and happy to answer questions. There is no need to pre-book the tour.
There is also a walking trail inside the estate and if you do not have time or energy for more walking on the day of your factory tour, you are welcome to come back the next day.
Furthermore, there is a swimming pool also available to non-guests for 15Bs per person. It looked very inviting and also shared the fabulous view.
No-one there speaks English but if you were to arrange a group of you then you could split the reasonable cost of a translator between you. Even if you only speak basic Spanish I would urge you to go as of course much of the tour is visual and they are very good at talking with their hands. In addition, the accents of Juan Carlos and Mario were very clear (being from La Paz and Cochabamba, respectively) and I had no problem following them.
The other half of the El Cafetal business is the Cabañas on the grounds; however, as I was on my own I wanted to be closer to the village.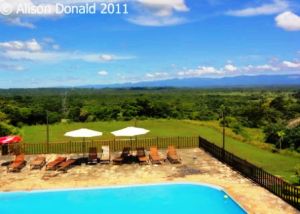 I opted to stay at Hotel Buena Vista (1 Km. on foot or 2 minutes on a motorbike taxi) from the main plaza. I paid 100Bs for my room in the main block of the hotel (with air-con, private bathroom and fridge). Cabañas sleeping couples cost from 300Bs. All prices include an amazing buffet breakfast and of course use of the pool. There is also a football pitch for those who are feeling energetic. When I went to ask what time checkout was the lady looked at the bookings for the next day and said it would be fine to keep the room until 4-5pm the next day. She didn't know who I was or that that I would be writing an article about them – simply it was no trouble to them to let me keep the room for a few more hours without cost.
The views from this hotel are stunning (Buena Vista means "good view" in Spanish) and I quickly lost count of how many lengths of the pool I was doing, mesmerised by the view.
Hotel Buena Vista also has a restaurant serving good food, or you can go back to the main square for your meals. Being a tourist town (albeit local tourists rather than foreigners), it is more expensive. If your budget will not stretch to a sit-down meal, you should be able to find empanadas and other snacks.

Buena Vista is closer to Santa Cruz than Samaipata (another popular tourist destination) and blessed with a much better road, making a trip a lot easier. If I had only one day in Santa Cruz I have to say I would choose touring Buena Vista and the coffee plantation (where you can enjoy a tour, nature trails and a lovely pool) rather than Samaipata and its fort.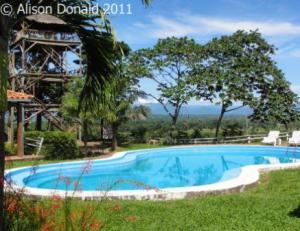 The journey to Buena Vista from Santa Cruz generally takes between 90 minutes and 2 hours. The easiest way to get there is to take a shared taxi (trufi) from near the old bus terminal (Avenida Cañoto near Avenida Grigotá) in Santa Cruz for a cost of 20Bs. In theory, you could also take any of the transport options that go to Cochabamba (as Buena Vista is on the same road); however, the timing is inflexible for these buses and they would leave you on the main highway rather than in the plaza.
On the way back you can take a taxi from the plaza or walk downhill back to the main highway and flag down a bus or shared taxi going back to Santa Cruz. Even the locals confirm the price before getting in and you should too.
Take: strong insect repellent (mosquitoes normally leave me alone but these creatures were brutal) and plenty of Bolivianos as the nearest place to withdraw money is Montero. If you accessed this article from the May 2011 Bella News Ezine, click here to return.