The Tiwanaku ruins guard many secrets about the ancient civilization of the Tiahuanacota culture. Is Tiahuanaco really the oldest city in the world? Visit the ruins of Tiwanaku and decide for yourself. Use this as a checklist of things you need to know about Tiwanaku when planning your trip. Use the links above and below for information on hotels, tours, photos, and more.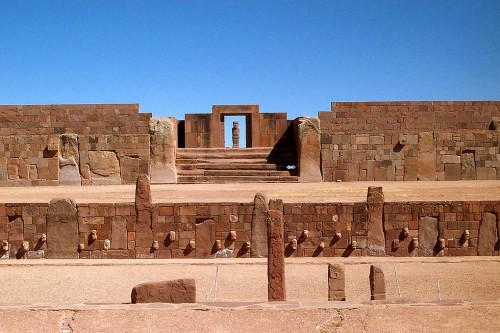 What you should know before you go
1. The Tiwanaku ruins are located just next to the small village of Tiwanaku high on the Altiplano, located along highway 3 that heads West from La Paz to Lake Titicaca. Read more about Tiwanaku on our home page and be sure to learn more about the Tiwanaku civilization before you go by watching these aerial video views of the site, as well as some very interesting documentaries.
2. Be sure you can withstand high altitudes. Located over 12,300 feet above sea level in a very remote region, Tiwanaku may not be for people with heart conditions although it's only a 90-minute drive. Read about how to get relief from altitude sickness.
3. Bolivia's Altiplano communities are very politically active. When they don't agree with something, their favorite form of protest is to block roads. Always stay attentive to the news before traveling anywhere on the Altiplano to be sure you don't get stuck before or behind a road block as they can become violent and frequently last for days or weeks. Also be sure your tour operator will refund your money or has a Plan B tour to offer if this happens.
What to take on Tiwanaku tours
1. Sunglasses. On the stark, arid Altiplano there are few trees for shade.
2. Sun block. The sun is strong so you'll need this if you burn easily. Even if the sky is clouded, the sun is very strong when you are at an altitude this high.
3. Moisturizer. This is an extremely arid region and your skin will dry out.
4. Snacks and bottled water. There are small stores in the village but the Tiwanaku ruins are 2 Kilometers (a little over 1 mile) from the village. No food or drinks are sold at the actual archeological site.
5. Warm clothing. In the highlands it is very windy. Although it may be warm during the day, nights are very cold. Most tours to the Tiwanaku ruins return to La Paz by about 4 p.m. but if you choose to stay the night, bring warm clothing.
It's also a good idea to bring a raincoat or waterproof jacket because the weather can change quickly in this area. You might have a light rain on an otherwise sunny day rather unexpectedly.
6. Sleeping bag. Some hotels have heating but cheap hostels may not. Windchill factors make it feel even colder than it is.
7. Bring cash. There are no banks or ATMs in Tiahuanaco. Only the largest hotel takes credit cards.
8. Proper cellphone. If you plan to bring your international cellphone, you should know Bolivia uses a different telecommunication system than many countries and foreign mobile phones often do not work in Bolivia.
9. Cameras, batteries, battery chargers, cellphone charger, electric current converter and if you use a digital camera, extra memory cards. The electricity in Tiwanaku is 220. We recommend a solar phone charger, especially if you plan to share a hostel room as some have very few outlets to share between many guests.
10. Comfy walking shoes. You'll do quite a bit of walking while you tour Tiwanaku. Some of the sectors of the site are a bit distant from others. The area is primarily dust and dirt.
11. Tissue or wipes. There are restrooms at the site, but these rarely have toilet paper. In the town, the situation is similar at small eateries and if you are adventurous enough to use a public restroom, you may be asked to pay for toilet paper or an entrance fee to the bathroom (usually Bs. 1).
12. Zip lock or plastic bag. Please carry in and carry out. Any trash you have should be disposed of properly and not on the site. This includes chewing gum and cigarette butts, although you shouldn't smoke at the site.
13. Pills for altitude sickness. If the high altitude makes you feel lightheaded or queasy, it's good to have some Sorojchi Pills with you. These are pills for high altitude sickness that can be purchased at almost any pharmacy for about Bs.1 each, no prescription needed. They contain: Acetylsalicylic acid 325 mg, Salophene 160 mg, and Caffeine 15 mg. They prevent headaches, dizziness, fatigue, nausea and drowsiness.
14. Medicine for stomach upset. You may also want to consider carrying with you something to alleviate mild stomach upset in case you eat something that doesn't sit well with you. Consider purchasing a few envelopes of Alka Seltzer or a Bolivian version such as Digestan Compuesto.

When is the best time of year to visit
Tiwanaku is located at 3845 meters above sea level (12,615 feet above sea level) and it's cold most of the year, although you may feel warm enough between noon and 3 p.m. to take off your jacket. The average temperature is 11 °C (52 °F). The Tiwanaku archeological site is open year round, however during the rainy season (November to March) there are fewer visitors.
During the rainy season, between about November and April, the temperature is slightly warmer. However, nights remain cold. Windchill factors make it feel colder than it is. In the winter, especially in June and July, temperatures can drop to well below freezing. Bring warm winter clothing during this time.
You can enjoy a nice walk through Tiwanaku throughout the year. However, in winter time, which starts in June, you will get pictures with beautiful blue skies. The day and night sky are both very clear and clean; however, if you visit on June 21st for the Aymara New Year celebrations, the archaeological site will be filled with smoke due to the large number of bonfires. June 21st is the winter solstice, longest and coldest night of the year and gatherings of friends around bonfires are a tradition.
Click here to see the weather in Tiwanaku today and a 15-day forecast. Click here to see more about the seasons and climate in Bolivia.
General tourist information for Tiwanaku
1. The Tiwanaku ruins are open year round, every day of the week, from 9:00 a.m. to 5:00 p.m. Bolivians pay Bs. 10 to enter the archeological site and museums. However, the cost for foreigners is Bs. 80 ($11.50 US dollars) and includes entrance to 4 areas: the Museo Lítico, Museo Cerámico, Kalasasaya, and Puma Punku.
2. The electricity in Tiwanaku is 220V if you plan to stay the night at a hotel or hostel. There are a few (very few) places where the electricity may be 110V.
3. There are no banks or ATMs at the Tiwanaku ruins. Bring cash. The exchange rate is 6.96 bolivianos per US dollar. The Hotel Akapana accepts credit cards. Otherwise you'll need cash. Read more about Bolivian money.
4. Medical emergencies there is a Red Cross medical post, a General Hospital (Hospital General) and a clinic called Prosalud.
5. The Hotel Akapana has phones and internet service. In Tiwanaku there are a couple of little stores where you can use the phone. If you plan to bring a cellphone with you, be aware that Bolivia is on a different grid and many overseas cellphones don't work here. Click here to learn how to place phone calls in Bolivia from mobile phones and local phones.
6. Many tourists don't know that by law you must carry your documentation with you at all times. Police and immigration officials are allowed to ask for your documents at any time.
Tiwanaku ruins: How to get there
Tours to the Tiwanaku ruins are offered by just about every tour operator or travel agency, and nearly all larger hotels and hostels in La Paz. You can find numerous Tiwanaku tour operators on Sagárnaga and Illampu Streets, which are just behind the San Francisco Cathedral in downtown La Paz.
You can take a day tour easily for about $20. Most leave at about 8 in the morning and return at about 4 pm, although some also offer the choice to spend just a half day. Tour groups enjoy lunch and entrance into the ruins (be sure to ask in advance if these are included in the price) along with a guide (some speak English, some don't speak it well at all). You'll have lunch near the main square of town between visits to the Puerta del Sol, the Tiwanaku ruins and temples (with their amazing monolitos - monolyths) and the museum.
It takes over one hour to reach Tiwanaku, and a little longer if you hit traffic in El Alto, and you don't really have to pay for a guided tour. Click here to find how to go to Tiwanaku on your own.
Photo 1: By rodoluca, CC BY-SA 3.0, https://commons.wikimedia.org/w/index.php?curid=53259946 - Photo 2: By Flickr user: by machimon2006 - This file is from flickr. Please see its description page there for more details. own work, CC BY-SA 2.0, https://commons.wikimedia.org/w/index.php?curid=22914113