It is completely possible to tour Tiwanaku on your own. Getting there isn't difficult if you know where to begin. It's inexpensive to use the local buses and minivans to Tiwanaku, but you must keep in mind that if you choose to do your Tiwanaku tour on your own, it will take a bit longer to get there. Please be sure you read all of the information available to you about Tiwanaku before you go so that you are fully prepared. The
Tiwanaku ruins
are about 2 miles from the town, so you don't want to be caught off guard without sufficient food, water or money. See this very important page with
Tiwanaku tourist information
for what to know before you go, what you should take with you, what to expect when you get there, etc.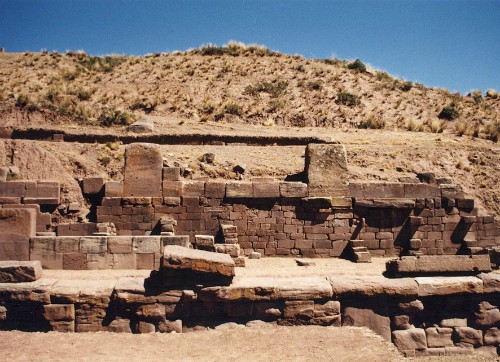 Tiwanaku: Getting There from La Paz
The distance from La Paz to Tiwanaku (Tiahuanaco) is approximately 72 kilometers (just 45 miles). While this may not seem like a lot, you will need to take into account that El Alto, the city on the high plateau above La Paz is complete traffic chaos throughout most of the day. In addition, taking a local mini-van or bus to Tiwanaku on your own means you will have to be patient while said vans and buses make all the local stops they want. In total, you should expect getting there to take between 1 and 2 hours. There are several ways to get to Tiwanaku on your own:
Hop on a mini van near the cemetery
Near the Cementerio General (the city's largest cemetery) you will find some mini-vans, which we call minibúses in La Paz. (Don't confuse these with the short city buses that are actual buses, which we call microbuses or just micros). The mini-vans line up near the front entrance of the cemetery and some line up across from it. The mini-vans usually have cardboard signs on their front window (sometimes hand-written) indicating their destination. They normally charge Bs. 15-20 (about $2.00-3.00 US dollars) one way. Be sure to ask them if they go to "las ruinas de Tiwanaku" because some of them will take you only to the town itself, which is about a mile from the actual site of the ruins. The mini-vans carry an average of 6-8 passengers each. Also be sure to ask them what is the last time of day they will travel back to La Paz from Tiwanaku.
Rather than trying to find your way to the cemetery from the city center, take a taxi. Usually your hotel or hostel can call a taxi for you which will pick you up at your door and it shouldn't cost more than $1-2 dollars. They all know where the mini-vans to Tiwanaku park. There's a map below if you prefer to find the cemetery on your own. Be aware that these mini-vans usually are a tight fit. If you are a very tall person, this might not be the best option for you. Some have seat belts but don't be surprised if they don't. Be surprised if they do.
Take a bus at the bus station
Alternately, you can take a bus from the La Paz central Bus Station. These are large interdepartmental (interstate) tour buses that are generally going to another large city such as Potosí and pass through Tiwanaku. They will take you to the town but not directly to the ruins. The cost is generally Bs. 50 (about $7.00 US dollars) one way. They are usually very comfortable with reclining seats. Taking this type of bus means fewer stops. Here's more one buses in Bolivia, bus stations, where to buy bus tickets, etc.
The Terminal de Buses (bus station) of La Paz is located on Avenida Perú and , not far from the San Francisco Cathedral. It is an uphill walk and if you aren't yet accustomed to breathing in the high altitude, it's just a short taxi ride ($1-2 dollars) from most hotels and hostels in the city's northern zone. When you get there, you'll notice that each bus company has it's own ticketing office, and usually have signs on their walls indicating the destinations they serve. In addition to your bus ticket, all passengers pay a bus station usage fee of Bs. 2. at the "Boletas" office in the middle of the main hall of the bus station. Once you get on your bus, you'll be asked to present both tickets. If you speak Spanish, the bus station phone number is: +591-2-228-5858. You can't order tickets by phone at this phone number, but you can ask any questions you have. Alternately, you can buy bus tickets online from La Paz to Tiwanaku.
Hire a private taxi all day
Another option is to call a radiotáxi. A taxi company can arrange for your very own taxi to pick you up at your hotel, take you to the Tiwanaku ruins, wait for you there all day, and then drive you back to La Paz. It's much more expensive (on average Bs. 500 [about $70.00 US dollars] round trip) but it's faster and you will have flexibility. This basically means you'll have door to door service. There are dozens of taxi companies in La Paz, and most of them are happy to find you a driver who is willing to take a day trip. Or use one of these taxi apps.
The difference between taking your own private taxi and going with a tour group is the freedom to do what you want, when you want to, leave as early as you like, and return as late as you like, make unscheduled stops, etc. Most taxi drivers are very friendly as well and happy to help you purchase your entrance tickets to the ruins once you get there. It's basically like having a chauffeur for a day. Taxis can take up to 4 passengers so you can split the cost with friends. Be sure to ask your radiotaxi company to send you a car that is equipped with seat belts (cinturones de seguridad).
Drive yourself in a rental car
There are several reasons we advise against this, including the very bad traffic jams in El Alto, the lack of proper signage to help you find your way, and the possibility of political upheaval in the area. However, if you are adventurous (consider driving anywhere in La Paz or El Alto an extreme adventure) La Paz has a few reputable car rental agencies where you can choose a vehicle. Be sure to purchase insurance, not because you're a bad driver, but because others may be. Study this Google map of Tiwanaku so you can get your bearings.
How to get to Tiwanaku from Peru
This map shows the route to Tiahuanaco from Juliaca and Puno. The approximate travel time from Juliaca is approximately 4 hours and the distance is 234 km.
How to get to Tiwanaku from Chile
The route by road from Chile would be through Tambo Quemado, in Arica, on the border with Bolivia. Arriving in Calamarca, you can choose to go through Viacha or through El Alto. The travel time is approximately 5 hours and the distance is 336 km.