1. Tarija has a beautiful warm Meditarranean climate during the summer and can get very cold in winter due to its elevation. Even during the summer nights are cool and refreshing. See more on Tarija weather and climate below.
This nice YouTube video was posted by a gentleman who visited Tarija:

https://youtu.be/x1tZ5E6WV7Q
2. Tarija's people are very friendly and open but if you happen upon a political demonstration keep a distance. Tarija's large new immigrant population is of a different nature when it comes to politics and there is often violence during street blockades or demonstrations, something which even Tarijeños are not accustomed to. Sadly, as the city grows, mostly due to immigration from the Andean regions, these are becoming much more frequent.
Read more about Tarija travel and tour options beginning on our Tarija home page.


Tarija Travel Info: What to take
1. Sunglasses. Recommended all day, especially if you visit the valleys, rivers or the San Jacinto dam. Tarija can get very hot and bright during the day.
2. Sun block. Re-apply often. Purchasing a sunblock without fragrance is recommended to ensure mosquitoes are not attracted if you travel to rural areas although it's not a tropical climate and there are fewer mosquitoes than elsewhere.
3. Mosquito Repellent. Only during the summer months and only if you plan to hike up to Coimata or enter other rural areas. In the city they are rarely a problem.
4. Light and warm clothing. You'll need both for Tarija travel. Once the sun goes down it gets pretty cool even in the summer and especially if it rains. During the winter Tarija can be bitterly cold, especially at night.
5. Rain jacket. During the rainy season cool rains are frequent.
6. Shopping There are plenty of stores and several supermarkets (though small) as well as open markets in Tarija. It's a big city and you won't have any problem finding most basic items.
7. Cameras, batteries, battery chargers, cellphone charger, electric current converter and if you use a digital camera, extra memory cards. The electricity in Tarija is 220. You'll want something like a Chargepod or similar, especially if you plan to share a hostel room as some have very few outlets. I actually recommend this everywhere in Bolivia.
8. Swimsuit: During the summer months Tarija hotels have some very nice pools. There aren't many natural swimming spots in rivers or lakes. The rivers have strong currents and the dam is too dangerous to swim in.


Tarija Travel Info: When to go
Tarija is the Southeastern-most department of Bolivia and borders both Argentina and Brazil. Many believe Tarija has the prettiest climate in Bolivia. At 1924 meters above sea level, its capital city (also called Tarija) is known for its pretty gardens and the climate is prime for wine-making. Tarija is famous for its vast vineyards and award-winning wines, made from grapes grown in some of the highest vineyards in the world.
Temperatures average 77ºF (25ºC) during the summer months (December to March, also the rainy season) and dip to 55ºF (13ºC) during the winter (June to August, also the dry season); however you should prepare for cold evenings. Throughout the remainder of the year the weather is pleasant, with warm days and cool nights. When it rains it gets very cold at night.
Return to our Climate Home Page for more details about the seasons, weather and climate in Tarija, Bolivia.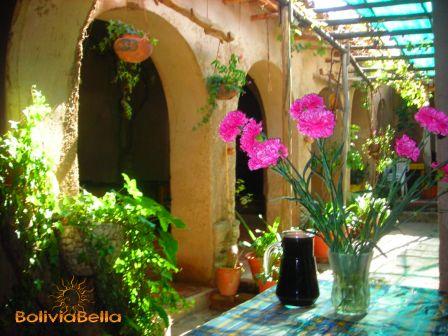 Tarija Travel Info: Tourist Information
1. The electricity in Tarija is 220V.
2. Tarija is Bolivia's fourth largest city and there are plenty of banks, credit unions, and currency exchange houses as well as ATMs throughout the city. Most larger hotels and restaurants accept credit cards. Tarija is well-equipped for the traveler in this regard. Here's more on Bolivian money.
3. Tarija is also well-equipped with plenty of national and international calling centers (VIVA, TIGO, ENTEL) and internet cafés sprinkled throughout the city as well as some that are right on the plaza. Most close at midday during siesta time and don't open on Sundays. Here's how to place phone calls in Bolivia.
4. Tarija has a low crime rate, although it is on the rise as the city is growing very quickly and political tensions are increasing due to the rapid increase in the number of immigrants from Western Bolivia. Still, it's considered a very safe city. However, by national law you must carry your documentation at all times.
5. Most Tarija travel agencies and tour operators speak Spanish. You'll be hard-pressed to find one that speaks English and tours in English itself are even more rare.
6. Tarija has several clinics and hospitals and pharmacies every few blocks within the city. There are also numerous independent doctors, dentists, opticians, pediatricians, obstetricians and pretty much any other doctor you might need.
Hospital Universitario San Juan de Dios. Tel: 664-5555.
Hospital CNSS. Tel: 664-3599
Clinica Santa Lucia. Tel: 664-2291. General and specialized services. Modern and provides surgeries, traumatologies, and emergency services
Ambulance Service: Just dial 118
Farmacorp 24-hour pharmacy with delivery available. Tel: 665-5555. Avenida Las Américas on the corner of Campero.
7. Most larger hotels provide laundry service as do some of the better hostels. However, even the least expensive hostels have a place where you can do your own laundry in needed. In addition, there are several dry cleaners in Tarija.
8. The Prefecture has a Tourist Information Office on the same corner (across the street from) the Casa Dorada. Calle General Trigo on the corner of Ingavi. It is open daily from 8:30 to 12:30 and from 3:00 to 6:00 approximately. It does not open Saturday afternoons or Sundays.


Tarija Travel Info: How to Get There
Flights to Tarija. There are flights from La Paz and Santa Cruz to Tarija. Most make a stopover in Cochabamba. To reach Tarija from Sucre or Trinidad, and other smaller cities you have to fly to La Paz or Santa Cruz first. Aerosur, BOA, TAM (Transporte Aéreo Militar) and Aerocon all offer flights from various cities to Tarija on differing schedules. See our airlines page for details and contact information.
Buses to Tarija. You can take a bus to Tarija from almost any other city in Bolivia. See our pages on buses and bus stations. From Santa Cruz to Tarija it's an 18 hour bus trip.
Mini-buses to Tarija. Tarija is a very popular tourist attraction among Argentineans. There are multiple bus lines and mini-bus and even taxi van lines between Salta, Jujuy and Tarija.
Trains to Tarija. You can travel to Tarija from Santa Cruz or from Cochabamba by train, but not from any other city as the Western railway and Eastern Bolivia railway are not connected. See our page on trains for more details.


Tarija Travel Distances
Just to give you an idea, these are Tarija travel distances from other cities - in a straight line. By road or train the distances are much longer.
The Distance between Cochabamba (Cochabamba) and Tarija (Tarija) is :
485.09 kilometers (km). The approximate travel/road distance can be around 557.85 km to 606.36 km. In Other Units: 301.42 miles. The approximate travel/road distance can be around 346.63 miles to 376.78 miles
The Distance between Santa Cruz de la Sierra (Santa Cruz) and Tarija (Tarija) is :
446.41 kilometers (km). The approximate travel/road distance can be around 513.37 km to 558.01 km. In Other Units: 277.38 miles. The approximate travel/road distance can be around 318.99 miles to 346.72 miles
The Distance between Sucre (Chuquisaca) and Tarija (Tarija) is :
282.58 kilometers (km). The approximate travel/road distance can be around 324.97 km to 353.22 km. In Other Units: 175.59 miles. The approximate travel/road distance can be around 201.93 miles to 219.49 miles
The Distance between Potosi (Potosi) and Tarija (Tarija) is :
241.77 kilometers (km). The approximate travel/road distance can be around 278.04 km to 302.21 km. In Other Units: 150.23 miles. The approximate travel/road distance can be around 172.76 miles to 187.79 miles
Distances calculated using the Online Distance Calculator. Use it online to calculate distances between other cities and Tarija.